Dinner Recipes
Slow Cooker Meatballs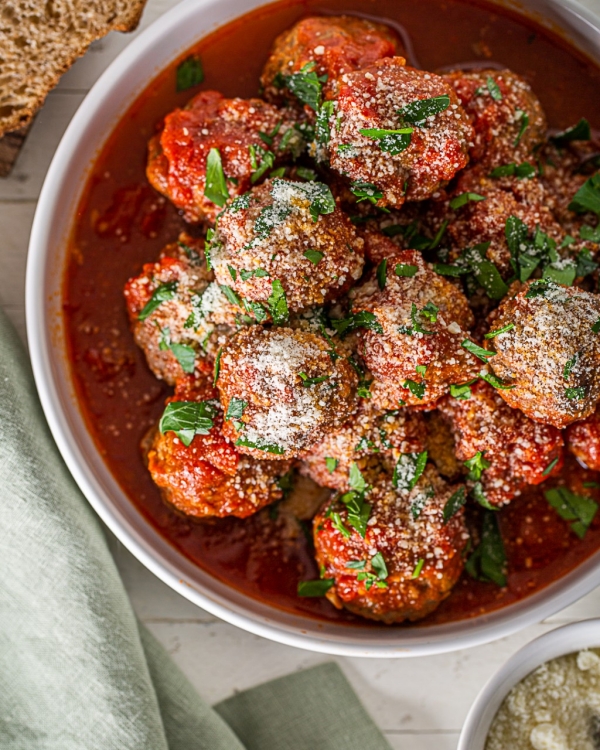 Authentic, old-world recipes often come with a mile-long list of ingredients and crazy-long prep times. This recipe is different, which makes it a great choice for a set-it-and-forget-it meal that still satisfies. It relies on that long-and-slow method to bring out the best in foods, but it uses a modern appliance — your trusty slow cooker — to coax all that flavor out of a few basic ingredients.
It couldn't be easier to get this meal started. You can prep everything at once, then set the meat mixture aside in the fridge while your own homemade tomato sauce simmers in the slow cooker for a few hours. Then pop the meatballs right into the sauce, set the table, and relax while it finishes up for the final hour.
A hearty bowl of sauce and meatballs may be all you're craving right now, but you can also add a starch like steamed rice or pasta, or amp up your veggie intake by spooning everything over zoodles or sweet potoodles. If you really want to give this meal that Italian restaurant vibe, add some cheesy garlic bread on the side (checkered tablecloth and a candle in the Chianti bottle are optional, but fun).
Our tip: The cooked meatballs can be refrigerated in the sauce for up to two days before serving. And the leftovers can make a star appearance in meatball sandwiches for tomorrow's lunch.


Servings: 6

Ingredients

2 28-ounce cans whole tomatoes and juice
2 Tbsp extra-virgin olive oil
2 Tbsp tomato paste
1 large Gelson's organic basil sprig, plus 2 Tbsp thinly sliced basil leaves, divided
¼ tsp crushed red pepper flakes
4 garlic cloves, minced, divided
2 lbs ground beef chuck or Impossible™ Burger
3 Tbsp dry bread crumbs
3 Tbsp freshly grated Parmigiano-Reggiano cheese, plus more for serving
1 large Gelson's egg, lightly beaten
1 Tbsp kosher salt, plus more to taste
½ tsp freshly ground pepper, plus more to taste

Directions

In the slow cooker pot, use your hands to crush the tomatoes. Add the canned tomato juices, olive oil, tomato paste, basil sprig, crushed red pepper, and half of the garlic. Cover and cook on high for 3 hours.

Meanwhile, in a large bowl, mix the ground chuck or Impossible™ Burger with the remaining garlic, bread crumbs, egg, Parmigiano-Reggiano, kosher salt, and pepper.

Roll the mixture into 18 meatballs, being careful not to pack them too firmly. Note: the prepared meatballs can be covered and stored in the refrigerator until ready to be added to the slow cooker.

Add the meatballs to the sauce. Cover and cook on high for 1 hour, or until the meatballs are cooked through. Discard the basil sprig.

Add 1 tablespoon of the sliced basil to the sauce and season with salt and pepper. Spoon the meatballs into bowls, sprinkle with the remaining sliced basil and serve, passing grated cheese at the table.
Recipe adapted from: Food&Wine