Lunch Recipes
Soba Noodle Salad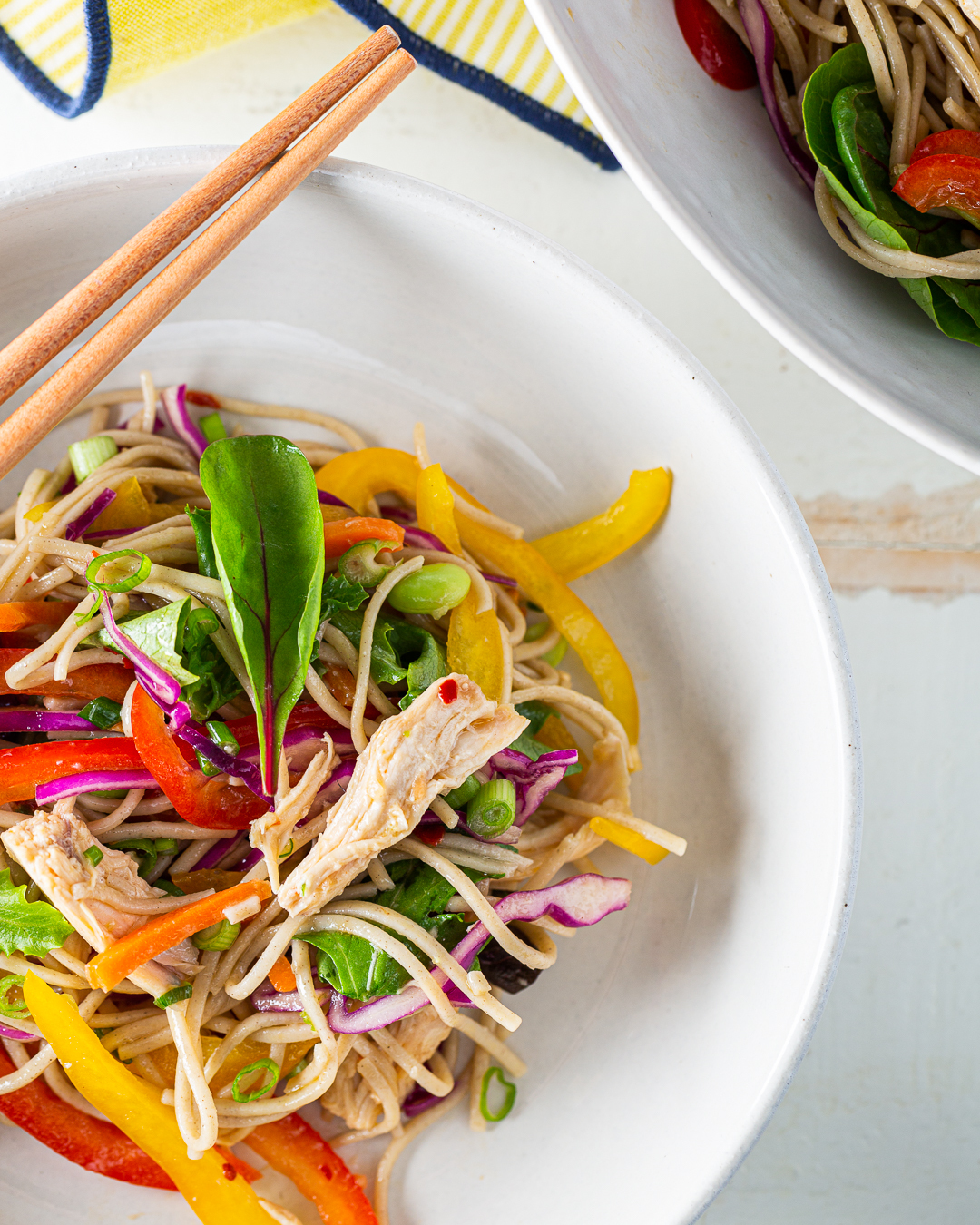 After weeks (months!) of comfort food, it's truly satisfying to eat a great big bowl of crunchy raw vegetables. This soba noodle salad is so colorful, so full of bright, perky peppers and leafy greens, it'll make you feel cheerful and energized just to look at it. It's coated in a spicy-sweet sesame dressing, too. So in spite of its healthy profile, it's also the salad you want to stuff in your mouth in giant forkfuls.
If you're not sold yet, we'll throw in some weeknight simplicity: We use rotisserie chicken, and the noodles cook in minutes. All you have to do is chop a handful of veggies, whisk up the dressing, and toss it all together. A squirt of Sriracha, a few green onions, and bam! It's ready to roll.
If you're into meal prepping, you can portion out the salad for a few days of meals, stick them in the fridge — and dress only what you're going to eat immediately. That way, the veggies and noodles stay springy and fresh. Even if you're not going to meal prep, it's worth making up a double batch of the dressing and keeping it in a mason jar in the fridge. It's fantastic drizzled over rice and sandwiches. We've even swirled it through yogurt to make a quick dip.
Serves: 6 to 8
Ingredients:
1 9.5-oz package of soba noodles
1 ½ Tbsp sesame oil, divided
¼ cup soy sauce
¼ cup rice vinegar
¼ cup extra-virgin olive oil
¼ cup granulated sugar
1 tsp minced garlic
½ tsp red pepper flakes
2 cups shredded Gelson's rotisserie chicken
1 cup shelled edamame
1 ½ cups spring mix
1 cup red cabbage, thinly sliced
1 cup shredded carrots
2 red bell peppers, stemmed, seeded, thinly sliced
2 yellow bell peppers, stemmed, seeded, thinly sliced
1 bunch green onions, thinly sliced
Sriracha, for serving
Directions:
Cook the soba noodles according to the package directions. Run the noodles under cold water to bring them down to room temperature. Drizzle and toss with ½ tablespoon of sesame oil to prevent sticking.

In a medium bowl, combine 1 tablespoon of the sesame oil, soy sauce, rice vinegar, olive oil, sugar, garlic, and red pepper flakes. Whisk until well combined. Set aside.

In a large bowl, toss the noodles with the chicken, edamame, spring mix, cabbage, carrots, bell peppers, and half of the green onions.

Drizzle the salad with dressing and toss until all the ingredients are evenly coated. Garnish with green onions and Sriracha and serve cold or at room temperature. Note: the salad will keep in an airtight container in the fridge for up to 2 days.