Appetizer Recipes
Sour Cream and Onion Dip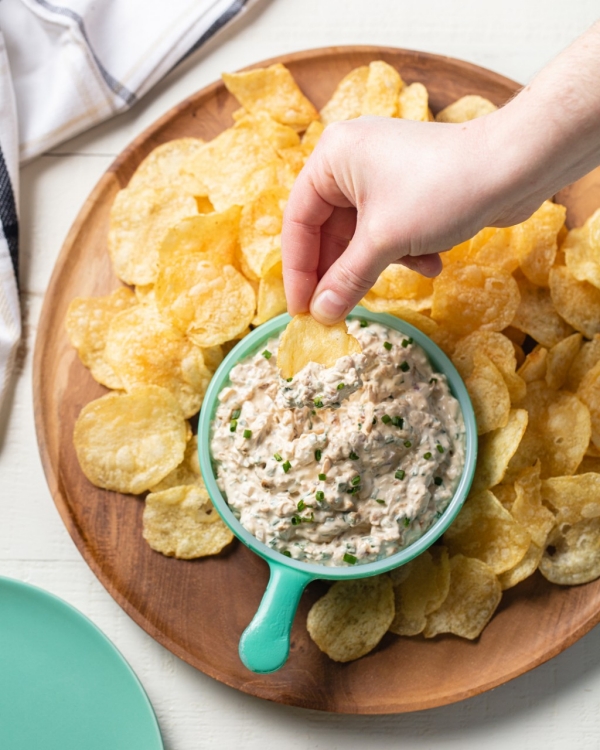 Onion dip is everyone's long-forgotten favorite. In the abstract, it sounds a little outmoded — a throwback to Sunday night football at Grandma's place — but put it out with a bag of potato chips, and it'll disappear in seconds. It's creamy and cool, and it has that indescribable savory quality that never gets old.
This recipe is all that, plus a timely update: it has all the alliums. The yellow onions and garlic are caramelized with thyme for 40 minutes, so they're soft and wilty and a beautiful golden brown. We whirl them up with lemon, sour cream, and a handful of fresh shallots and chives. The result is a vibrant onion dip that has both the deep sweetness of a cooked onion and the mild pungency of a raw one. We love the subtle thyme note that runs through it, and how the lemon intensifies the sour cream. It's bright and fresh — and it smells glorious.
We served ours with a pile of kettle chips. We like them for their rich, darkly fried flavor and structural integrity — they're thick and sturdy enough to handle a lot of onion dip. And trust us, if you make this recipe, you're going to be eating a boatload of onion dip. Even the most onion-shy tasters had trouble stopping. "Okay, just one more chip," they'd say, and then a few chips later, "Okay, last one." It's not over 'til the bowl is empty, people, a truth as delightful as it is dangerous.
Our tips: Although this dip comes together in three easy steps, we'd make it ahead of time so that all the flavors have time to meld. And, if you're not into the chives and shallots, check out our classic caramelized onion dip.

Yield: 1 ½ cups

Ingredients

2 Tbsp olive oil
1 medium yellow onion, finely chopped
2 garlic cloves, finely grated
2 Gelson's organic thyme sprigs
1 small shallot, finely chopped
1 cup sour cream
¼ cup finely chopped chives
1 Tbsp fresh lemon juice
Kosher salt, to taste
Freshly ground pepper, to taste
Kettle-cooked potato chips, for serving

Directions
In a small skillet, heat the oil over medium heat. Cook the onions, garlic, and thyme, stirring occasionally, until the onions are deep golden brown and very soft, 35 to 45 minutes. Discard the thyme. Let the onions and garlic cool.

In a medium bowl, combine the caramelized onions, shallot, sour cream, chives, and lemon juice. Season with salt and pepper. Let the dip stand for 30 minutes, or even overnight, so the flavors can meld. Serve with potato chips for dipping. Note: the dip can be made 1 day ahead and stored tightly covered in the refrigerator.
Recipe source: Bon Appétit