Jessica's Recipes Recipes
Spanish Frittata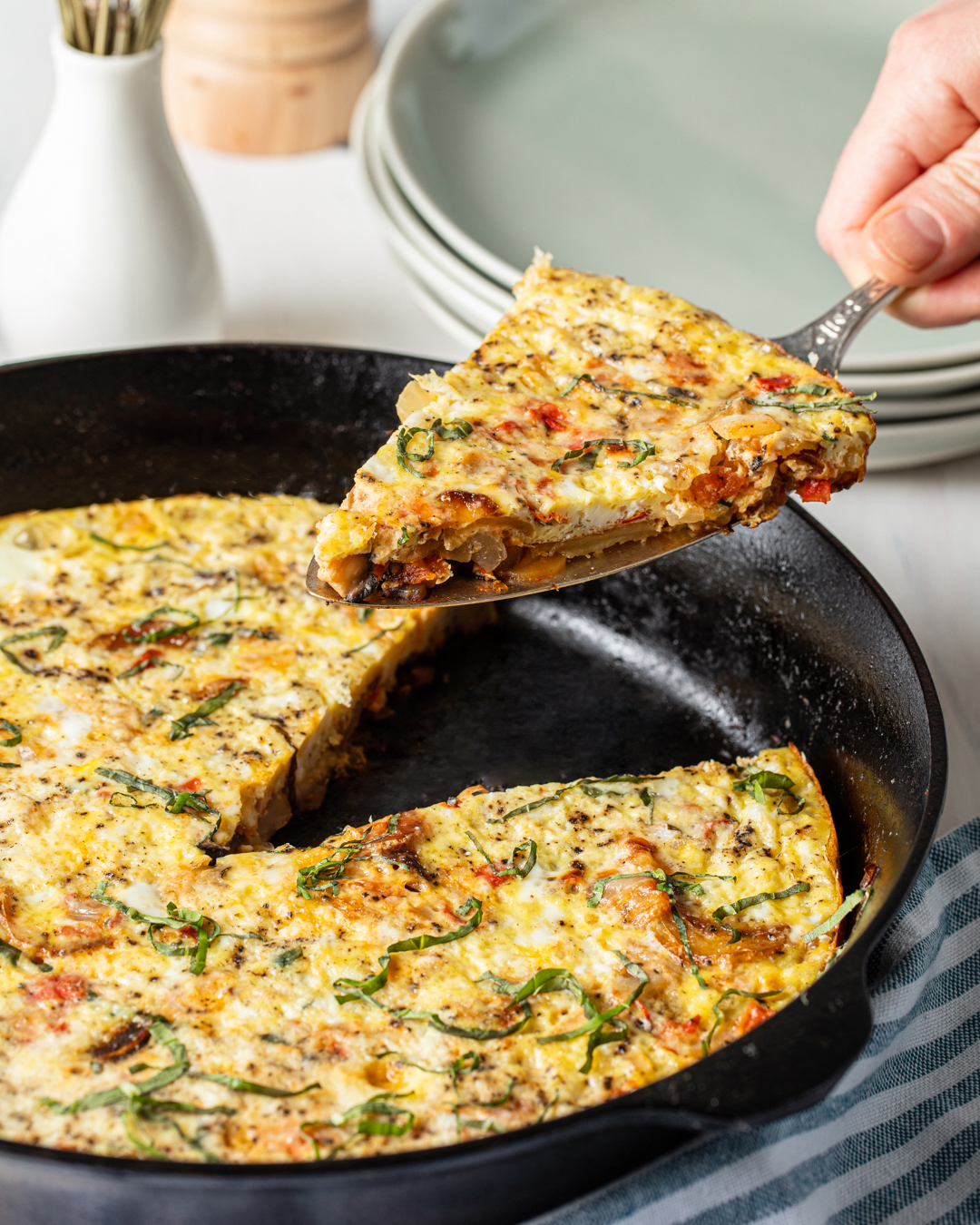 This frittata is a glorious mash-up of the Spanish tortilla and a breakfast hash. It's full of potatoes, ripe tomatoes, mushrooms, basil, and garlic for a satisfying, light breakfast that's so healthy you can feel good about going back in for seconds.

That said, on mornings when we're extra hungry or feeling indulgent, we like to throw some chopped jamón into the pan (you can find both Serrano and Iberico in our meat department) — and serve it with a buttery sourdough. Speaking of the pan, did we mention that this dish is a one-pan wonder? That's a big bonus for a sleepy Sunday brunch.

More tips: Frittatas are not just for breakfast! Add a green salad and you've got a nice light dinner. And don't worry about eating all those eggs. They're full of protein and nutrients, a strong staple of a healthy Mediterranean diet.
Servings: 4
Ingredients
2 Tbsp plus 1 tsp Napa Valley organic olive oil, divided
3 Melissa's mixed baby fingerling potatoes, thinly sliced into ⅛"-thick rounds
1 onion, chopped
3 shiitake mushrooms, stems removed, chopped
2 vine-ripened tomatoes, chopped
½ tsp Le Saunier de Camargue Fleur de Sel sea salt, divided
2 cloves organic garlic, minced
8 basil leaves, thinly sliced, divided
8 Vital Farms organic eggs
1 Tbsp water
¼ tsp freshly ground Gelson's black pepper
1 Tbsp grated Parmigiano-Reggiano cheese
Directions
In a 10" ovenproof skillet, heat 4 teaspoons of the olive oil over medium heat. Add the potatoes and cook until brown, about 3 minutes. Flip and brown the second side for 3 minutes.

Add the onion, mushrooms, and tomatoes, and season with ¼ teaspoon salt. Cook for 10 more minutes until everything is very soft. Remove the skillet from the heat and let it cool.

Preheat the broiler.

In a small bowl, whisk together the eggs, water, pepper, and remaining ¼ teaspoon salt. Set aside.

Add the remaining tablespoon of oil to the skillet and heat over medium. Add garlic and half of the basil and cook for 30 seconds.

Smooth the vegetables into an even layer and pour the eggs on top. Reduce the heat to medium-low and cook the frittata for 6 to 8 more minutes with the lid partially covering it.

Remove the lid and sprinkle the Parm evenly over the top of the frittata.

Broil the frittata for 45 to 60 seconds to finish cooking the eggs.

Allow the frittata to cool for 1 minute and then slice it into 4 pie-shaped slices. Garnish with the remaining basil.