Dinner Recipes
Spring Pasta with Asparagus & Peas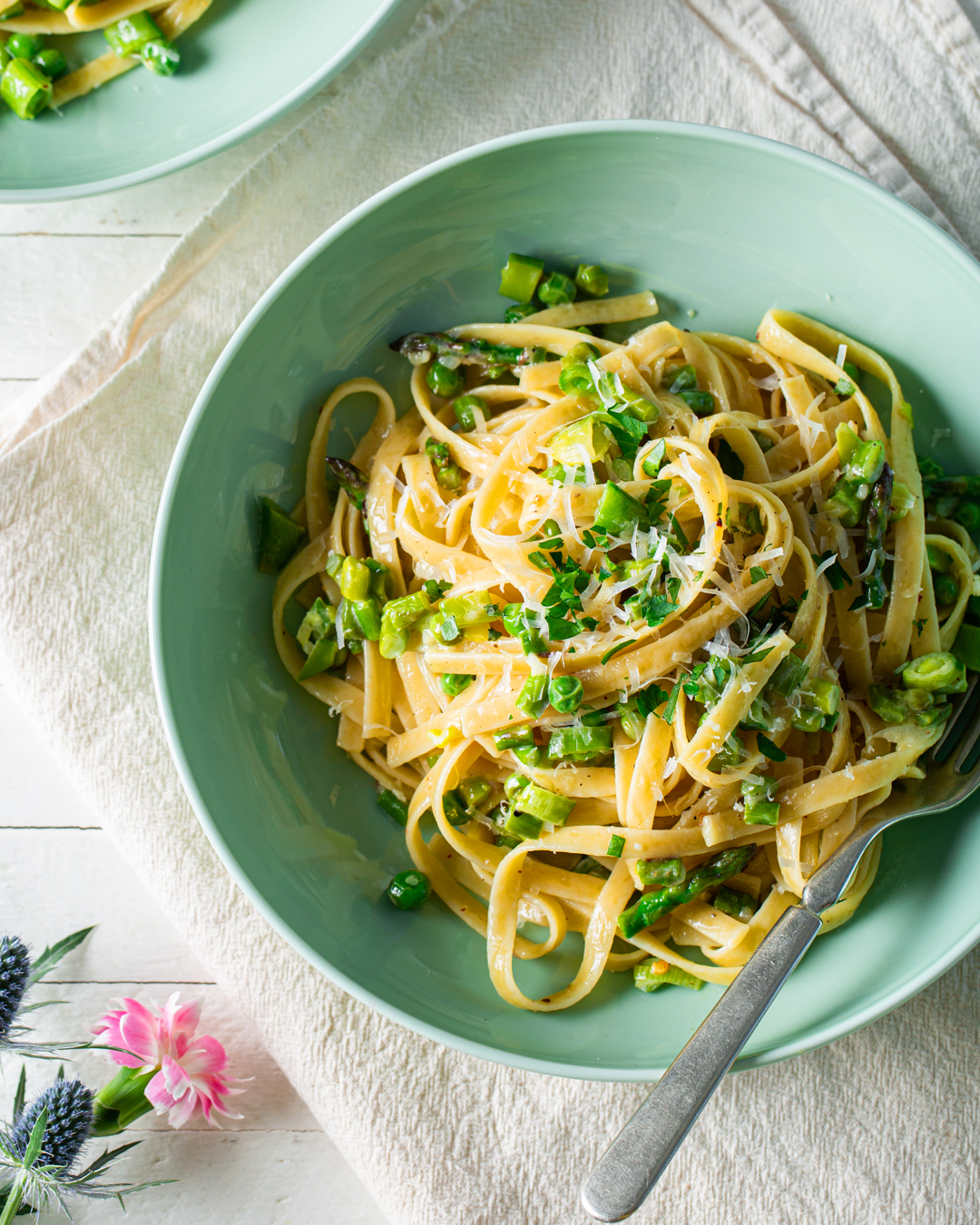 This pasta is perfect for the early months of spring. Light, bright, and herby, it uses the freshest, most verdant vegetables — asparagus, green onion, and both sugar snap and English peas — as well as parsley and tarragon. It's a far cry from the rich, hearty pastas we enjoyed all winter, and it's as unfussy as it is vegetal.
In order to retain the spring-like freshness of the veggies, we lightly sauté them with butter, garlic, and crushed red pepper. And once all that greenery is just barely tender, we toss it with homemade fettuccine and the fresh herbs — as well as crème fraîche and Parmigiano-Reggiano cheese.
We love how the crème fraîche and the cheese melt from the heat of the fresh-out-the-pot pasta, creating a very light cream sauce that delicately coats the ribbons of fettuccine and the crisp veggies. It also adds the subtlest amount of tangy richness to balance all the vegetal flavors and the lingering spice of the crushed red pepper. But our favorite bites are the ones with lots of herbs, and plenty of crunch from a sugar snap pea or two.
This pasta is wonderful as a light weeknight dinner, or a bright, rejuvenating Saturday lunch. All it needs is a glass of lemony sauvignon blanc and a sunny spot in the backyard.
Our tip: we like using homemade fettuccine for this recipe because the super light sauce clings better to those eggy noodles, but it'll taste just as amazing with packaged fresh pasta — or dried pasta, in a pinch.
Servings: 4
Ingredients
¼ lb sugar snap peas, stems trimmed
½ lb asparagus, woody ends trimmed
2 Tbsp unsalted butter
¾ cup fresh English peas
¼ cup thinly sliced green onions, white parts only
2 garlic cloves, finely chopped
½ tsp Gelson's crushed red pepper
¾ tsp kosher salt, plus more to taste
Freshly ground Gelson's black pepper, to taste
12 oz fresh fettuccine pasta
⅔ cup grated Parmigiano-Reggiano cheese, room temperature, plus more for garnish
½ cup crème fraîche, room temperature
3 Tbsp finely chopped fresh parsley leaves, plus more for garnish
1 Tbsp finely chopped Gelson's organic fresh tarragon leaves, plus more for garnish
Directions
Bring a large pot of heavily salted water to a boil over medium-high heat.

Meanwhile, cut the sugar snap peas and asparagus stems into ¼"-thick pieces, leaving the asparagus tips whole.

In a large skillet, melt the unsalted butter over medium-high heat. Add the sugar snap peas, asparagus, English peas, and green onions. Cook until the vegetables are barely tender, 3 to 4 minutes.

Stir in the garlic and crushed red pepper, and cook 1 minute more. Season with the kosher salt and black pepper to taste, and remove from heat.

Drop the pasta into the boiling water and cook until al dente, 1 to 3 minutes for fresh pasta, according to package instructions for dried pasta. Remove from heat.

Using tongs, remove the pasta from the water, shaking off any excess water, and transfer it to the skillet. Immediately toss the pasta with the vegetables, Parmigiano-Reggiano cheese, crème fraîche, parsley, and tarragon. Season with kosher salt and black pepper to taste.

Divide between bowls and garnish with more Parmigiano-Reggiano cheese and fresh herbs.
Recipe adapted from: The New York Times
Calculate nutrition information for this recipe.