Dessert Recipes
Strawberry Ice Cream Cheesecake
No baking required! We take jammy strawberry ice cream and blend it with rich cream cheese and fresh-squeezed lemon juice, then pour it into a buttery, crumbly graham cracker crust and tuck the whole thing in the freezer. (Great news, gluten-free friends: Gluten-free grahams work great here, too!) Topped with some juicy macerated strawberries and puffy clouds of whipped cream, this creamy, dreamy dessert tastes like summer sunshine and happy childhood memories. It's lovely for showers and celebrations and the perfect finishing touch for summer dinner parties.
Serves: 8 to 10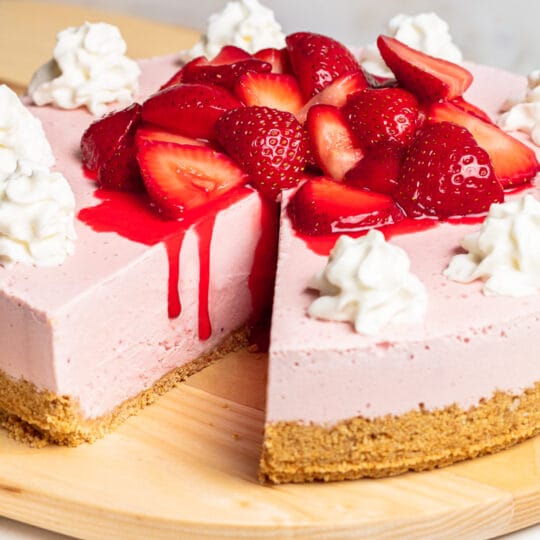 Dessert
Strawberry Ice Cream Cheesecake
Ingredients
1 ½ qts strawberry ice cream
1 ¾ cups graham cracker crumbs
¼ cup plus 2 Tbsp granulated sugar, divided
6 Tbsp unsalted butter, melted and cooled
12 oz cream cheese, room temperature
2 Tbsp freshly squeezed lemon juice
1 pt strawberries, hulled and sliced ¼" thick
Whipped cream, for garnish
Directions
Line a 9" springform pan with a round of parchment paper. Place the ice cream on the counter and let soften for a minimum of 20 minutes while you prepare the crust.

To make the graham cracker crust: In a medium bowl, combine the graham cracker crumbs, ¼ cup of the sugar, and the salt. Stir to combine. Add the melted and cooled butter and mix until evenly distributed.

Transfer the graham cracker crust to the prepared pan and press it evenly into the bottom of the pan and about ½" up the sides. Chill the pan in the freezer while you prepare the filling.

In a blender, combine the softened ice cream, room-temperature cream cheese, and lemon juice. Blend until well combined and smooth, about 1 minute.

Pour the ice cream filling over the graham cracker crust. Cover tightly with plastic wrap and transfer to the freezer to set, 8 hours and up to overnight.

About 45 minutes before serving, in a medium bowl, stir together the sliced strawberries and the remaining 2 tablespoons sugar. Cover and let macerate at room temperature.

When ready to serve, remove the cheesecake from the springform pan and let temper for 10 to 15 minutes.

Garnish with whipped cream and the strawberries. Slice the cake into equal-size pieces and serve cold. Immediately place leftovers in an airtight container, cover, and freeze for up to 1 month.

Recipe source: Ingredient