Dessert Recipes
Strawberry-Lemon Ice Cream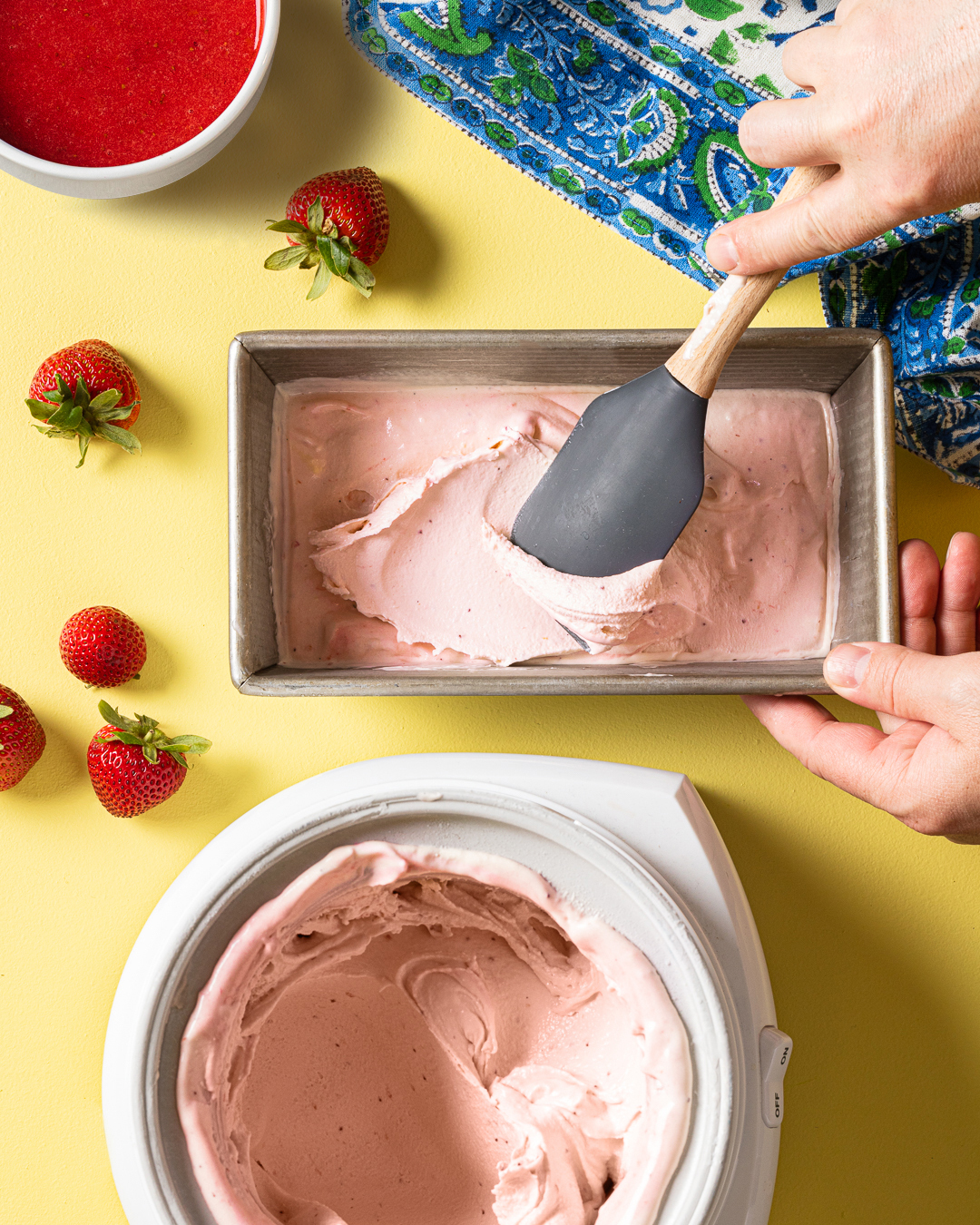 We've been a little obsessed with ice cream since, well, always. But we've been especially gushy about it these days: National Ice Cream Month is here — and of course, it's the hottest part of the SoCal summer, so we're referencing our Home Cook's Guide to Ice Cream on the daily. There's been so much ice cream around the test kitchen that when our chef dished up the first scoops of this one, our tasters were a little blasé. They said, "Oh look, more ice cream," and then they tasted it, and a quart of ice cream disappeared in a clatter of spoons.
There's nothing more delightful than custard ice cream. This one is so creamy that one of our tasters asked if it was made with cheese. It's not, but it does have heavy cream, milk, and eggs, so it churns up less icy. It's ultra thick, rich, and silky. We churn a puréed sauce of fresh strawberries and lemon juice and zest into the custard — it tastes so sweet-tart and fruity. There's plenty of the strawberry-lemon sauce to spoon over the top of the ice cream, too.
It may sound a little unkind to say so, but here in the test kitchen we all agree, this ice cream is too decadent to share with children. Make it for your best friend on the hottest day of the summer — she will literally giggle at her good fortune.

Servings: 4
Ingredients
For the strawberry-lemon sauce:
1 lb fresh strawberries, hulled and chopped
¾ cup sugar
1 Tbsp lemon juice
2 tsp lemon zest
For the vanilla ice cream:
2 cups heavy cream
¾ cup whole milk
½ tsp vanilla extract or 1 whole vanilla bean
5 egg yolks
½ cup sugar
¼ tsp salt
Directions
To make the strawberry-lemon sauce: In a medium saucepan, combine all the ingredients for the strawberry sauce over medium heat. Bring them to a simmer for 30 minutes.

Mash the fruit with a potato masher and simmer for another 10 minutes.

Allow the sauce to cool for 10 minutes, and then transfer it to a blender and puree. Set aside.

To make the ice cream: In a medium pot, combine the heavy cream, whole milk and vanilla over medium heat. Bring it to a simmer, whisking intermittently. Note: This can take up to 20 minutes. Try not to rush this process or you'll overheat the cream.

While the cream is heating, combine the egg yolks, sugar and salt in a separate bowl and whisk vigorously until they have about doubled in size or become a little frothy and pale.

Once the cream is simmering, remove it from the heat and allow it to cool for about 10 minutes.

Remove the vanilla bean from the cream and discard. Pour the cream into the egg yolks in a slow, steady stream, whisking continuously until they're fully incorporated.

Transfer the ice cream mixture to the sauce pot and warm it over medium low heat, stirring gently, until the mixture thickens slightly and coats the back of a spoon.

Transfer the ice cream to the bowl to cool. Once it is at room temperature, put it in the refrigerator to cool for at least 1 hour. If you're not going to use it immediately, ice cream can be stored in the fridge for up to 3 days.

Pour the ice cream mixture into an ice cream machine and churn until thick, about 12-15 minutes.

In two batches, churn half of the strawberry-lemon sauce into the ice cream.

Serve directly from the ice cream machine for soft serve, or put it in the freezer to firm up, about 6 hours. Garnish with scoops of strawberry-lemon sauce and enjoy!