Dessert Recipes
Strawberry-Lemonade Bars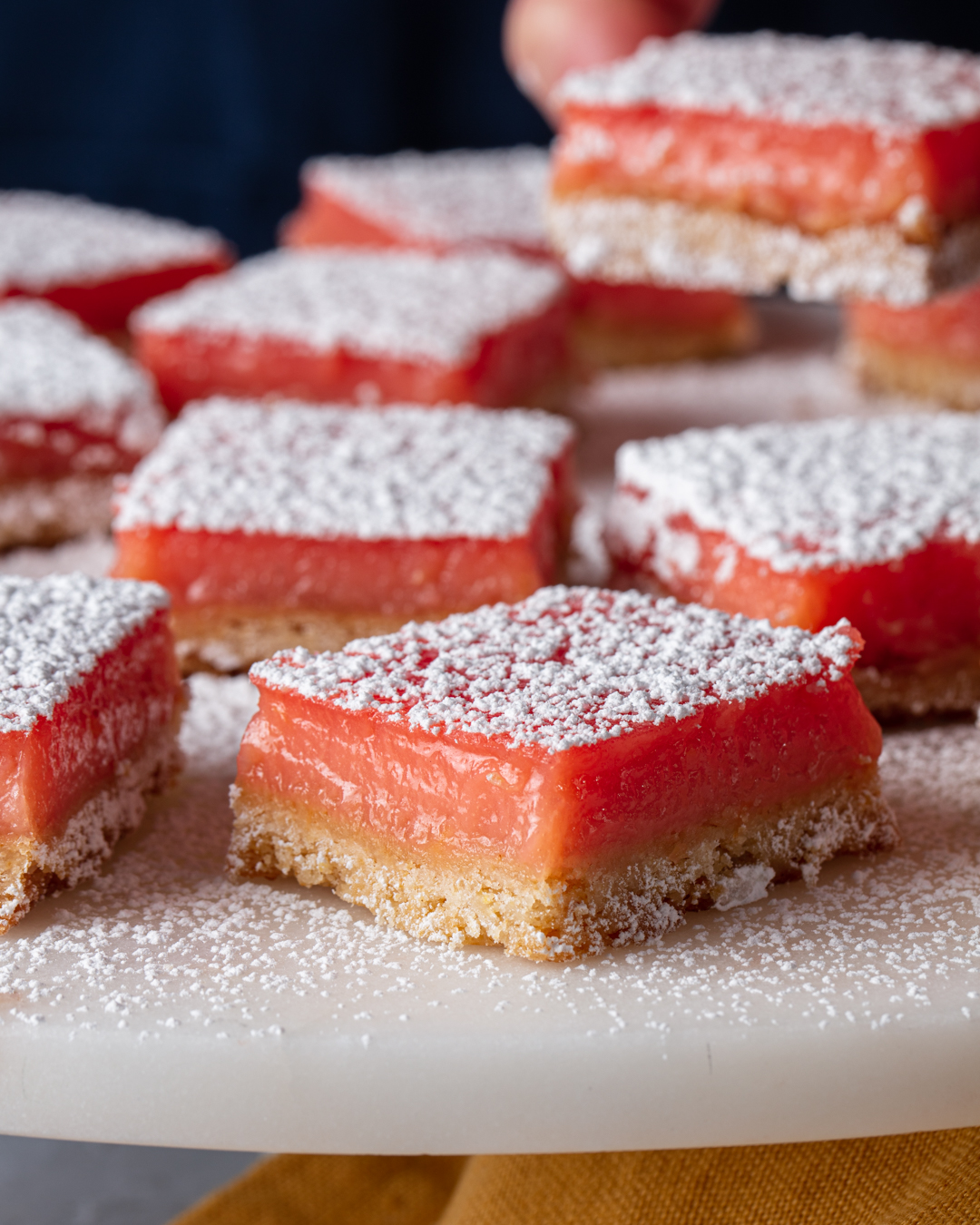 We love lemon bars — the sort that Grandma used to make whenever we'd spend a week at her house during childhood summer vacations. That said, we're never ones to shy away from putting our own little twists on classic recipes. Enter: these delightful, strawberry-kissed lemon bars with a crumbly shortbread crust laced with lemon zest.
For the curd, we follow the traditional stovetop method, using one whole cup of puréed fresh strawberries, as well as a big splash of lemon juice, sugar, eggs, and a bit of cornstarch. After a few minutes of whisking and boiling the mixture, we strain it through a sieve to get rid of any errant berry bits — and then stir in half a stick of butter, for richness, and a tablespoon of lemon zest, for extra zing. It bakes up sweet-tart and creamy, with the cutest bright pink hue that reminds us of beachy sunsets and slices of summer watermelon.
Our favorite thing about these bars? The perfect ratio of curd to crust. We make the shortbread a little thicker, so there's plenty of salty, buttery (and slightly citrusy!) goodness on the bottom to balance out the puckery sweetness of the strawberry-lemon situation up top.
These bars would be a hit at a summer barbecue. But we can also envision that orangey-pink curd, with its delicate dusting of powdered sugar, brightening up the dessert table at a baby or bridal shower. Having afternoon tea with the mother-in-law? We'd invite these bars too, if we were you.
Servings: 16
Ingredients
For the crust:
1 cup all-purpose flour
½ cup confectioners' sugar
¼ tsp kosher salt
¼ tsp baking powder
1 Tbsp lemon zest
½ cup unsalted butter, cold, diced
For the strawberry lemon curd:
1 cup strawberries, hulled and quartered
1 ½ tsp cornstarch
¾ cup freshly squeezed lemon juice, divided
1 cup granulated sugar
3 large Gelson's eggs plus 2 egg yolks
1 pinch kosher salt
4 Tbsp unsalted butter, diced
1 Tbsp lemon zest
Confectioners' sugar, for dusting
Directions
To make the crust: Preheat the oven to 350°. Line an 8x8" baking pan with 2 pieces of parchment paper, layering them perpendicular to one another and allowing the excess to hang over the edges of the pan.

In a food processor, combine the all-purpose flour, confectioners' sugar, kosher salt, baking powder, and lemon zest. Pulse to combine. Add the cold unsalted butter and pulse until the mixture just comes together.

Press the dough evenly into the prepared pan and bake until the edges are golden, 25 to 30 minutes. Transfer to a wire rack to cool.

Meanwhile, to make the strawberry lemon curd: In a food processor or blender, purée the strawberries until smooth. In a small bowl, whisk the cornstarch with 2 tablespoons lemon juice to create a slurry.

In a medium saucepan, whisk together the granulated sugar, eggs, and egg yolks. Whisk in the cornstarch slurry, ½ cup strawberry purée, remaining lemon juice, and kosher salt. Cook over medium heat, whisking continuously, until the mixture comes to a boil. Boil for 45 seconds, whisking continuously, then strain the mixture through a sieve into a medium bowl. Stir in the unsalted butter and lemon zest until thoroughly combined.

Transfer the strawberry-lemon curd to the prepared pan, shake to even out the filling, and bake for 10 to 15 minutes, or until the curd is set and slightly jiggles when shaken. Transfer to a wire rack to cool completely, then transfer to the refrigerator to chill.

To serve, transfer the strawberry-lemonade bars to a cutting board and divide into 16 pieces. Dust with confectioners' sugar just before serving.
Calculate nutrition information for this recipe.