Recipes
Strawberry Shortcake (Gluten-Free)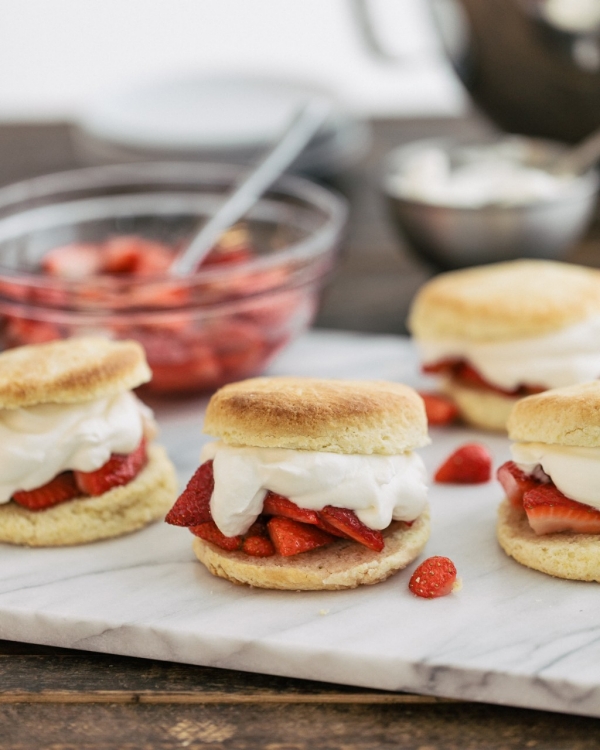 Strawberry shortcake is always delightful. It makes us nostalgic for summer vacations, eating every meal outside, and especially long-winded, happy family dinners with our grandparents. And this particular shortcake is a textural feat of magic: it bakes up lovely and crisp on the outside and perfectly layered, tender, and biscuity on the inside. It's got just a hint of sweetness, so it's the perfect complement to the fresh strawberries and creamy whipped cream — a simple yet very, very pleasing combination.

A little more magic for you: Not one of our tasters guessed that the shortcake was gluten-free. It may have been that they were too busy regaling us with their sweet tales of bygone shortcakes to notice, but we think it was simply that good.

Our tip: Make these for a baby shower, a birthday, or any other small, cheerful gathering — they just make people happy. We sometimes like to put out the strawberries and whipped cream and let folks build their own shortcakes. It's not a bad idea to double the toppings, people do love to pile them on!

Servings: 8

Ingredients

For the shortcakes:
¾ pound (about 6 cups) strawberries, rinsed, hulled, and quartered
1 ¼ cups granulated sugar, divided
3 cups Cup4Cup flour
4 tsp baking powder
¾ tsp kosher salt
12 Tbsp (1 ½ sticks) cold unsalted butter, cut into small pieces
½ cup heavy cream
2 large eggs
½ tsp vanilla extract

For the whipped cream:
1 ½ cups heavy cream
2 Tbsp granulated sugar
½ tsp vanilla extract

Instructions
Preheat oven to 375°F. Line a large baking sheet with parchment paper.
In a medium bowl, toss the cut strawberries with a ¾ cup of the sugar, cover them with plastic wrap, and set aside. This will help the berries release their natural juices.
In a food processor, pulse flour, baking powder, a ½ cup of the sugar, and the salt until incorporated.
Be sure butter is cold and cubed. Add in the butter and pulse until mixture is incorporated into the dough and forms pea-sized balls. Place this mixture into a medium bowl and set aside. (Note: If you do not have a food processor, use a pastry cutter or a fork to cut in the butter.)
In a separate medium bowl, whisk together a ½ cup of the cream and the eggs. Pour this over the flour mixture and mix with a fork until some large clumps begin to form. Take the loose dough and wrap it in clear plastic wrap. Refrigerate for 30 minutes.
Using additional flour as needed, knead the dough for one minute on a lightly floured pastry board, then roll it out to about 1-inch thickness.
Using a 2 ½-inch round cutter, cut the dough and place the shortcakes on the baking sheet. The dough should yield 8 shortcakes.
Bake for 15 minutes or until lightly golden brown. Transfer to a rack to cool, about 15 minutes.
To make the whipped cream topping: In a large bowl, beat the cream, sugar, and vanilla until soft peaks form.
Slice the cooled shortcakes in half horizontally. Place a bottom half on each plate. Top with a spoonful of strawberries and their juice, add a dollop of whip cream, and cover with the top half. Serve immediately.

Recipe source: Cup4Cup