Dinner Recipes
Sun-Dried Tomato and Broccolini Pasta Salad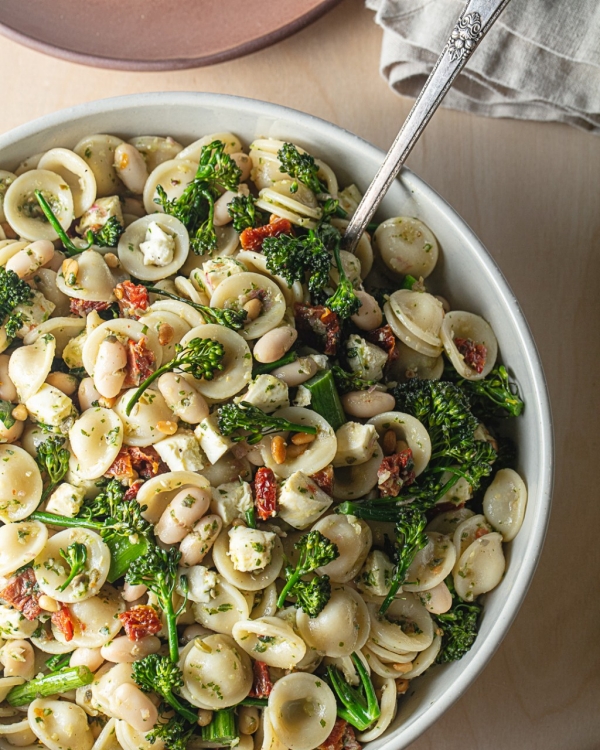 During the winter months of the pandemic, we could not get enough creamy pasta salads — bring on the mayo, we cried. But now, the weather is warmer, hope is on the horizon, and healthy, bright, and fresh sound amazing. Enter this very sunny salad!
Its base is a textural wingding of al dente orecchiette, roasted broccolini, creamy cannellini beans, and chewy sun-dried tomatoes. We use oil-packed sun-dried tomatoes, and we love the rich, almost meaty quality they bring to the salad. All that gets tossed with toasted pine nuts, capers, and fresh mozzarella — and a classic shallot vinaigrette that's packed with lemon and basil. Take a bite, and the combination of puckery lemon, herbs, and briny capers is so fresh and unexpected, it makes a salad that could be starchy and heavy feel light and summery.
That said, this is a salad that eats like a meal, and it'll make a terrific lunch or dinner. It's made of pretty sturdy stuff too, so you could pack it up and take it on a picnic — to the beach, your favorite park, or just outside the back door.
Servings: 6 to 12
Ingredients
For the pasta salad:
12 oz orecchiette
3 tsp extra-virgin olive oil, divided
2 heads broccolini, florets and stems cut into 1" pieces
Kosher salt, to taste
Freshly ground black pepper, to taste
1 can cannellini beans, drained and rinsed
½ cup sun-dried tomatoes in olive oil, drained and chopped
¼ cup toasted Gelson's pine nuts
2 Tbsp drained capers, chopped
8 oz fresh mozzarella, diced
Shredded Gelson's Parmesan, for garnish
For the vinaigrette:
1 small shallot, roughly chopped
2 Tbsp Champagne vinegar
2 Tbsp lemon juice
2 cups packed fresh basil leaves
¼ cup extra-virgin olive oil
Kosher salt, to taste
Black pepper, to taste
Directions
Place a rimmed baking sheet in the oven and preheat to 425°.

Bring a large pot of water to a boil and season with a few large pinches of salt. Add the pasta and cook according to the package instructions, until al dente.

Drain the pasta, toss it with 1 teaspoon of the olive oil, and spread it evenly on a cold sheet pan to cool. Set aside.

Meanwhile, in a medium bowl, toss the broccolini with the 2 remaining teaspoons of olive oil and a pinch of salt and pepper. Transfer the broccolini to the hot sheet pan and roast until al dente, 5 to 7 minutes. Set aside to cool.

To make the vinaigrette: Combine the shallots, vinegar, lemon juice, and basil in a food processor. Blend and slowly add the olive oil to emulsify. Season with salt and pepper.

In a large serving bowl, add the pasta, broccolini, cannellini beans, sun-dried tomatoes, pine nuts, capers, mozzarella, and the vinaigrette. Toss to combine, garnish with shredded Parmesan, and serve immediately. Note: the salad will keep in an airtight container in the refrigerator for up to 3 days.