Dinner Recipes
Swedish Meatballs
Swedish meatballs, or köttbullar, are arguably the most comforting of all meatballs. These days, the dish is pretty much synonymous with IKEA. Who among us has not leveraged a trayful of those warmly spiced meatballs to get from the SÖDERHAMN sectionals to the HILDEGUN kitchen towels and out the other side of the Scandinavian-modern maze?
All that aside, nothing beats old-school homemade meatballs, so we cooked some up for fall. While developing the recipe, we were a little surprised to learn that these meatballs were not actually born in Scandinavia: according to a 2018 tweet from Sweden, the gravy-smothered köttbullar can be traced back to the Ottoman Empire, or modern-day Turkey, where meatballs are called köfte.

How did a Turkish dish wind up in Scandinavia? There is some debate among historians, but the predominant story is that in 1707, Swedish King Charles XII made the bold decision to invade Russia. His campaign failed miserably (as with many invasions of Russia throughout history … *cough, cough* Napoleon), culminating in defeat at the 1709 Battle of Poltava. Having lost a third of his infantry and a lot of Sweden's resources, Charles fled to the Ottoman Empire, where he grew to love a köfte dish similar to modern Swedish meatballs. After five years in exile, he returned home — with the meatballs. Today, they are considered the national dish of Sweden.
Like many meatball dishes, everyone makes Swedish meatballs a little differently, using everything from beef and pork to veal and venison. Our version is entirely ground beef. And in addition to the usual breadcrumbs and aromatics, it's got nutmeg, allspice, cayenne, and Worcestershire sauce for seasoning. The spices give the meatballs an earthy warmth that can only be described as delightfully cozy. And thanks to the cayenne, they have the lightest, lingering sort of heat. So lovely!
For the gravy, we make a basic roux, and then whisk in beef broth, heavy cream, Dijon mustard, Worcestershire sauce, and cayenne. It simmers up into a thick, creamy sauce with a subtle punchiness from the mustard and the subtlest heat from the cayenne — it's wonderful spooned over the deeply savory meatballs.
We love serving all that richness on a bed of springy egg noodles; the combination reminds us of dinners in Grandma's kitchen. But you could also take a page out of the IKEA catalogue and serve your meatballs atop buttery mashed potatoes — with a dollop of lingonberry sauce perhaps, for a sweet-tart foil to all the heavy, wintry stuff. And for dessert? A nice long nap on the SÖDERHAMN.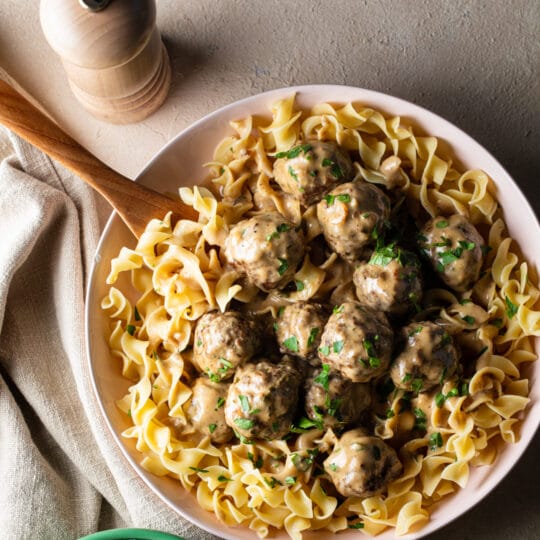 Dinner
Swedish Meatballs
Serves: 4
Ingredients
1 lb 80/20 lean ground beef
2 Tbsp minced parsley, plus more for garnish
⅓ cup minced yellow onion
1 tsp kosher salt, plus more to taste
¼ tsp freshly ground Gelson's black pepper, plus more to taste
¼ tsp Gelson's ground nutmeg
¼ tsp Gelson's cayenne pepper, divided
1 tsp plus 2 Tbsp Worcestershire sauce, divided
1 Tbsp extra virgin olive oil
12 oz pkg wide egg noodles
Directions
In a large bowl, mix together the lean ground beef, panko breadcrumbs, parsley, yellow onions, garlic, egg, kosher salt, black pepper, nutmeg, allspice, ⅛ teaspoon cayenne pepper, and 1 teaspoon Worcestershire sauce. Mix well just until incorporated, being careful to not overmix.

Roll the mixture into 1- to 1 ½-oz meatballs and set aside.

In a large Dutch oven or heavy-bottomed pot, heat the extra virgin olive oil over medium-high heat. Gently place the meatballs in the pot and sear them on all sides, about 2 minutes per side.

Using tongs, transfer the meatballs to a clean plate or sheet pan. Pour out the fat from the pot and reduce the heat to medium.

Melt the unsalted butter, then stir in the all-purpose flour, mixing together to form a roux. Slowly pour in the beef broth, whisking continuously.

Stir in the heavy cream, Dijon mustard, remaining 2 tablespoons Worcestershire sauce, and remaining ⅛ teaspoon cayenne pepper. Allow the sauce to come to a rapid simmer; this will activate the roux and thicken the sauce. If it is too thick, you can add a little more beef broth. Season with kosher salt and black pepper.

Once the sauce has thickened, reduce the heat to low and add the meatballs.

Meanwhile, bring a large pot of salted water to a boil and cook the egg noodles to package instructions.

Serve the meatballs and sauce over the cooked pasta and garnish with a little fresh parsley and a few cracks of black pepper.
Calculate nutrition information for this recipe.