Appetizer Recipes
Swordfish Kebabs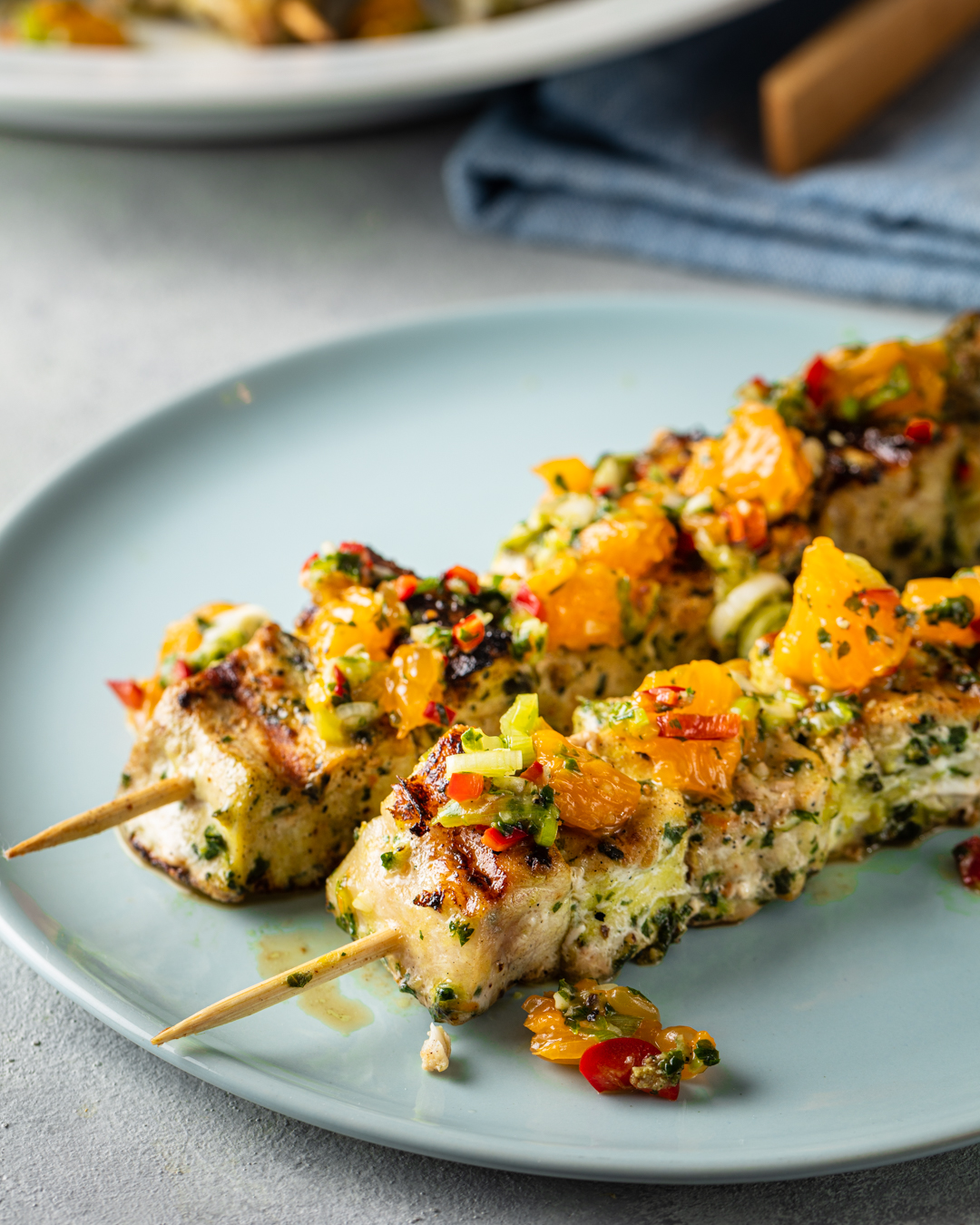 If you've been closely following our culinary exploits here in the test kitchen, you may have noticed that we've been all about skewers and kebabs this summer. After all, you can't go wrong with meat on a stick, and it's a great way to serve up individually portioned apps for get-togethers. We've grilled up everything from chicken shawarma skewers to Filipino-inspired barbecue pork skewers — and now, these zippy swordfish kebabs.
Swordfish is usually pretty mild, taste-wise. But here, the fish practically explodes with flavor thanks to a marinade made with garlic, green onion, sherry vinegar, a handful of cilantro, and mandarin orange juice and zest. And, by the way, this fabulous marinade comes together in the food processor lickety split!
However, we only use half of that mixture to marinate and tenderize the fish. The other half serves as the base for a salsa of Fresno chiles and more garlic, green onion, and mandarin orange. It's bright, zingy, and super herby — the perfect complement to the fantastically fatty, meaty swordfish. We especially love getting a bite with lots of orange; the burst of tangy, juicy sweetness is just delightful!
We'll say it again: these swordfish kebabs, like all kebabs, are a wonderful appetizer for backyard shindigs with friends and family. But we've also been known to grill some up on a weeknight, slide the salsa-topped fish off the wooden skewers onto a bed of rice, and serve it all alongside a mixed green salad. (We've even used some of the salsa juices to make a vinaigrette!) Add a glass of lemony chardonnay or crisp sauvignon blanc, and it's *chef's kiss.*
Servings: 4 to 6
Ingredients
For the swordfish marinade:
1 cup Gelson's organic fresh cilantro leaves
4 garlic cloves, roughly chopped
1 green onion, chopped into 1" pieces
1 tsp mandarin orange zest
2 Tbsp freshly squeezed mandarin orange juice
1 Tbsp sherry vinegar
¼ cup extra virgin olive oil
¾ teaspoon kosher salt
Freshly ground Gelson's black pepper, to taste
For the grilled swordfish kebabs and citrus herb salsa:
1 ½ lb swordfish, sliced into 1" cubes
4 to 5 mandarin oranges
¼ cup thinly sliced green onions
2 garlic cloves, minced
1 Fresno chile, small diced
¼ cup swordfish marinade
Kosher salt, to taste
Freshly ground Gelson's black pepper, to taste
Special equipment: 8 wooden skewers
Directions
To make the swordfish marinade: In a food processor, combine the cilantro, garlic, green onions, mandarin orange zest, mandarin orange juice, sherry vinegar, extra virgin olive oil, kosher salt, and black pepper.

Pulse until the marinade ingredients are finely chopped, about 30 seconds. Set aside.

To make the swordfish kebabs: Soak 8 wooden skewers in water for 30 minutes to prevent burning.

In a large bowl, combine half of the swordfish marinade and the swordfish. Stir to evenly coat. Cover with plastic wrap and marinate in the refrigerator for at least 30 minutes.

To make the citrus herb salsa: Supreme the mandarin oranges by cutting the peel and white pith from the oranges. Cut along the sides of the membranes to release the segments into a medium bowl, and then slice them into ½" pieces.

In a medium bowl, combine the mandarin oranges, green onions, garlic, Fresno chile, and the remaining swordfish marinade. Season with kosher salt and black pepper. Refrigerate until you need it.

Preheat the grill to high heat. Thread the swordfish onto the prepared wooden skewers. Season lightly with kosher salt and black pepper.

Grill the swordfish kebabs for about 3 minutes per side, or until the swordfish is cooked through.

When the swordfish is cooked, remove from the grill. Top with a few spoonfuls of the citrus herb salsa and serve with additional salsa. Enjoy!
Recipe adapted from: Kitchen Confidante
Calculate nutrition information for this recipe.