Recipes
Swordfish & Sweet Potatoes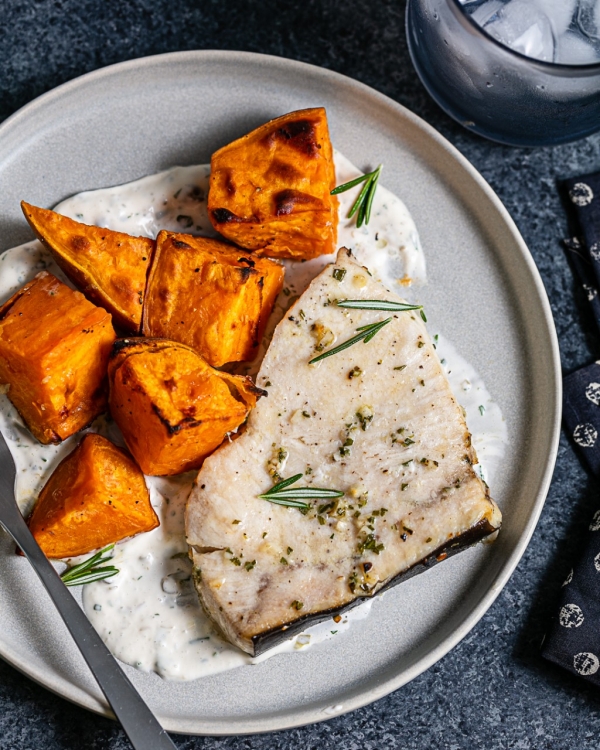 It seems like such a simple idea: Make one single meal that everyone at the table will eat and enjoy. Yet finding a meal we can all agree on is more of a challenge than ever. That's where this dish comes to the rescue. Those who already love fish will be delighted to see mild, flavorful swordfish on the menu. But even confirmed meat eaters — the ones who turn up their noses at the mere mention of fish — will be won over by the steak-like presentation, flaky texture, and garlicky rub. And if you've got a vegan or vegetarian in the family, just add a couple of extra sweet potatoes to the roasting pan, then serve it all up with a big green salad and perhaps a loaf of crusty bread.
The one-two punch of rub and sauce gives this recipe a four-star upgrade. The swordfish's coating of olive oil, garlic, and rosemary lets the mild-flavored fish absorb maximum flavor while it bakes. (Bonus: the kitchen will smell fantastic while it's cooking.) While the potatoes and fish are in the oven, you can pull together the accompaniment, a modern play on traditional tartar sauce. Start with parsley, capers, and white wine vinegar, stirred into a bit of store-bought mayonnaise, and all the elements will be pulled together in creamy, tangy harmony.
Our tip: Make a double batch of the caper mayonnaise and create a next-day swordfish salad with the leftovers.
Servings: 4
Ingredients
1 ½ lb sweet potatoes, skin on, cut into ½" pieces
¼ cup extra-virgin olive oil, divided
Kosher salt, divided
Ground black pepper, divided
4 swordfish steaks, cut 1" inch thick (about 2 lb)
2 garlic cloves, minced
1 tsp chopped Gelson's organic fresh rosemary
1 cup mayonnaise
2 Tbsp chopped fresh parsley
2 Tbsp drained, chopped capers
1 tsp white wine vinegar
Directions
Heat the oven to 400°. In a large roasting pan, toss the sweet potatoes with ⅛ cup of the olive oil and season with salt and pepper. Roast for 20 to 25 minutes.

Meanwhile, coat the swordfish with the remaining ⅛ cup olive oil, garlic, and rosemary, and season generously with salt and pepper. Place the fish on a baking sheet and put it in the oven along with the potatoes. Roast the fish and potatoes, stirring the potatoes once, until both are done, about 10 to 12 minutes for 1"-thick steaks.

In a small bowl, combine the mayonnaise with the parsley, capers, and vinegar. Serve the roasted swordfish and potatoes with the caper mayonnaise.
Recipe adapted from: Food & Wine