Dinner Recipes
Tempura Mushroom Tacos With Napa Slaw
If there is a savory food more adorable than tempura mushrooms, we don't know what it is! Adorable and luxe, these tacos belong in the red-lacquered compartments of a bento box. Even so, this is actually a quick meal to throw together. The Napa slaw requires a little knife work, but you can make it ahead. (In fact, you should: let those flavors meld.) And the mushroom tempura is in and out of the frying oil in minutes.
Tempura veggies are lovely in a taco. In part, that's down to the batter, which stays super light and crisp in the oil, adding a bunch of crunch but almost no weight. The batter is a simple affair: just flour, cornstarch, and soda water. In the test kitchen, we've found that a cold tempura batter will fry up lighter, more delicate, so we chill all the ingredients prior to whisking it up — even the flour.
We use mushrooms and jalapeños here, and we love how fresh and juicy they stay in their golden brown tempura coats. They taste amazing with the Napa slaw, a bright yet richly savory combo of veggies tossed in rice vinegar, tamari, sesame oil, and plenty of cilantro.
Tempura mushroom tacos are so nice and light and yet so satisfying. They'd make fantastic happy hour fare paired with your favorite beer or a sparkling wine. And, not surprisingly, they're a family fave — even with the mushrooms. Our kiddos nibbled on the crispy bits of tempura batter and soon found themselves happily shoving whole mushrooms in their mouths and murmuring purr-like yums.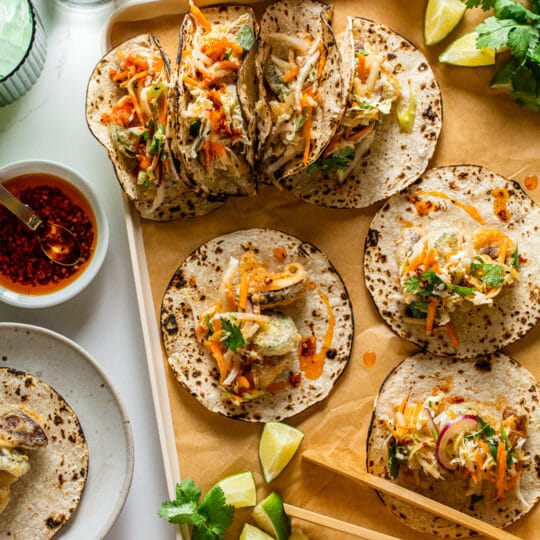 Dinner
Tempura Mushroom Tacos With Napa Slaw