Lunch Recipes
Thai-Style Slaw and Chicken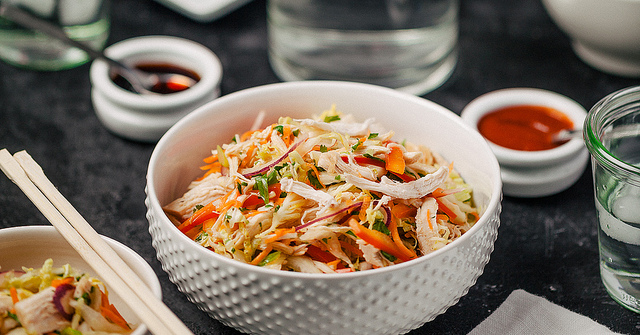 It's the beginning of the year, and we've been making a lot of salads. We like this one because its flavors are a little off the beaten path of our green salads. It's sweet, it's spicy, it's full of chicken and crunchy veggies — carrots, peppers, and cabbage — and it's got a pleasantly funky fish-sauce umami. It's also aesthetically pleasing: there's no messy lettuce, and all the ingredients chop up to about the same size and shape.

Tip: This salad is at its very best the day it's made, when it's still crunchy. So if you're meal-prepping, portion it out, and dress only what you want to eat.
Servings: 6


Ingredients
2 chicken breasts
½ cabbage (any variety), shredded
2 Tbsp olive oil, plus more for the chicken
½ tsp kosher salt
1 red bell pepper, seeded and thinly sliced
2 to 3 carrots, thinly sliced
6 scallions, thinly sliced
1 small bunch cilantro, roughly chopped to yield about 1 cup
1 small red onion, thinly sliced
¼ cup plus 2 Tbsp lime juice
1 Tbsp fish sauce
4 ½ tsp sugar
½ tsp Sriracha, plus more to taste
Black pepper, to taste
Salt, to taste

Directions
Preheat the oven to 350º.
Place the chicken breasts on a baking sheet and brush them lightly with olive oil. Season with salt and pepper, and bake for 20 minutes, or until they reach 165º on an instant-read thermometer. Allow them to cool, and then shred and set aside.
In the meantime, make the dressing: stir together the lime juice, fish sauce, sugar, and Sriracha.
In a large salad bowl, combine the cabbage, oil, and salt. Massage the cabbage with your hands: really squeeze it firmly until it shrinks in size and looks saturated.
Add the peppers, carrots, scallions, cilantro, red onion, and chicken.
Pour the dressing over the bowl of vegetables and toss to coat evenly. Taste and adjust the salt or Sriracha as needed.
Recipe source: Food 52.