Dinner Recipes
The Oscar Dog
What makes this an award-winning dog? The same thing that makes it totally SoCal: it's laid back, a little bit spicy, and full of avocado. It's also very easy to pull off: if you can whisk some Sriracha sauce into mayo and chiffonade a cabbage, you can make this dog. But, oh boy, that first bite: so creamy, so zippy, so tangy, so crunchy, so snappy!
Our tip: use a high-quality hot dog because, with these light, fresh ingredients, its flavor will really stand out.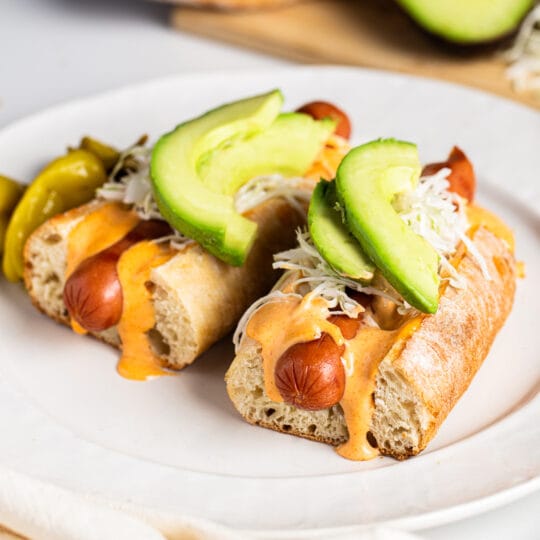 Dinner
The Oscar Dog
Serves: 4
Ingredients
1 tsp freshly squeezed lemon juice
1 cup shredded green cabbage
Directions
Preheat the oven to 400°.

To create the top cut buns: Slice the baguette into 4 equal pieces. Make a v-shaped slice into the top of each baguette piece and remove the center wedge to make space for the hot dog and filling.

Place the buns on a sheet pan and bake until slightly crispy yet still soft and chewy on the inside, 5 to 6 minutes.

While the buns are toasting, grill the hot dogs over medium heat, turning occasionally, until they're cooked all the way through, about 7 minutes.

In a small bowl, stir together the mayonnaise, Sriracha, and lemon juice until incorporated.

To assemble the Oscar Dogs: Spread 1 to 2 tablespoons of Sriracha mayonnaise inside each bun. Top with a hotdog, ¼ cup shredded cabbage, and a few slices of avocado. Serve hot.

Oscar Dogs are best eaten fresh, and we don't recommend storing leftovers.
Recipe adapted from: eatthis.com