Dinner Recipes
TikTok's Leftover Salmon & Rice Bowl
If you're alive and on TikTok, you probably have seen Emily Mariko's viral video for her leftover salmon rice bowl. We are totally here for it (c'mon, it's basically a deconstructed salmon roll!). But in true Gelson's fashion, we also put our own little spins on it.
First, we like our salmon super crispy, so we reheat it in the oven instead of the microwave — and boy, does the oven make that flaky fish satisfyingly crispy. Second, we're pretty lazy, so rather than fussing with the ice cubes, we simply reheat the rice on the stove top with a couple tablespoons of water. (Bonus: it makes the leftover rice really chewy and tender.) And third, we can't ever get enough condiment action, so we use an admittedly hedonic amount of Kewpie mayo and sriracha on top. Bring on the creamy heat!
Beyond that, we pretty much stick to Emily's script, adding slices of creamy avocado, sheets of toasty nori, and a few spoonfuls of funky kimchi to the production. Is it just about the best WFH lunch ever? Why yes, yes it is. But this salmon rice bowl is also an awesome dish for Friday night dinner with friends — it's practically begging to be served with a fun cocktail (like, ahem, our Daybreak Cocktail).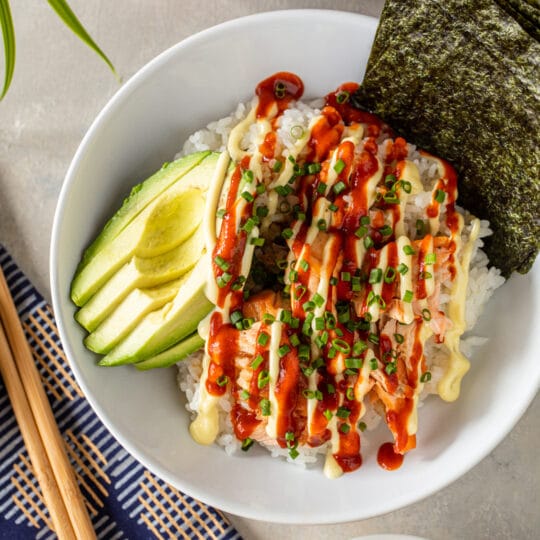 Dinner
TikTok's Leftover Salmon & Rice Bowl
Serves: 2
Ingredients
12 oz cooked, skinless salmon fillets
2 Tbsp water, plus more if needed
Kewpie mayonnaise, to taste
2 nori sheets, cut into quarters
Chopped chives, for garnish
Directions
Preheat the oven to 350F.

Place the salmon on a sheet pan and bake until heated through, 10 to 12 minutes.

Meanwhile, place the rice in a small saucepan and break it up with a spoon. Add the water: if your rice is still dry, you can add more, one tablespoon at a time.

Cover and cook over low heat, stirring occasionally until the rice is heated through, 8 to 10 minutes.

Using a spatula, break the salmon into bite-size pieces.

Divide the rice and salmon between two bowls, placing the salmon on top of the rice. Top both dishes with soy sauce, avocado slices, and a drizzle or two each of Kewpie mayo and Sriracha.

Garnish each bowl with nori and chopped chives, and serve with kimchi.
Recipe adapted from: Hypebae