Dessert Recipes
Turmeric Snickerdoodle
Just when you think you know everything about snickerdoodles, they get a super sunny update — thanks to a generous amount of turmeric. The color is so vibrant, but the flavor is subtle: the turmeric seems to bring out even more of the vanilla's floral notes and the cinnamon's earthy warmth. It's everything you love about the cookie, with a hint of sophistication, loads of buttery goodness, and a chewy-yet-crisp-at-the-edges texture that's irresistible. We'd bring this pretty cookie to any fall celebration. It would be very sweet at a baby shower, and a shining star at Friendsgiving.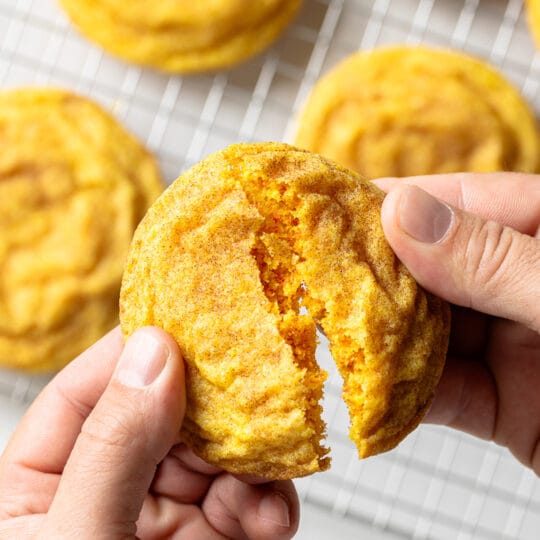 Dessert
Turmeric Snickerdoodle
Serves: 24
Ingredients
1 cup unsalted butter, room temperature
1 ⅔ cups plus ½ cup granulated sugar, divided
1 ¼ teaspoons kosher salt
1 ¾ tsp Gelson's ground turmeric
2 ⅓ cups Gelson's organic all-purpose flour
1 ½ tsp Gelson's ground cinnamon
Directions
Preheat the oven to 375°. Line two sheet pans with parchment paper.

In a stand mixer fitted with the paddle attachment, combine the butter, 1 ⅔ cups sugar, and salt. Beat on medium speed until light and fluffy, about 2 minutes.

Add the eggs and vanilla. Continue beating until combined, scraping down the sides of the bowl as needed, about 30 seconds.

Add the turmeric and baking powder and mix on low speed just until combined. Add the flour and mix on low until completely combined, 30 seconds.

Cover and chill the dough in the bowl for 10 minutes. In a small bowl, stir together the remaining ½ cup sugar and the cinnamon.

Scoop the dough into rounded tablespoons and gently roll them between your palms to form balls. Roll each ball in the cinnamon sugar to coat.

Evenly space six dough balls on each prepared sheet pan. Bake for 9 to 11 minutes until puffy, slightly crackly, and just beginning to brown around the edges. Let cool for a few minutes, then transfer the cookies to a cooling rack.

Repeat step 7 with the remaining dough.