Dinner Recipes
Vegan Black Bean Enchiladas with Avocado Cream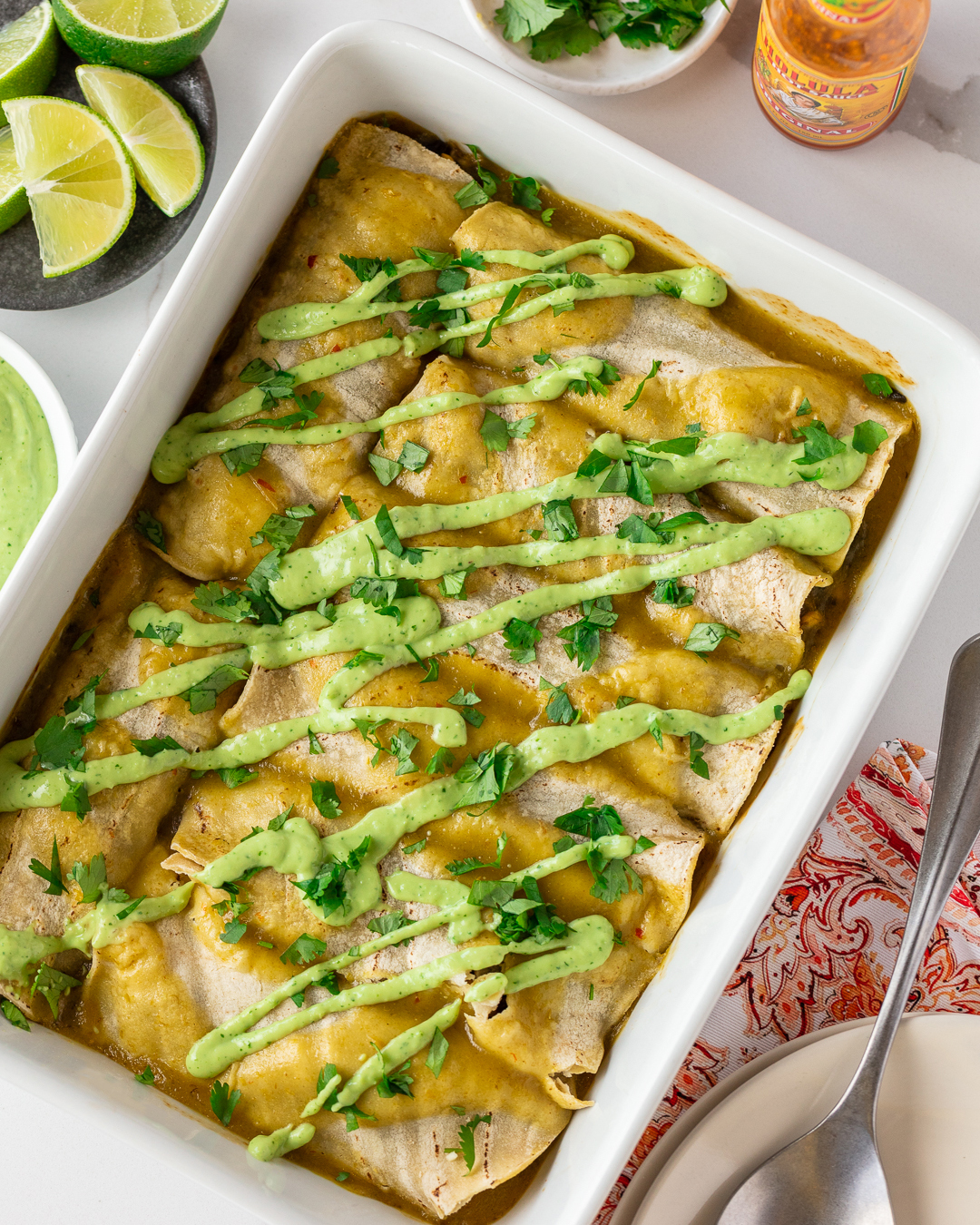 Filled with spinach, corn, and black beans that have been sautéed in aromatic cumin, these vegan enchiladas are wonderfully light, comforting, and hearty. They're baked in a green enchilada sauce, which we love for its salt and mild tang — and how soft the tortillas get when they soak it up. But it's the avocado cream, spooned over the top of the dish when it comes out of the oven, that steals the show. Its tart lime and jalapeño pepper taste incredible with the savory fillings and keep the enchiladas bright and fresh.
You'll have quite a bit of the avocado cream leftover. You could put it in a bowl and dip your salty tortilla chips in it, or you could save it for other dishes. It'll be fantastic on everything from chilaquiles to roasted veggies, tacos, and eggplant sandwiches.
Our tip: The avocado cream takes some of its thick texture from non-dairy milk. We used Ripple because it's made with pea protein, so while it's rich enough to do the job, it has a nice, neutral flavor. You could use any non-dairy milk, but we'd recommend staying away from the strongly flavored milks, like coconut, in favor of oat or soy milk.
Servings: 4 to 6

Enchiladas

Ingredients


1 Tbsp Gelson's 100% California extra virgin olive oil
1 garlic clove, minced
¼ red onion, diced
1 ½ tsp Gelson's cumin
1 can black beans, drained and rinsed
1 4-oz can diced green chiles
⅓ cup frozen corn
2 cups fresh spinach
2 cups green enchilada sauce, divided
Kosher salt, to taste
Freshly ground Gelson's black pepper, to taste
8 corn tortillas
Fresh cilantro, chopped, for garnish


Directions


Preheat the oven to 350º.

To make the enchiladas: heat the olive oil in a large pan over medium heat. Sauté the garlic and onions until the onions are soft and translucent, about 5 minutes, stirring frequently.

Add the cumin, black beans, green chiles, corn, salt, and pepper. Stir in ¼ cup enchilada sauce and cook 5 minutes more. Set the filling aside.

Pour ¼ cup of enchilada sauce in the bottom of a baking dish measuring 9x13".

Fill each tortilla with ¼ cup of the filling, rolling to seal. Place each filled tortilla seam side down in the baking dish. Top with the remaining enchilada sauce and bake for 15 minutes.

While the enchiladas are cooking, make the avocado cream (recipe below).

Allow the enchiladas to cool for 5 minutes. Drizzle with avocado cream and garnish with cilantro.


Avocado Cream

Ingredients

1 large ripe avocado
¼ cup Gelson's 100% California extra-virgin olive oil
¼ cup non-dairy milk
¼ cup chopped fresh cilantro
2 Tbsp freshly squeezed lime juice
1 small jalapeño pepper, seeded and diced
2 garlic cloves, minced
½ tsp kosher salt

Directions


To make the avocado cream, combine all ingredients in a food processor or blender, and blend until smooth and creamy. If it's too thick, add a bit more non-dairy milk. Set aside.
Recipe source: Ripple Foods