Appetizer Recipes
Vegan Cheese
Is it foodie hyperbole to say that this vegan cheese is a bit of a revelation? Not at all. We make it in the food processor using almonds and cashews, so it's wonderfully nutty — and thanks to the white miso, lemon, and nutritional yeast, it's irresistibly tangy. In other words, it has all the depth of a good cheese.
All whirled up, this vegan cheese looks suspiciously like bean dip; take a bite, and you'll find the texture is similar — dense and creamy, a little grainy. It's also an impressively versatile texture: it spreads well on crackers and sandwiches, and it crumbles easily (kind of like chèvre), making it the perfect finishing note for all manner of salads. We also love it with cool, crunchy cucumber medallions, sweet-tart apple slices, baby carrots … you get the idea.
Our tip: This vegan cheese keeps well in the fridge for about five days. Make it on a Sunday, and you'll have something to snack on all week long!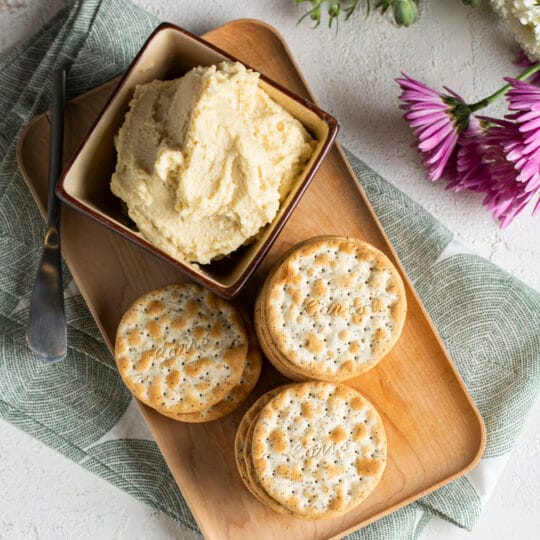 Appetizer
Vegan Cheese
Ingredients
1 cup Gelson's raw almonds, soaked overnight, skins removed, rinsed
1 cup Gelson's raw jumbo cashews, soaked overnight, rinsed
1 Tbsp plus 1 tsp white miso
2 tsp freshly squeezed lemon juice, plus more to taste
1 ¾ tsp kosher salt, plus more to taste
Directions
In a food processor, blend all of the ingredients until the cheese appears smooth but holds its shape, 8 to 10 minutes. Season with additional lemon juice and kosher salt.
Transfer the cheese to an airtight container and cool in the refrigerator for at least 2 hours. Note: the cheese will taste best the next day, after the flavors have had time to meld.
Cheese can be stored in an airtight container in the refrigerator for up to 5 days.