Dinner Recipes
Vegan Squash & White Bean Stew
What we love about this hearty stew is that it comes together in a half hour or so, but it tastes as though it's been simmering away on the back of the stove all day. We steep white beans, veggies, and orzo in wine, garlic, pearl onions, lemon, and herbs — basil, thyme, and oregano — so they develop a deeply aromatic, full, rich flavor. And some nice textures, too: those creamy onions!
It's funny, but more than one taster told us that the dish reminded them of Campbell's SpaghettiOs — all grown-up, healthy, and sophisticated, of course. It's definitely very comforting and reminiscent of a long-cooking marinara. Maybe that's why our kids are so happy to eat it.
Our tips: This is a great one for a snug family dinner or Sunday supper. If you've got a mix of diets at the table, you could put a bowl of Parmesan out as a garnish. And though the stew is beautiful without it, you could also add meat, and we'd recommend a sweet Italian sausage with fennel.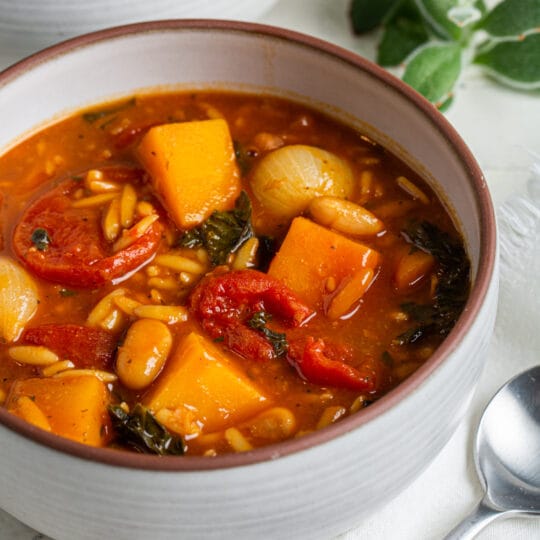 Dinner
Vegan Squash & White Bean Stew
Serves: 4
Ingredients
10 oz pearl onion, peeled and halved
3 garlic cloves, sliced thin
1 lb squash like butternut, acorn or delicata, peeled and diced large
2 cups kale, stems removed, chopped
1 15-oz can stewed tomatoes with juice
1 15-oz can white beans, rinsed (great Northern or cannellini)
½ cup basil, chopped for garnish
Directions
In a large Dutch oven, heat the olive oil over medium heat, add the pearl onions, and sauté until translucent and fragrant.

Add the garlic and squash and sauté for 2 minutes.

Toss in the thyme, oregano, and kale and fold to combine.

Stir in the uncooked orzo, sauté for 1 minute, and then pour in the wine.

Add the stewed tomatoes with juice, tomato sauce, and vegetable sauce, and then stir to combine, breaking up the large pieces of tomato with a wooden spoon. Bring it to a simmer.

Stir in white beans and simmer for 20 minutes, stirring occasionally.

Add the lemon juice, season with salt and pepper, garnish with fresh basil and lemon zest — and serve immediately, while it's still hot.