Dinner Recipes
Weeknight Stuffed Pork Tenderloin
Pork tenderloin is one of those cuts that feels a little fancy. In part, that's because it's not one we eat as regularly as, say, a steak. Plus, it's often served in pretty little medallions that are stuffed with goodies. Case in point, this recipe: We roll the tenderloin up with bacon, wild mushrooms, onions, and loads of garlic and parsley. It spends about 20 minutes in the oven and emerges a light, juicy piece of red meat that's full of texture and layered flavor, between the bright herbs and the salty bacon.
Sliced into chef-y medallions to show off the swirl of meat and stuffing, it looks very fancy indeed! We'd serve it at any special occasion, from a date night with the S.O. to an evening with the grands. But it would also be perfect for an ordinary Tuesday — it's easy as can be and the kids will love it.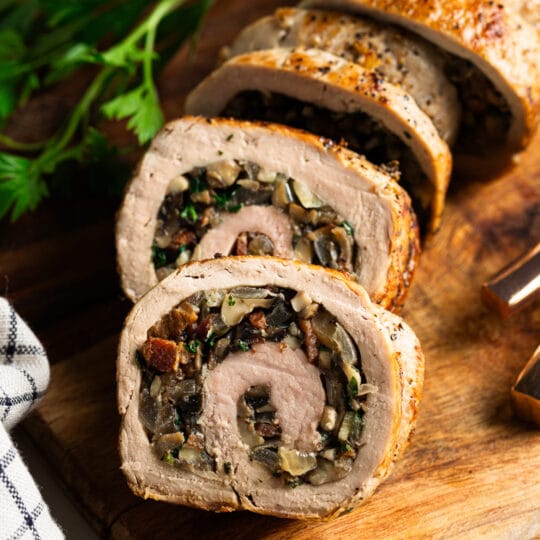 Dinner
Weeknight Stuffed Pork Tenderloin
Serves: 6
Ingredients
4 Tbsp Gelson's 100% California extra virgin olive oil, divided
3 slices bacon, cut into ½" pieces
6 oz cremini mushrooms, rough chopped
½ yellow onion, small diced
1 ½ tsp kosher salt, divided
1 tsp freshly ground black pepper, divided
¼ cup chopped fresh parsley, plus more to garnish
Directions
Preheat the oven to 400º. In an oven-safe large skillet over medium heat, add 2 tablespoons of olive oil and the bacon, and cook until browned, about 4 minutes.

Add the mushrooms and onion and cook for 5 minutes or until softened.

Season with ½ teaspoon of the salt and ½ tsp of the black pepper. Add the parsley and garlic. Cook for 1 minute or until fragrant, stirring constantly. Transfer to a plate and wipe out the skillet.

On a large cutting board, slice the pork tenderloin lengthwise to butterfly it, being careful not to slice all the way through it. Open the tenderloin and cover it with a sheet of plastic wrap. Using the flat side of a meat mallet or a rolling pin, gently pound the tenderloin to ½" thick.

Spread the cooked vegetables evenly over the surface of the tenderloin, leaving ½" of space around the edges. Starting at the long edge, tightly roll up the tenderloin and secure it using 6 pieces of butchers twine tied about 1" apart.

Heat the skillet over medium heat. Add the remaining 2 tablespoons of olive oil and heat until shimmering, about 1 minute. Sear the tenderloin for about 2 minutes per side or until browned.

Transfer the skillet to the oven and roast the tenderloin for 18 to 20 minutes or until an instant-read thermometer inserted in the thickest part of the roast reads 150º.

Transfer the tenderloin to a large cutting board and pour the pan drippings on top. Let rest for 10 minutes before slicing into rings.

Garnish with chopped parsley and serve. Leftovers can be stored in an airtight container in the refrigerator for up to 3 days.
Recipe source: Natasha's Kitchen