Dinner Recipes
White BBQ Chicken Drumettes
White barbecue sauce was invented in Alabama in the mid-1920s. Unlike traditional barbecue sauce, which is typically sweet and smoky, this mayo-based sauce gets extra tang from cider vinegar and horseradish. It's glorious with chicken and caramelizes beautifully on the grill — these tasty little drumettes get such a nice sticky-sweet char! Serve these as an appetizer at your next backyard cookout or pile them high on a plate for game day with lots of extra sauce for dipping.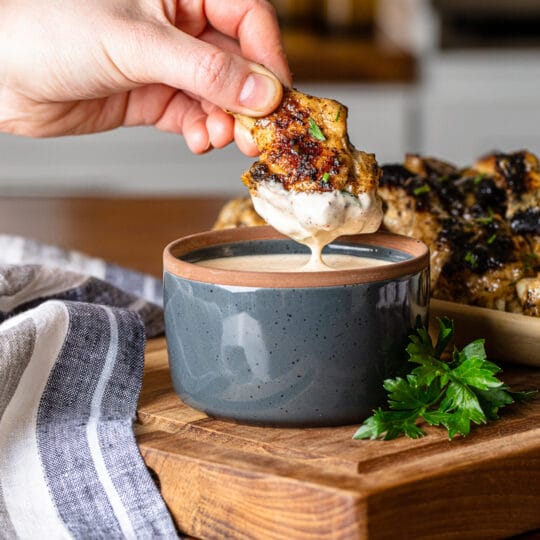 Dinner
White BBQ Chicken Drumettes
Serves: 4
Ingredients
½ cup apple cider vinegar
2 Tbsp packed light brown sugar
4 tsp prepared horseradish
2 tsp freshly squeezed lemon juice
1 tsp Worcestershire sauce
1 tsp Gelson's garlic powder
1 tsp Gelson's onion powder
½ tsp Gelson's cayenne pepper
1 ½ tsp kosher salt, divided
1 ½ tsp freshly ground Gelson's black pepper, divided
Fresh chopped parsley, for garnish
Directions
To make the white barbecue sauce: In a large bowl, whisk together the mayonnaise, vinegar, Dijon, brown sugar, horseradish, lemon juice, Worcestershire sauce, hot sauce, garlic powder, onion powder, cayenne pepper, ½ teaspoon of the salt, and ½ teaspoon of the black pepper until smooth. Refrigerate until ready to use. Sauce can be stored in an airtight container for up to 5 days.

In a separate large bowl, season the chicken drumettes with the remaining 1 teaspoon kosher salt and 1 teaspoon black pepper. Add 1 cup of the white barbecue sauce. Using a rubber spatula, stir the drummettes until evenly coated in the sauce.

Cover the bowl with plastic wrap and marinate in the refrigerator for at least 1 hour and up to overnight.

When ready to cook the wings, heat a grill to medium-high heat. Line a sheet pan with a wire cooling rack.

Remove the wings from the refrigerator and place them on the prepared sheet pan. Using a paper towel, pat the drumettes to remove the excess marinade.

Transfer ½ cup of white barbecue sauce to a small bowl for brushing.

Transfer the drumettes from the sheet pan to the grill, leaving about 1" of space between them. Close the lid and cook for 3 minutes. Open the lid, turn the wings, and brush them with barbecue sauce. Close the grill and cook for another 3 minutes. Repeat this process until the chicken is nicely charred and the internal temperature registers 165° on an instant-read thermometer, about 12 to 15 minutes total.

To serve, place the chicken wings on a large platter and garnish with chopped parsley. Serve immediately with the remaining white barbecue sauce.

Leftovers can be stored in an airtight container in the refrigerator for 1 day.
Recipe adapted from: Chili Pepper Madness