Appetizer Recipes
Zucchini Fritters
It's that time of year when everyone and their neighbor is up to their necks in zucchini, whether from the garden, the CSA, or the local grocery store (wink, wink). Or maybe from people stealthily leaving it on the doorstep in the night, as we all are apt to do during this time of zucc-y excess. Wherever all the zucchini is coming from, the bottom line is: no one wants to be the one to let all that glorious bounty go to waste — which is why zucchini fritters have recently earned the title of "Our Best Friend Right Now." (Zucchini bread, you're a close second.)
Zucchini is a rather watery vegetable, so the key to attain crispy excellence with these fritters is to get all of the liquid out. We like to grate the zucchini, plop it in a mesh strainer, sprinkle it with some salt — which will soak up some of the water — and let it drain for about 10 minutes. To deal with any remaining water, we turn to the ole squeeze-in-a-towel technique.
From there we mix the grated, water-expunged zucchini with green onion, lemon zest, and fresh basil and thyme — plus a bit of flour and an egg to hold it all together. The little patties fry up crispy on the outside and light and tender on the inside. And they're so fresh and bright with all that herby, lemony goodness!
We serve the fritters with a sauce of tangy sour cream, punchy garlic, and zingy lemon — the perfect creamy, kicky complement to all that vegetal greenery. It's altogether a great appetizer or side dish. Having a garden party? These fritters will fit right in. Just make a double batch and prepare to watch them disappear the second you put out the plate. (But if there are leftovers, we'd highly recommend plopping a poached or fried egg on top of a couple fritters for breakfast!)
Our tips: Feel free to play around with different fresh herbs in your fritter batter — parsley, cilantro, mint, you name it. To keep the fritters warm, put them on a sheet pan in a low oven; to reheat, slide them under the broiler for a minute or two.
Yield: 12 to 14 fritters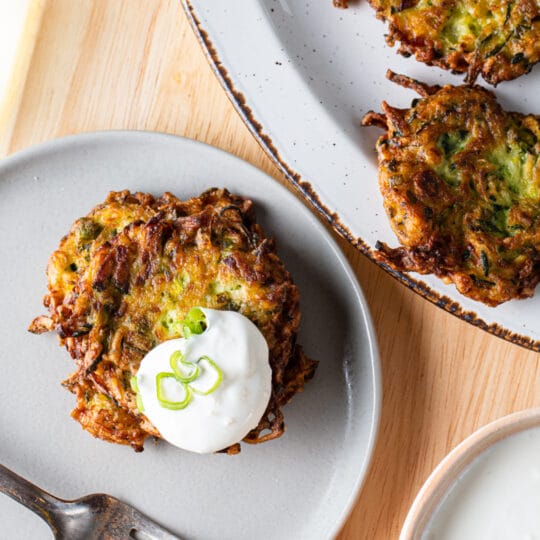 Appetizer
Zucchini Fritters