Delicious food for any occasion.

Put Gelson's Catering on your shopping list for your next get-together. Let us do the work so you can relax and enjoy. Gelson's catering menu will cover any craving – from tempting platters and hearty hors d'oeuvres, to buffet entrées and sides, to desserts, brunch, and tea party treats. Party on, with a plan.

We cannot accept cancellations with less than 48 hours' notice before your scheduled pickup date. Cancellation requests should be sent to kitchenorders@gelsons.com. A customer service representative will review your request and reply within 48 business hours. Sorry, we cannot refund or give store credit if you change your mind with less than 48 hours before your pickup date or mistakenly order an item.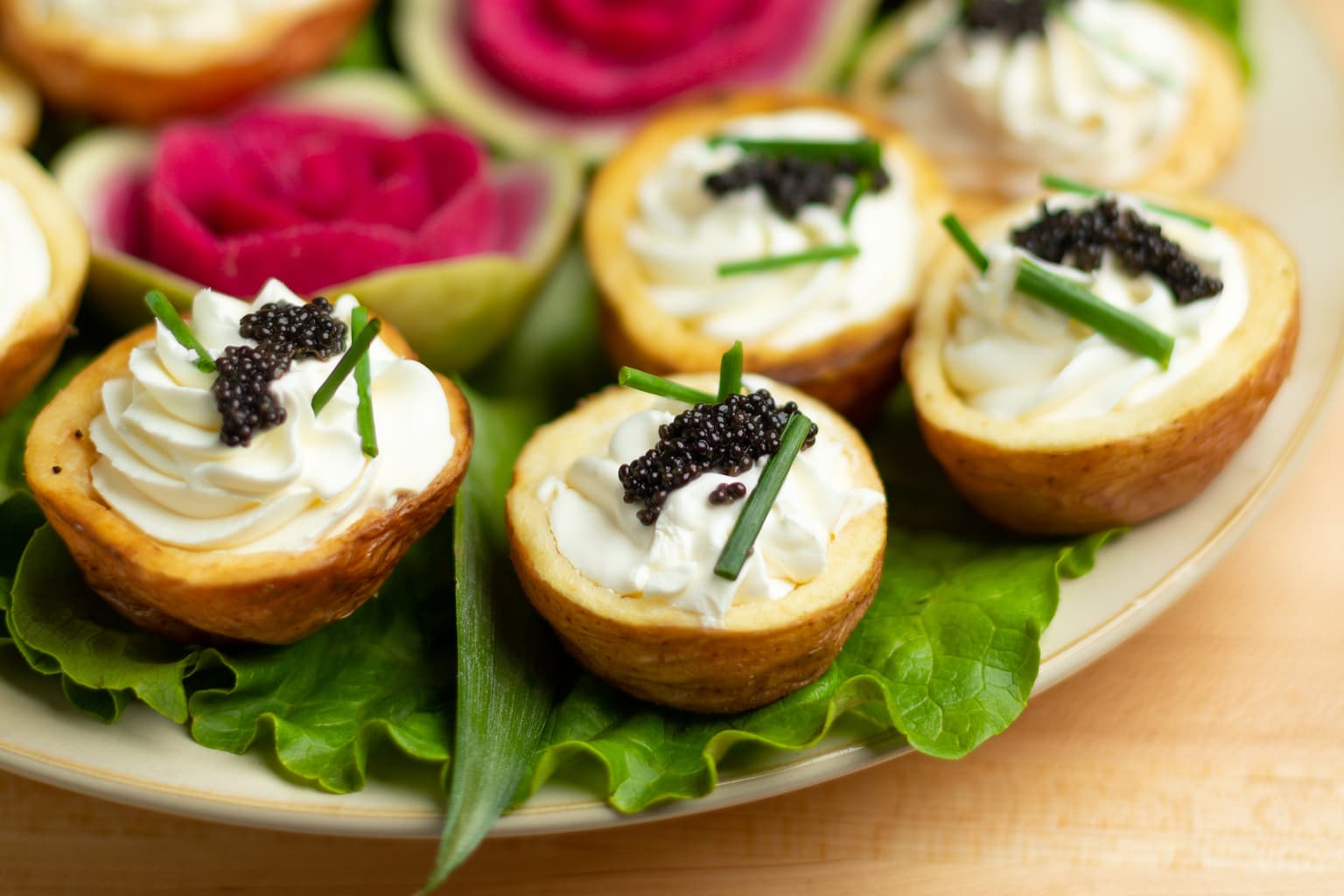 Serving Recommendations
2,000 calories a day is used for general nutrition advice, but calorie needs vary. Additional nutrition information available upon request.
Serves Up To 16

Charcuterie Antipasto

An appetizing mixture of prosciutto, Genoa salami, roasted red peppers, marinated artichoke hearts, provolone cheese, bocconcini mozzarella, and roasted tomato salad. Served with spicy tomato-almond aioli and slices of ciabatta bread.

Calories Per Serving

290 per 4 oz

Serves Up To 16

Cheese and Fruit Platter

Imported Brie, creamy Gorgonzola, aged Gouda, Boursin, and dill Havarti paired with fresh grapes, berries and dried fruit.

Calories Per Serving

250 per 4 oz

Serves Up To 24

Crudité Platter

This eye-catching selection boasts orchard-fresh seasonal vegetables accompanied by your choice of dip. Two sizes available – click View Options to see pricing.

Calories Per Serving

80 per 4 oz

Serves Up To 30

Deluxe Shrimp Platter

Featuring jumbo shrimp that's plump, firm, and pleasing, this mighty platter will impress any guest. Served with our tangy cocktail sauce and lemon wedges.

Calories Per Serving

110 per 4 oz

Serves Up To 12

Gourmet Meat and Cheese

Here's a platter to remember: Roast beef, turkey and ham complemented by Swiss, Provolone and Cheddar cheeses as well as Dijon mustard and mayonnaise. Served with an assortment of fresh rolls. Garnished with lettuce and tomato slices.

Calories Per Serving

190 per 4 oz

Serves Up To 12

Lox and Cream Cheese

So nice to nosh … savory lox, whipped cream cheese, slices of sweet red onions and tomatoes, plus an assortment of fresh bagels.

Calories Per Serving

180 per 4 oz

Serves Up To 12

Mediterranean Platter

A lavish assortment of imported prosciutto, Italian ham, mortadella, sopressata, and olives. Includes hummus, baba ghanoush, roasted peppers and tomatoes, bocconcini, teardrop tomatoes, dolmas, marinated grilled eggplant, feta cheese and capers.

Calories Per Serving

170 per 4 oz

Serves Up To 20

Nibbler Cheese Platter

A superb spread of cubed domestic and imported cheeses, including Cheddar, Swiss, Gouda, Havarti, provolone, and creamy mozzarella, encircling a large pecan cheese ball. So good, so easy.

Calories Per Serving

420 per 4 oz

Serves Up To 20

Seasonal Fruit Platter

Assorted seasonal fruits served with your choice of chocolate-hazelnut dip or Waldorf dip. Two sizes available – click View Options to see pricing.

Calories Per Serving

60 per 4 oz

Serves Up To 6

Artichoke and Boursin

Half an artichoke heart filled with boursin mousse, lightly hand-breaded with cage-free eggs and unbleached panko.

Calories Per Serving

175 per 4 oz

Serves Up To 6

Assorted Mini Quiche

Flaky pastry shells with Spinach and Lorraine fillings - 6 of each flavor for 12 mini quiche total. Pop these blissful quiche bites into your mouth as you mix and mingle.

Calories Per Serving

330 per 4 oz

Serves Up To 6

Bacon Wrapped Jumbo Shrimp

This enticing combination of flavors and textures is sure to be a hit at any gathering in your house or on the patio. Comes with cocktail sauce.

Calories Per Serving

280 per 4 oz

Serves Up To 6

Beef Filet and Creamy Horseradish Canape

Seared peppered beef filet atop a pan-browned potato pancake with creamy horseradish.

Calories Per Serving

195 per 4 oz

Serves Up To 6

Peppered Ahi with Wasabi Caviar Canape

Seared, peppered center cut ahi with wasabi aioli and wasabi caviar on multi-grain baguette.

Calories Per Serving

200 per 4 oz.

Serves Up To 6

Ciliegine and Sundried Tomato Canape

Fresh ciliegine mozzarella, sundried tomato relish and basil pesto drizzle on focaccia.

Calories Per Serving

225 per 4 oz

Serves Up To 6

Mini Potato Latkes, Smoked Salmon, Caviar Canape

Caviar sets a sumptuous mood. Freshly made potato latkes, fried golden brown, then topped with our finest Scottish smoked salmon and caviar.

Calories Per Serving

240 per 4 oz

Serves Up To 6

Shrimp and Pesto Canape

Wild caught Mexican shrimp with basil pesto mousse on a multi-grain baguette.

Calories Per Serving

410 per 4 oz

Serves Up To 6

Hummus and Kalamata Canape

Traditional homemade hummus with Greek Kalamata olives in a mini bouche.

Calories Per Serving

315 per 4 oz

Serves Up To 6

Brie Pear and Walnut Filo Pouch

Harmonious sweet and savory pairing of double cream brie cheese, caramelized pear, walnuts, and fromage blanc wrapped in a flaky filo pouch.

Calories Per Serving

560 per 4 oz

Serves Up To 6

Cashew Chicken Skewers

Slices of chicken breast coated with a crunchy layer of sweetened, crushed cashews. Complemented by our honey-mustard dipping sauce.

Calories Per Serving

400 per 4 oz

Serves Up To 12

Crudité Cups

These crunchy cups will please your palate and catch the eye of discerning guests. Sticks of carrot, celery, pepper, and squash, garnished with endive. Ranch or blue cheese dressing.

Calories Per Serving

150 per 4 oz

Serves Up To 6

Fig Brie Grilled Cheese

Simple yet sophisticated: Double-cream Brie cheese, fig spread, and sourdough bread make an irresistible grilled sandwich.

Calories Per Serving

410 per 4 oz

Serves Up To 6

Florentine Stuffed Mushroom

A large mushroom cap filled with a delicate blend of spinach, our saucier Bechamel sauce, mozzarella and Parmesan cheese.

Calories Per Serving

210 per 4 oz

Serves Up To 6

Mini Crab Cakes

These cakes boast hearty, yet delicate, crab and Maryland-style herbs and spices. Served with a spicy remoulade sauce. Stress-free and super tasty.

Calories Per Serving

370 per 4 oz

Serves Up To 12

Smoked Salmon Deviled Eggs with Caviar

Deviled Eggs get an extra special touch with the addition of Scottish smoked salmon, sturgeon caviar, and chives.

Calories Per Serving

210 per 4 oz

Serves Up To 6

Sonoran Chicken Pouch

Mary's chicken combined with zesty tomatoes, ortega chili, cilantro and jalapeno, wrapped in a light, buttery filo pouch.

Calories Per Serving

280 per 4 oz

Serves 2

Peppered Beef Tenderloin

Enjoy beef tenderloin encrusted with black peppercorn and roasted to a juicy medium-rare and your choice of a second entrée of equal or lessor value.


All Picnic Meals are served chilled and come in an insulated Gelson's picnic tote with fresh fruit (8 oz/90 calories), two 500 ml Evian water bottles, two butterflake dinner rolls (160 calories each), four Pie Hole Strawberry Lavender pastry bites (40 calories each) and your choice of two sides.

Calories Per Serving

130 per 4 oz.

Serves 2

Poached Atlantic Salmon

One of our most popular offerings, this tender salmon is served with a creamy, mustard-dill sauce and your choice of a second entrée of equal or lessor value.


All Picnic Meals are served chilled and come in an insulated Gelson's picnic tote with fresh fruit (8 oz/90 calories), two 500 ml Evian water bottles, two butterflake dinner rolls (160 calories each), four Pie Hole Strawberry Lavender pastry bites (40 calories each) and your choice of two sides.

Calories Per Serving

130 per 4 oz

Serves 2

Spicy Grilled Salmon

The ideal choice for al fresco dining. Flavorful salmon is marinated in a spicy red chili sauce and and your choice of a second entrée of equal or lessor value.


All Picnic Meals are served chilled and come in an insulated Gelson's picnic tote with fresh fruit (8 oz/90 calories), two 500 ml Evian water bottles, two butterflake dinner rolls (160 calories each), four Pie Hole Strawberry Lavender pastry bites (40 calories each) and your choice of two sides.

Calories Per Serving

130 per 4 oz

Serves 2

Spicy Grilled Sriracha Shrimp Skewers

Tender, jumbo shrimp, marinated and grilled, and served with Sriracha dipping sauce and your choice of a second entrée of equal or lessor value.


All Picnic Meals are served chilled and come in an insulated Gelson's picnic tote with fresh fruit (8 oz/90 calories), two 500 ml Evian water bottles, two butterflake dinner rolls (160 calories each), four Pie Hole Strawberry Lavender pastry bites (40 calories each) and your choice of two sides.

Calories Per Serving

140 per 4 oz

Serves 2

Homemade Super Lump Crab Cakes with Remoulade Sauce

Want to add a little East Coast style? It's easy with these authentic crab cakes made in the Chesapeake tradition and your choice of a second entrée of equal or lessor value.


All Picnic Meals are served chilled and come in an insulated Gelson's picnic tote with fresh fruit (8 oz/90 calories), two 500 ml Evian water bottles, two butterflake dinner rolls (160 calories each), four Pie Hole Strawberry Lavender pastry bites (40 calories each) and your choice of two sides.

Calories Per Serving

230 per 4 oz

Serves 2

Chicken Romano

Boneless, skinless chicken breast pounded thin, coated with Pecorino Romano, bread crumbs and herbs and served with marinara sauce and your choice of a second entrée of equal or lessor value.


All Picnic Meals are served chilled and come in an insulated Gelson's picnic tote with fresh fruit (8 oz/90 calories), two 500 ml Evian water bottles, two butterflake dinner rolls (160 calories each), four Pie Hole Strawberry Lavender pastry bites (40 calories each) and your choice of two sides.

Calories Per Serving

130 per 4 oz.

Serves 1

Carved Turkey Sandwich

Our sumptuous hand carved turkey breast, cranberry mayonnaise, Cambazola and baby spring mix on a French roll.


All Lunch Bag items are served chilled in an insulated Gelson's tote with fresh fruit (4 oz./45 calories), one 500ml bottle of Evian Water, and one side and dessert.

Calories Per Serving

110-130 per 4 oz

Serves 1

Croissant Sandwich

A fluffy and flaky croissant filled with your choice of Black Forest ham and Swiss cheese, Roast Turkey and Provolone or Roast Beef and Cheddar Cheese.


All Lunch Bag items are served chilled in an insulated Gelson's tote with fresh fruit (4 oz./45 calories), one 500ml bottle of Evian Water, and one side and dessert.

Calories Per Serving

100-130 per 4 oz

Serves 1

Muffuletta Sandwich

Mortadella, hard salami, capocollo, provolone and mozzarella serviced with a chopped, spicy olive mix and olive oil on a French roll.


All Lunch Bag items are served chilled in an insulated Gelson's tote with fresh fruit (4 oz./45 calories), one 500ml bottle of Evian Water, and one side and dessert.

Calories Per Serving

150-170 per 4 oz

Serves 1

Roasted Vegetable Wrap

A lighter choice with Mediterranean flair: whole wheat tortilla, hummus, roasted peppers, squash, eggplant, tomatillo, and romaine.

All Lunch Bag items are served chilled in an insulated Gelson's tote with fresh fruit (4 oz./45 calories), one 500ml bottle of Evian Water, and one side and dessert.

Calories Per Serving

110 per 4 oz

Serves 1

Vegetarian Club

Muenster cheese, avocado, roasted red peppers, tomato, red pepper hummus, onion jam, and lettuce on our whole wheat bread or croissant.


All Lunch Bag items are served chilled in an insulated Gelson's tote with fresh fruit (4 oz./45 calories), one 500ml bottle of Evian Water, and one side and dessert.

Calories Per Serving

100-130 per 4 oz

Serves Up To 10

The Masterpiece Sushi

A true work of art, this sushi assortment includes 30 pieces of nigiri sushi, 24 pieces of California roll, 16 pieces of tuna roll, and 16 pieces of cucumber roll. Served on a platter garnished with wasabi and pickled ginger.

Serves Up To 5

The Half Masterpiece Sushi

A true work of art, this sushi assortment includes 15 pieces of nigiri sushi, 12 pieces of California roll, 8 pieces of tuna roll, and 8 pieces of cucumber roll. Served on a platter garnished with wasabi and pickled ginger.

Serves Up To 5

California Roll Platter

We've got California cool, all wrapped up. Includes 40 pieces of California roll (blue crab, avocado, and cucumber). Served with wasabi and pickled ginger. You'll love the convenience.

Serves 1

Chicken Cordon Bleu

Buffet Entrées, Salads & Sides

Marinated boneless/skinless chicken breast filled with black forest ham and Swiss cheese, breaded with cage-free eggs and unbleached panko.

Calories Per Serving

180 per 4 oz

Serves Up To 12

Chicken Romano Platter

Buffet Entrées, Salads & Sides

Enjoy restaurant-quality dining at home. Chicken cutlets, bread crumbs, pecorino Romano, parsley, and marinara sauce.

Calories Per Serving

180 per 4 oz

Serves Up To 10

Roasted Prime Rib - 5 lbs.

Buffet Entrées, Salads & Sides

Top-quality beef, carefully seasoned and roasted to medium rare. Served with our own horseradish cream sauce.

Calories Per Serving

370 per 4 oz

Serves Up To 8

Peppered Beef Tenderloin

Buffet Entrées, Salads & Sides

Thin slices of beef tenderloin seasoned with fragrant herbs and coarsely ground black pepper. Comes with a creamy horseradish sauce.

Calories Per Serving

200 per 4 oz

Serves Up To 10

Herb Roasted Tri Tip - 5 lbs.

Buffet Entrées, Salads & Sides

Tender, juicy and lean, exquisite tri tip is a must-try! You and your guests will be glad you did. Served fully intact - medium rare.

Calories Per Serving

210 per 4 oz

Serves Up To 14

Stuffed Crown Pork Roast

Buffet Entrées, Salads & Sides

Frenched pork loin chops with cornbread stuffing.

Calories Per Serving

230 per 4 oz

Serves Up To 12

Spicy Grilled Salmon

Buffet Entrées, Salads & Sides

Atlantic salmon marinated in a tantalizing red chile sauce, then expertly grilled. Perfect for patio dining.

Calories Per Serving

400 per 4 oz

Serves Up To 20

Poached Salmon

Buffet Entrées, Salads & Sides

Our poached Atlantic salmon is presented with cucumber slices in aspic and served with a creamy, mustard-dill caper sauce.

Calories Per Serving

200 per 4 oz

Serves Up To 4

Creamy Bramata Polenta

Buffet Entrées, Salads & Sides

Creamy slow-cooked savory polenta with butter and refined with cream and cheese. A great pairing for any protein.

Calories Per Serving

220 per 4 oz

Serves Up To 4

Garlic Roasted Asparagus

Buffet Entrées, Salads & Sides

Lightly roasted with garlic, extra virgin olive oil, salt and pepper.

Calories Per Serving

45 per 4 oz

Serves Up To 4

Garlic Roasted Brussels Sprouts

Buffet Entrées, Salads & Sides

Lightly roasted with garlic, extra virgin olive oil, salt and pepper.

Calories Per Serving

70 per 4 oz

Serves Up To 4

Garlic Roasted Red Potatoes

Buffet Entrées, Salads & Sides

Lightly roasted with garlic, extra virgin olive oil, salt and pepper.

Calories Per Serving

120 per 4 oz

Serves Up To 4

Roasted Garlic Butternut Squash

Buffet Entrées, Salads & Sides

Lightly roasted with garlic, extra virgin olive oil, salt and pepper.

Calories Per Serving

90 per 4 oz

Serves Up To 12

Grilled Portabella Stacks

Buffet Entrées, Salads & Sides

Portabella caps, bell peppers, red potatoes, carrots, and squash with extra virgin olive oil.

Calories Per Serving

100 per 4 oz

Serves 1

Potatoes au Gratin Dauphinois

Buffet Entrées, Salads & Sides

Creamy, cheesy and rich potatoes au gratin, individually portioned.

Calories Per Serving

160 per 4 oz

Serves Up To 18

Caprese Sandwich Platter

A little taste of Italy is just a bite away. This tantalizing platter features rustic rolls with Parma prosciutto, vine-ripened tomatoes, fresh mozzarella, and pesto.

Calories Per Serving

250 per 4 oz

Serves Up To 12

Mini Sandwiches

Your choice of 12 mini sandwiches with condiments included. Choose your sandwich options below (4 sandwiches per option) and bread choice - choose from Whole Wheat, Sourdough, and Rolls.

Calories Per Serving

190 per 4 oz

Serves Up To 12

Berry Bowl

Bursting with naturally sweet flavor, you'll want to munch a bunch of these beauties: Fresh strawberries, raspberries, blackberries, and blueberries.

Calories Per Serving

50 per 4 oz

Serves Up To 4

French Macarons

Delicious and delightful French Macarons. Two each of the following flavors: Dark Chocolate, White Chocolate, Pistachio, Coffee, Almond, and Strawberry.

Calories Per Serving

440 per 3.5 oz

Serves Up To 6

Brie En Croute with Raspberry

A sweet and savory combination of flavorful rich Brie cheese and raspberry puree inside a buttery puff pastry.

Calories Per Serving

210 per 4 oz

Serves Up To 12

Fruit Skewers with Yogurt Dip

Enjoy melon, mango, and berries with a honey-yogurt dip.

Calories Per Serving

110 per 8 oz

Serves Up To 12

Mini Scone Platter

Mini blueberry scones with vanilla icing make a tea party simply divine.

Calories Per Serving

440 per 4 oz

Serves Up To 12

Mini Yogurt Parfaits

Greek yogurt, granola, strawberries, pineapple, and watermelon.

Calories Per Serving

145 per 4 oz

Serves Up To 6

Quiche Florentine Minis

A tasty blend of chopped spinach, Swiss cheese, bacon and onion and a cage-free egg royale in a homemade pastry shell.

Calories Per Serving

305 per 4 oz

Serves Up To 6

Quiche Lorraine Minis

Classical French quiche made with Swiss cheese, bacon and onion and a cage-free egg royale in a homemade pastry shell.

Calories Per Serving

305 per 4 oz

Serves Up To 6

Red Bliss Potatoes, Crème Fraîche and Caviar

Roasted mini red potatoes, crème fraiche, caviar and chives.

Calories Per Serving

140 per 4 oz

Serves Up To 6

Assorted Rugelach Platter

Assorted rugelach: chocolate chip, apricot, cinnamon, fresh berries.

Calories Per Serving

400 per 4 oz

Serves Up To 12

Stuffed French Toast

French bread, cream cheese, orange marmalade, maple syrup and powdered sugar.

Calories Per Serving

250 per 4 oz

Serves Up To 8

Seven Layer Dip

A scrumptious tower of refried beans, chunky salsa, guacamole, sour cream, cheddar cheese, black olives, and green onions.

Calories Per Serving

160 per 4 oz

Serves Up To 4

Guacamole

Fresh, ripe avocados blended with onions, tomatoes, jalapeños, garlic, sour cream, and seasonings.

Calories Per Serving

180 per 4 oz

Serves Up To 12

Brownie Platter

An all-American dessert with a dash of decadence. Go on, have one, you know you want to.

Calories Per Serving

440 per 4 oz

Serves Up To 12

Chocolate Chip Cookie Platter

Why spend hours in your kitchen? Save time, indulge your sweet tooth, and take a bite of crispy delight.

Calories Per Serving

390 per 4 oz

Serves Up To 12

Chocolate Dipped Strawberries

Jumbo strawberries dipped in bittersweet chocolate and white chocolate.

Calories Per Serving

250 per 4 oz

Serves Up To 6

Chocolate Bombe

Six individual delectable desserts made with chocolate mousse and cherries and marinated in brandy, on a hazelnut almond crust.

Calories Per Serving

360 per 4 oz

Serves Up To 6

Banana Chocolate Chimichanga

This dessert chimichanga is made with diced bananas, dark chocolate chips and cage-free egg custard inside a hand-folded tortilla, ready to heat and serve.

Calories Per Serving

215 per 4 oz

Serves Up To 6

Dark Chocolate and Caramel Miso Tart

Bittersweet chocolate covering a layer of caramel miso and topped with a black and white sesame crumble in a rich, buttery chocolate tartlet. Six individual tarts per order.

Calories Per Serving

420 per 4 oz

Serves Up To 6

Tiramisu with Mascarpone

Six individual desserts comprised of mascarpone mousse, Kahlua, chocolate mocha and cocoa butter.

Calories Per Serving

370 per 4 oz