Delicious food for any occasion.

Introducing new, delicious catering items! Put Gelson's Catering on your shopping list for your next get-together. Let us do the work so you can relax and enjoy. Gelson's catering menu will cover any craving – from tempting platters and hearty hors d'oeuvres, to buffet entrées and sides, to desserts, brunch and more. Party on, with a plan.

Click here for Gelson's Catering Reheating Instructions
We cannot accept cancellations with less than 48 hours' notice before your scheduled pickup date. Cancellation requests should be sent to kitchenorders@gelsons.com. A customer service representative will review your request and reply within 48 business hours. Sorry, we cannot refund or give store credit if you change your mind with less than 48 hours before your pickup date or mistakenly order an item.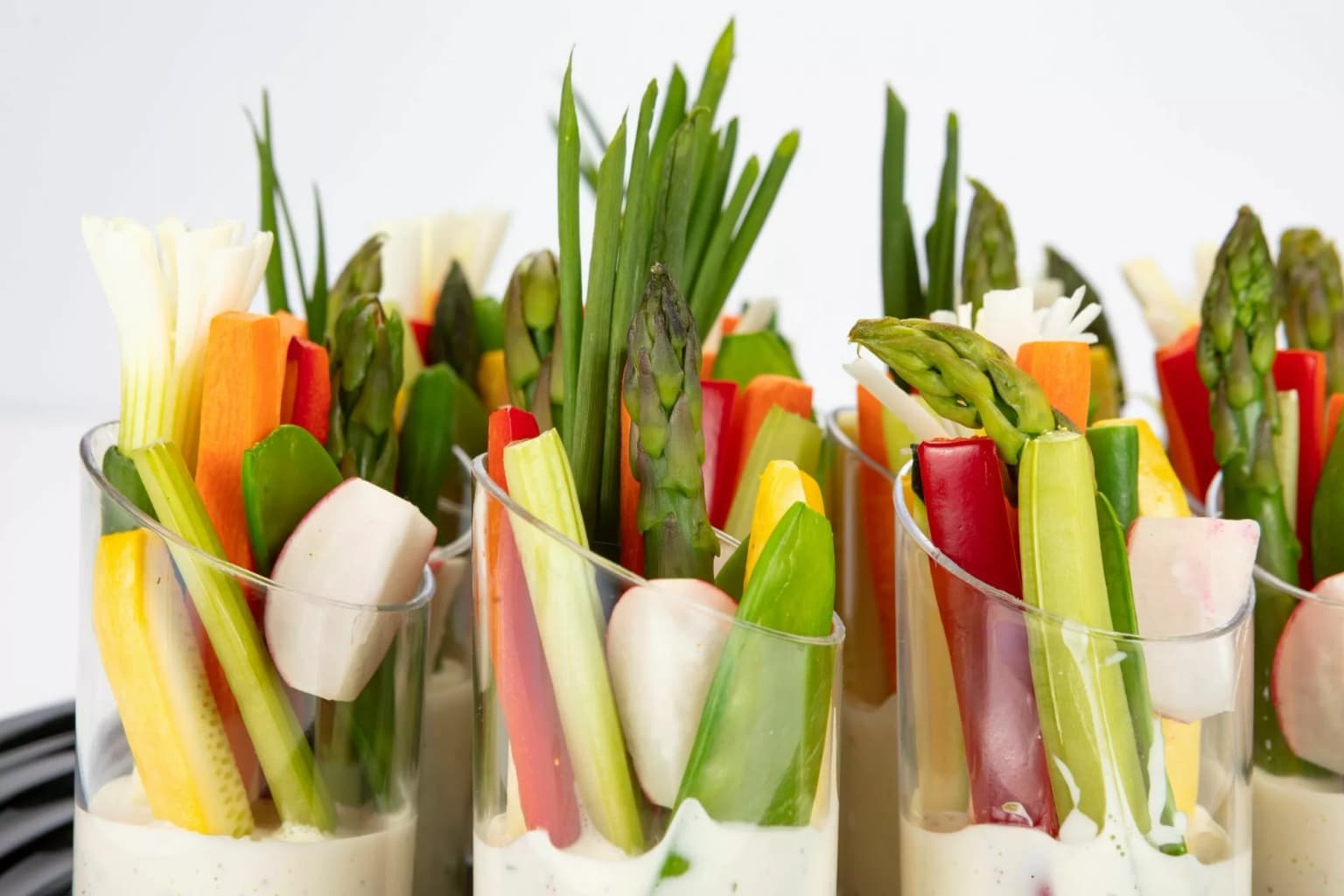 Serving Recommendations
2,000 calories a day is used for general nutrition advice, but calorie needs vary. Additional nutrition information available upon request.
Serves Up To 6

Antipasto Brochette

Cilingini mozzarella, roasted tomato, kalamata olive with a basil pesto drizzle. Includes 12 pieces.

Calories Per Serving

300 per 4 oz.

Serves Up To 6

Beef Filet and Creamy Horseradish Canape

Seared peppered beef filet atop a pan-browned potato pancake with creamy horseradish. Includes 12 pieces.

Calories Per Serving

195 per 4 oz

Serves Up To 6

Brie Pear and Walnut Filo Pouch

Harmonious sweet and savory pairing of double cream brie cheese, caramelized pear, walnuts, and fromage blanc wrapped in a flaky filo pouch. Includes 12 pieces.

Calories Per Serving

560 per 4 oz

Serves Up To 6

Cashew Chicken Skewers

Slices of chicken breast coated with a crunchy layer of sweetened, crushed cashews. Complemented by our honey-mustard dipping sauce. Includes 12 skewers.

Calories Per Serving

400 per 4 oz

Serves Up To 6

Char Siu Pork Buns

Sweet and savory bbq roast pork in a steamed milk bun. Includes 6 pieces.

Calories Per Serving

140 per 4 oz.

Serves Up To 6

Charcuterie Cups

Individual charcuterie party cones. Perfectly portable for picnics or a casual get together. Includes 6 cups.

Serves Up To 12

Crudité Cups

These crunchy cups will please your palate and catch the eye of discerning guests. Sticks of carrot, celery, pepper, and squash, garnished with endive. Ranch or blue cheese dressing. Includes 12 cups.

Calories Per Serving

150 per 4 oz

Serves Up To 6

Crab Stuffed Mushrooms

A large mushroom cap filled with wild a caught crab meat mixture and breaded with cage-free eggs and seasoned bread crumbs. Includes 12 pieces.

Calories Per Serving

125 per 4 oz

Serves Up To 6

Fig Brie Grilled Cheese

Simple yet sophisticated: Double-cream Brie cheese, fig spread, and sourdough bread make an irresistible grilled sandwich. Includes 12 pieces.

Calories Per Serving

410 per 4 oz

Serves Up To 6

Mini Crab Cakes

These cakes boast hearty, yet delicate, crab and Maryland-style herbs and spices. Served with a spicy remoulade sauce. Stress-free and super tasty. Includes 12 crab cakes.

Calories Per Serving

370 per 4 oz

Serves Up To 6

Shrimp Potstickers

Traditional pan seared shrimp dumplings. Served with soy sauce and sriracha chili. Includes 12 pieces.

Calories Per Serving

130 per 4 oz.

Serves Up To 6

Chicken Potstickers

Traditional pan seared chicken dumplings. Served with soy sauce and sriracha chili. Includes 12 pieces.

Calories Per Serving

185 per 4 oz.

Serves Up To 6

Vegetable Potstickers

Traditional pan seared vegetable dumplings. Served with soy sauce and sriracha chili. Includes 12 pieces.

Calories Per Serving

130 per 4 oz.

Serves Up To 12

Smoked Salmon Deviled Eggs with Caviar

Deviled Eggs get an extra special touch with the addition of Scottish smoked salmon, sturgeon caviar, and chives. Includes 24 pieces.

Calories Per Serving

210 per 4 oz

Serves Up To 16

Charcuterie Antipasto

An appetizing mixture of prosciutto, Genoa salami, roasted red peppers, marinated artichoke hearts, provolone cheese, bocconcini mozzarella, and roasted tomato salad. Served with spicy tomato-almond aioli and slices of ciabatta bread.

Calories Per Serving

290 per 4 oz

Serves Up To 16

Cheese and Fruit Platter

Imported Brie, creamy Gorgonzola, aged Gouda, Boursin, and dill Havarti paired with fresh grapes, berries and dried fruit.

Calories Per Serving

250 per 4 oz

Serves Up To 24

Crudité Platter

This eye-catching selection boasts orchard-fresh seasonal vegetables accompanied by your choice of dip. Two sizes available – click View Options to see pricing.

Calories Per Serving

80 per 4 oz

Serves Up To 30

Deluxe Shrimp Platter

Featuring jumbo shrimp that's plump, firm, and pleasing, this mighty platter will impress any guest. Served with our tangy cocktail sauce and lemon wedges.

Calories Per Serving

110 per 4 oz

Serves Up To 12

Gourmet Meat and Cheese

Here's a platter to remember: Roast beef, turkey and ham complemented by Swiss, Provolone and Cheddar cheeses as well as Dijon mustard and mayonnaise. Served with an assortment of fresh rolls. Garnished with lettuce and tomato slices.

Calories Per Serving

190 per 4 oz

Serves Up To 12

Lox and Cream Cheese

So nice to nosh … savory lox, whipped cream cheese, slices of sweet red onions and tomatoes, plus an assortment of fresh bagels.

Calories Per Serving

180 per 4 oz

Serves Up To 12

Mediterranean Platter

A lavish assortment of imported prosciutto, Italian ham, mortadella, sopressata, and olives. Includes hummus, baba ghanoush, roasted peppers and tomatoes, bocconcini, teardrop tomatoes, dolmas, marinated grilled eggplant, feta cheese and capers.

Calories Per Serving

170 per 4 oz

Serves Up To 20

Nibbler Cheese Platter

A superb spread of cubed domestic and imported cheeses, including Cheddar, Swiss, Gouda, Havarti, provolone, and creamy mozzarella, encircling a large pecan cheese ball. So good, so easy.

Calories Per Serving

420 per 4 oz

Serves Up To 20

Seasonal Fruit Platter

Assorted seasonal fruits served with your choice of chocolate-hazelnut dip or Waldorf dip. Two sizes available – click View Options to see pricing.

Calories Per Serving

60 per 4 oz

Serves Up To 6

Assorted Mini Quiche

Flaky pastry shells with Spinach and Lorraine fillings - 6 of each flavor for 12 mini quiche total. Pop these blissful quiche bites into your mouth as you mix and mingle.

Calories Per Serving

330 per 4 oz

Serves Up To 6

Baked Apple Cinnamon Oatmeal

Whole grain oats, combined with caramelized Granny Smith apples and subtle flavors of brown sugar, maple, and cinnamon. Includes 6 pieces.

Calories Per Serving

255 per 4 oz.

Serves Up To 6

Baked Peaches and Cream Oatmeal

Twice baked whole grain oats combined with heavy cream, brown sugar and juicy peaches. Includes 6 pieces

Calories Per Serving

255 per 4 oz.

Serves Up To 12

Berry Bowl

Bursting with naturally sweet flavor, you'll want to munch a bunch of these beauties: Fresh strawberries, raspberries, blackberries, and blueberries.

Calories Per Serving

50 per 4 oz

Serves Up To 12

Fruit Skewers with Yogurt Dip

Enjoy melon, mango, and berries with a honey-yogurt dip.

Calories Per Serving

110 per 8 oz

Serves Up To 12

Mini Scone Platter

12 mini blueberry scones with vanilla icing make a tea party simply divine.

Calories Per Serving

440 per 4 oz

Serves Up To 12

Mini Yogurt Parfaits

Greek yogurt, granola, strawberries, pineapple, and watermelon. Includes 12 parfaits.

Calories Per Serving

145 per 4 oz

Serves Up To 6

Quiche Florentine Minis

A tasty blend of chopped spinach, Swiss cheese, bacon and onion and a cage-free egg royale in a homemade pastry shell. Includes 12 pieces.

Calories Per Serving

305 per 4 oz

Serves Up To 6

Quiche Lorraine Minis

Classical French quiche made with Swiss cheese, bacon and onion and a cage-free egg royale in a homemade pastry shell. Includes 12 pieces.

Calories Per Serving

305 per 4 oz

Serves Up To 10

The Masterpiece Sushi

A true work of art, this sushi assortment includes 30 pieces of nigiri sushi, 24 pieces of California roll, 16 pieces of tuna roll, and 16 pieces of cucumber roll. Served on a platter garnished with wasabi and pickled ginger.

Serves Up To 5

The Half Masterpiece Sushi

A true work of art, this sushi assortment includes 15 pieces of nigiri sushi, 12 pieces of California roll, 8 pieces of tuna roll, and 8 pieces of cucumber roll. Served on a platter garnished with wasabi and pickled ginger.

Serves Up To 5

California Roll Platter

We've got California cool, all wrapped up. Includes 40 pieces of California roll (blue crab, avocado, and cucumber). Served with wasabi and pickled ginger. You'll love the convenience.

Serves 1

Beef Short Rib Lattice Wellington

Tender short rib meat with a mushroom medley in an all butter puff pastry.

Calories Per Serving

270 per 4 oz

Serves 1

Salmon Lattice Wellington

Wild caught salmon medallion on a bed of creamy spinach and topped with sorrel butter, wrapped in puff pastry.

Calories Per Serving

270 per 4 oz

Serves Up To 12

Chicken Romano Platter

Marinated boneless/skinless chicken breast filled with black forest ham and Swiss cheese, breaded with cage-free eggs and unbleached panko. Includes 12 pieces.




Calories Per Serving

180 per 4 oz

Serves Up To 10

Roasted Certified Angus Beef ® Prime Rib (5 lbs)

Certified Angus Beef ®, Prime Rib carefully seasoned and roasted to medium rare. Served with our own horseradish cream sauce.




Calories Per Serving

370 per 4 oz

Serves Up To 6

Southern Style Mac n Cheese Soufflé

A savory blend of aged white cheddar, Monterey Jack, and Gruyere cheese with macaroni pasta. Includes 6 pieces.

Calories Per Serving

200 per 4 oz.

Serves Up To 6

Corn Soufflé

Light, smooth, and tender- this decadent custard like cornbread is creamy and sweet with yellow corn that will surely please. Includes 6 pieces.

Calories Per Serving

200 per 4 oz.

Serves Up To 6

Green Pea and Parmesan Soufflé

A delicious mixture of green peas, russet potatoes, and Gruyere cheese with a hint of nutmeg. The perfect side to complete your favorite dish. Includes 6 pieces.

Calories Per Serving

160 per 4 oz.

Serves Up To 8

Peppered Beef Tenderloin

Thin slices of Certified Angus Beef ® beef tenderloin seasoned with fragrant herbs and coarsely ground black pepper. Comes with a creamy horseradish sauce.

Calories Per Serving

200 per 4 oz

Serves Up To 10

Herb Roasted Certified Angus Beef® Tri Tip (5 lbs)

Thin slices of Certified Angus Beef ® tenderloin seasoned with fragrant herbs and coarsely ground black pepper. Comes with a creamy horseradish sauce




Calories Per Serving

210 per 4 oz

Serves Up To 14

Stuffed Crown Pork Roast

Frenched pork loin chops with cornbread stuffing.

Calories Per Serving

230 per 4 oz

Serves Up To 12

Spicy Grilled Salmon

Atlantic salmon marinated in a tantalizing red chile sauce, then expertly grilled. Perfect for patio dining. Includes 12 pieces.

Calories Per Serving

400 per 4 oz

Serves Up To 20

Poached Salmon

Our poached Atlantic salmon is presented with cucumber slices in aspic and served with a creamy, mustard-dill caper sauce.

Calories Per Serving

200 per 4 oz

Serves 1

Potatoes au Gratin Dauphinois

Creamy, cheesy and rich potatoes au gratin, individually portioned.

Calories Per Serving

160 per 4 oz

Serves Up To 12

Caprese Sandwich Platter

A little taste of Italy is just a bite away. This tantalizing platter features rustic rolls with Parma prosciutto, vine-ripened tomatoes, fresh mozzarella, and pesto. Includes 12 sandwiches.

Calories Per Serving

250 per 4 oz

Serves Up To 12

Mini Sandwiches

Your choice of 12 mini sandwiches with condiments included. Choose your sandwich options below (4 sandwiches per option) and bread choice - choose from Whole Wheat, Sourdough, and Rolls.

Calories Per Serving

190 per 4 oz

Serves Up To 4

French Macarons

Delicious and delightful French Macarons. Two each of the following flavors: Dark Chocolate, White Chocolate, Pistachio, Coffee, Almond, and Strawberry.

Calories Per Serving

440 per 3.5 oz

Serves Up To 6

Assorted Rugelach Platter

Assorted rugelach: 6 chocolate chip and 6 cinnamon with fresh berries.

Calories Per Serving

400 per 4 oz

Serves Up To 6

Apricot Pistachio Tart Bites

Baked with apricot halves, apricot glace in a sugar crust, and topped with crunchy pistachios. Includes 6 pieces.

Calories Per Serving

400 per 4 oz.

Serves Up To 6

Tiramisu Bites

Six individual desserts comprised of mascarpone mousee, Kahlua, chocolate mocha and cocoa butter.

Calories Per Serving

400 per 4 oz.

Serves Up To 6

Sour Cherry Tart Bites

Sour cherries topped with streussal in a sugar crust. Includes 6 pieces.

Calories Per Serving

370 per 4 oz.

Serves Up To 6

Raspberry & Mascarpone Mousse Bites

Raspberry and mascarpone mousse over chiffon sponge cake. Includes 6 pieces.

Calories Per Serving

325 per 4 oz.

Serves Up To 6

Passion Fruit Swirl Cheesecake Bites

Creamy cheesecake infused with passionfruit puree over all natural graham cracker brown sugar crust. Includes 6 pieces.

Calories Per Serving

230 per 4 oz.

Serves Up To 6

Passion Fruit and Blood Orange Mousse Bites

Tropical passion fruit and blood orange mousse over salted toasted pepita sponge cake. Includes 6 pieces.

Calories Per Serving

330 per 4 oz.

Serves Up To 6

Lavender Honey Cheesecake Bites

Creamy cheesecake topped with lemon curd and lavender meringue. Includes 6 pieces.

Calories Per Serving

470 per 4 oz.

Serves Up To 6

Flourless Chocolate Lava Cake Bites

Soft and moist bittersweet chocolate cake topped with creamy chocolate ganache and snow chocolate powder. Includes 6 pieces.

Calories Per Serving

520 per 4 oz.

Serves Up To 12

Brownie Platter

An all-American dessert with a dash of decadence. Go on, have one, you know you want to. Includes 12 brownies.

Calories Per Serving

440 per 4 oz

Serves Up To 12

Cookie Platter

Why spend hours in your kitchen? Save time, indulge your sweet tooth, and take a bite of crispy delight. Includes 12 cookies.

Calories Per Serving

390 per 4 oz

Serves Up To 7

Deluxe Mini Assortment

Top of the line assortment of 2 mini lime curd meringue tarts, 2 mini apricot tarts, 2 mini mango cheesecakes, 2 mini chocolate brownie pyramids, 2 mini passion fruit coconut cakes, 2 mini blood orange cakes, and 2 pistachio white chocolate cakes.

Calories Per Serving

300 per 4 oz

Serves Up To 12

Chocolate Dipped Strawberries

Jumbo strawberries dipped in bittersweet chocolate and white chocolate. Includes 24 strawberries.

Calories Per Serving

250 per 4 oz