Enjoy freshly prepared meals from Gelson's, delivered to your door!
Now offering limited-time free delivery!
Hungry? From burgers and wings to sushi and salads, sit back, relax, and let us deliver lunch or dinner to your apartment or the pool area. Simply place your order below, choose your delivery time and your delicious meal will be at your door. Order for delivery or pickup between 12:00pm - 8:15pm every day!

If you order alcohol, the person receiving the alcoholic beverage is required to be at least 21 years old and will need to have proper identification to show proof of age. If we are unable to verify the recipient the alcohol will be returned to the store. Please note that glass bottles (including wine) are not available for pool delivery.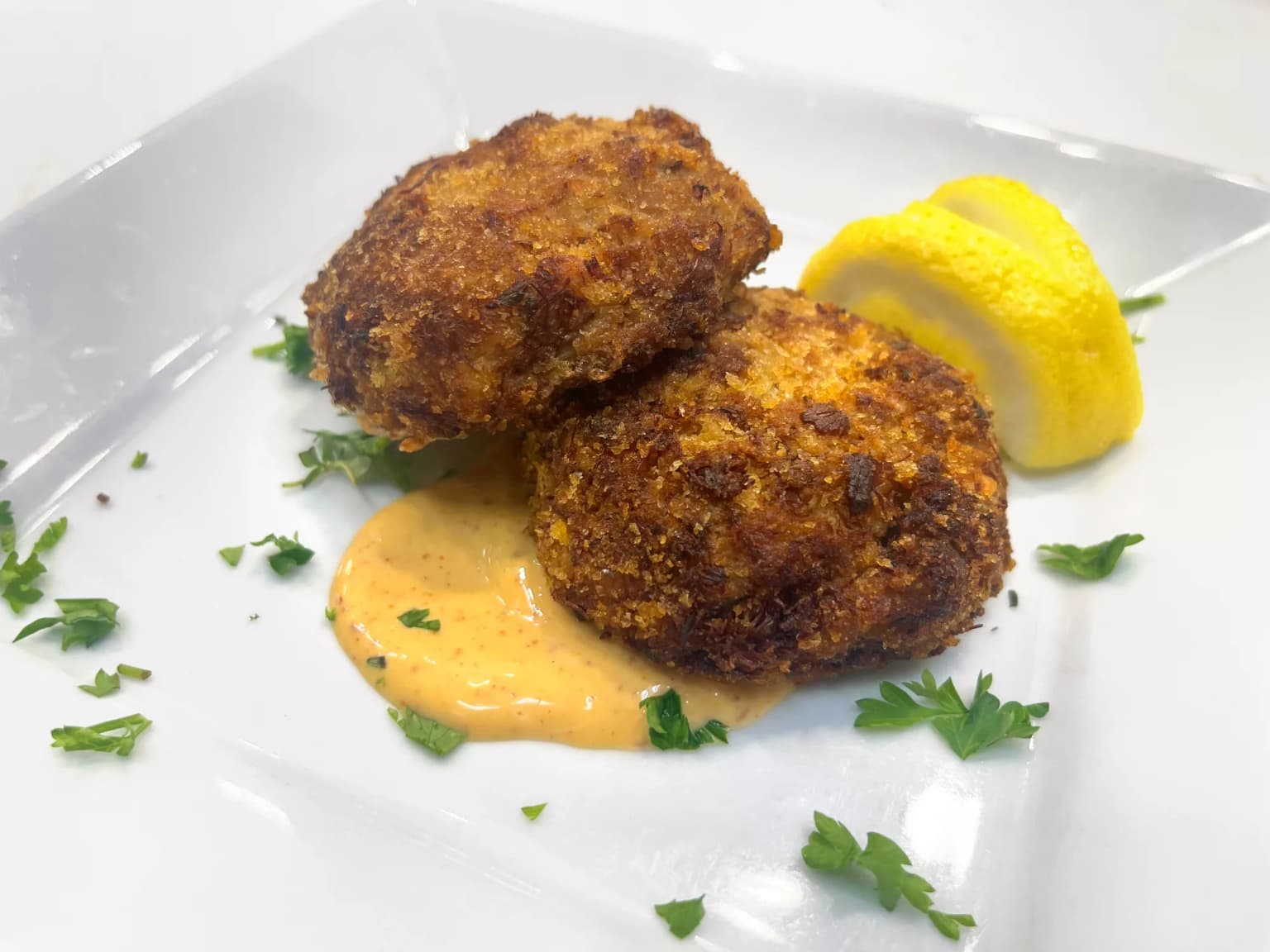 Serves 1

Sriracha Shrimp

Four grilled shrimp skewers served with Sriracha aioli and crunchy kale salad

Serves 1

Crab Cakes with Cajun Remoulade

Jumbo lump crab meat, spices, and panko breadcrumbs served with Cajun remoulade sauce

Serves 1

Truffle Mac n' Cheese

Creamy macaroni, parmesan crisp, Truff® truffle oil

Serves 1

Brisket Truffle Mac n' Cheese

Creamy macaroni, parmesan crisp, Truff® truffle oil with 12-hour, slow roasted Certified Angus Beef® Barbeque brisket

Serves 1

Lobster Sliders

Lobster, garlic aioli, lemon zest

Serves 2

Gourmet Cheese Plate

Jasper Hill Farms five-year Cheddar, Beehive Barely Buzzed Cheddar, Supreme Brie (Pennsylvania)

Serves 2

Mezze Plate

Garlic naan, cranberry goat cheese, hummus, cucumber, grape tomato, Kalamata olives and Marcona almonds

Serves 2

Chicken Wings Platter

Mango habanero, sriracha, or teriyaki

Serves 2

Poke Nachos

Wonton chips, shaved jalapeños, Sriracha mayonnaise, green onion, and Hawaiian-style ahi tuna poke

Serves 1

Burrata Salad

Di Stefano burrata, heirloom cherry tomatoes, arugula, balsamic reduction with rustic crostini

Serves 1

Caesar Salad

Romaine lettuce, parmesan, seasoned croutons with creamy Caesar dressing

Serves 1

Grilled Spicy Salmon over Mixed Greens

Organic greens, Spicy grilled salmon, radish, cranberries, pickled red onion, shaved fennel, citrus vinaigrette

Serves 1

Truff Pomodoro Meatball Sandwich

100% Grass-fed meatballs, Truff® Pomodoro sauce, and mozzarella served on a pretzel roll. Choose one side.

Serves 1

Citrus Grilled Chicken Club

Grilled chicken breast, Gelson's thick-cut bacon, arugula, Roma tomatoes, and provolone cheese served on a baguette. Choose one side.

Serves 1

World Famous Burger

½ lb Certified Angus Beef® patty, green leaf lettuce, shaved red onion, Roma tomato, and cheddar cheese served on a brioche bun. Choose one side.

*Burger temperature will be cooked to a Medium


Serves 1

Impossible World Famous Burger

Impossible patty, green leaf lettuce, shaved red onion, Roma tomato, and cheddar cheese served on a brioche bun. Choose one side.

Serves 1

BBQ Bacon Cheeseburger

½ lb Certified Angus Beef® patty, grilled onions, Gelsons peppercorn bacon, Swiss cheese, Elysian Space Dust IPA BBQ sauce, brioche bun. Choose one side.

*Burger temperature will be cooked to a Medium

Serves 1

Impossible BBQ Bacon Cheeseburger

Impossible patty, grilled onions, tofu bacon, Swiss cheese, Elysian Space Dust IPA BBQ sauce, brioche bun. Choose one side.

Serves 1

Sidewinder Fries

Golden, curly, fried potatoes

Serves 1

Creamy Cole Slaw

Shredded cabbage, carrots, mayonnaise, apple cider vinegar, sugar, horseradish, salt, dry mustard, celery seed and red cabbage

Serves 1

Homemade Potato Salad

Perfectly boiled potatoes with celery, green onion and mustard

Serves 1

Fresh Fruit Salad

Fresh seasonal fruit medley

Serves 1

Edamame

Edamame with house spicy sauce




Serves 1

Shrimp Tempura

Served with house dipping sauce on the side

Serves 1

Sunomono

Japanese cucumber salad marinated in seasoned rice vinegar

Serves 1

Miso Soup

Plant-based, gluten free, Non-GMO, and no MSG added

Serves 1

Royal Rainbow Roll

Tuna, salmon, kanpachi, shrimp, blue crab, masago, cucumber, cilantro, lemon, and olive




Serves 1

Spicy Tuna Tempura Roll

Spicy tuna, shrimp tempura, jalapeño, olive, fried onion, and house yuzu sauce




Serves 1

Blue Crab Roll

Blue crab, avocado, and cucumber with house mayo

Serves 1

Chirashi Bowl

Tuna, kanpachi, salmon, shrimp, and blue crab, over sushi rice

Serves 1

Gelson's Signature Ahi Tuna Poke Tower

Hawaiian or spicy ahi tuna poke, sushi rice, avocado, panko crumbs, spicy sriracha mayonnaise, and sesame seeds

Serves 1

Sashimi A La Carte (3pc)

Choose 3 pieces of the same fish: Kanpachi, Albacore, King Salmon, Tuna, Seasonal Fish

Serves 1

Special Sashimi (3pc)

Choose from Kanpachi, Albacore, King Salmon, Salmon, Tuna and Seasonal Fish

Serves 1

Omakase Sashimi (6pc)

Chef's Choice! You will get 6 pieces (combination of Kanpachi, Albacore, King Salmon, Salmon, Tuna and Seasonal Fish).

Serves 1

Nigiri A La Carte (2pc)

2 pieces of the same fish: Kanpachi, Albacore, King Salmon, Salmon, Tuna, Seasonal Fish

Serves 1

Special Nigiri (2pc)

Choose 2: Kanpachi, Albacore, King Salmon, Salmon, Tuna, Seasonal Fish

Serves 2

Omakase Nigiri & Sashimi (10pc)

Chef's Choice! You will get 10 pieces (combination of nigiri and sashimi - Kanpachi, Albacore, King Salmon, Salmon, Tuna and Seasonal Fish).

Serves 1

Handroll Trio

Spicy Tuna, Salmon, and Blue Crab.

Serves 1

Handroll Five

Spicy Tuna, Salmon, Blue Crab, Tempura Shrimp, and Grilled Salmon

Serves 1

Spicy Tuna Handroll

Serves 1

Albacore Cucumber Handroll

Serves 1

Shrimp Tempura Handroll

Serves 1

Blue Crab Handroll

Blue crab mixed with house mayo

Serves 1

Salmon Avocado Handroll

Serves 1

Kanpachi with Green Onion Handroll

Kanpachi with green onion

Serves 1

Grilled Miso Salmon Handroll

Serves 1

Cheesecake Slice

Serves 1

Pure Cane Sugar Bottled Coke (12 oz.)

Price includes CRV. Not available for pool delivery.

Serves 1

Coke (12 oz.)

Serves 1

Diet Coke (12 oz.)

Serves 1

Sprite (12 oz.)

Serves 1

S. Pellegrino Sparkling Mineral Water (750 ml)

Price includes CRV. Not available for pool delivery.

Daou Cabernet Sauvignon

The nose on this wine is herbal with anise, oregano and pencil-shaving aromas, while blackberry and cocoa provide depth. Fennel pollen and roasted nut flavors meet with rich berry on the palate, where tannins are light but present.

Must Be 21+ to Order

Ferrari Carano Chardonnay

This wine is rich and round, opening with aromas of apricot, mango, Meyer lemon, vanilla, and toasted marshmallow. The palate shows incredible depth with a full mouthfeel and layers of flavor. Peach cobbler, citrus, orange blossom, and butterscotch finish with lingering notes of toasted hazelnut.

Must Be 21+ to Order

La Marca Prosecco

The delicate La Marca Prosecco has a pale, golden straw color and sparkles with lively effervescence. Opening with aromas of fresh-picked citrus and honeysuckle blossoms, the crisp, clean palate brings fruity flavors of green apple, juicy peach and ripe lemon, framed by hints of minerality.

Must Be 21+ to Order

Taittinger Brut La Francaise Champagne

A dry, fresh and delicious Taittinger with aromas and flavors of apples, fresh lemons and minerals. Full-bodied and precise, there are notes of white pepper and salt at the end.

Must Be 21+ to Order

Coppola Diamond Pinot Noir Cans 4pk

Must Be 21+ to Order

Coppola Diamond Chardonnay Cans 4pk

Must Be 21+ to Order

Coppola Diamond Sauvignon Blanc Cans 4pk

Must Be 21+ to Order

Hakutsuru Draft Sake

Fruity yet dry in a classic Japanese style. Aromas of sweet rice, nuts and barely-ripe pear, with green melon, young coconut and light cream on the palate. Vibrant, light, fresh and smooth. Not available for pool delivery.


Must Be 21+ to Order

Wandering Poet Rihaku Sake 720ml

Notes of banana and ripe honeydew with a clean, crisp acidity that highlights its light-to- medium body. The lingering finish moves from juicy fruitiness to green, herbal notes. Not available for pool delivery.

Must Be 21+ to Order

Bud Light 25oz Can

Must Be 21+ to Order

Stone Brewing IPA 19.2oz Can

Must Be 21+ to Order

Stella Artois 25oz Can

Must Be 21+ to Order

Sierra Nevada Hazy Little Thing 19.2oz Can

Must Be 21+ to Order

Sapporo Beer Draft 22oz Can

Must Be 21+ to Order

Modelo Especial Large 24oz Can

Must Be 21+ to Order

White Claw Hard Seltzer Black Cherry 19.2 oz Can

Must Be 21+ to Order

JuneShine Hard Kombucha Iced Tea Lemonade 16oz Can

Must Be 21+ to Order

Flying Embers Guava Citra Hard Kombucha 16oz Can

Must Be 21+ to Order

High Noon Variety 8pk

Must Be 21+ to Order

Cutwater RTD Tequila Margarita Cocktail 4pk Cans

Must Be 21+ to Order