SPANISH CHEESE
We may immediately think "Manchego!" when asked to name a Spanish cheese. Today, we take for granted that the slightly tangy, pale-colored sheep's milk variety is a go-to for many cheese and charcuterie boards and the perfect nutty, slightly sweet cheese. However, Spanish cheese producers more than hold their own across a broad variety of cheeses including blue, goat's milk, and mixed-milk varieties like their better-known counterparts in Italy and France. Pecorino Romano, anyone? Basically, Manchego!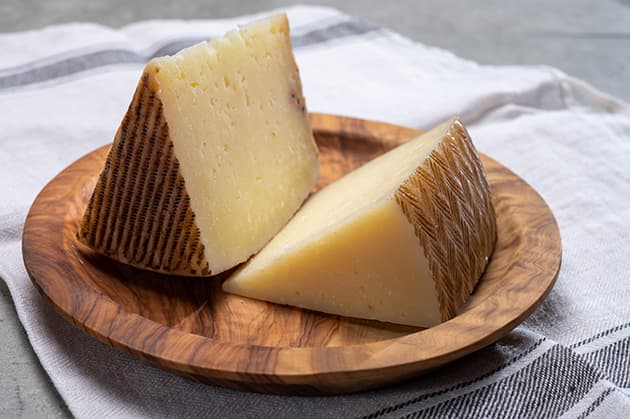 HISTORY AND ORIGIN
Archaeologists think that a sheep milk similar to today's Manchego was made on the Iberian Peninsula for more than two hundred years before the Romans arrived, as evidence has been found of a Manchego-like cheese in the area that sheep herders dominated in the sometimes rocky and harsh Spanish agricultural regions since the 4th century B.C. During the Middle Ages, each region began to develop its own cheese style, with sheep's milk dominant in the country's harsher interior area, blue cheese in the caves of the northwest, and goat cheese in the southern states of Andalusia and Murcia.
Artisanal cheese was effectively outlawed by former Spanish dictator Francisco Franco for more than 30 years when he ordered centralized production of dairy products. Thankfully, industrious cheesemakers worked to keep these amazing cheeses going during the pre-dawn hours, and the world stage has gratefully welcomed exceptional Spanish cheeses since the 1980's.
HOW THE CHEESE IS MADE
The best-known cheese variety from Spain, Manchego, is a PDO, meaning it can only be produced in certain areas south of Madrid, within specific provinces in the region of La Mancha (yes, like Don Quijote). Manchego can be made with either raw or pasteurized sheep's milk, from the Manchega breed of sheep. The milk is required to have a minimum 6% fat content and is made by curdling the milk using calf's rennet, cutting the curds, and pressing them by hand into round molds. The molds are etched with the distinctive pattern that gives Manchego its recognizable rind texture, that recalls the markings that were made by the woven fronds of grass baskets which were the traditional vessels for cheese-making.
The molds are then pressed, and the cheese wheels brined, then transferred to caves where they are aged from one month to two years depending on the variety. The cheese is brushed with olive oil to develop its natural rind, which also imparts a bit of color to the outside of the cheese. Semi-curado is aged from three weeks to three months, is firm but pliable; Curado is aged for a minimum of six months, is mild and nutty, and crumbles slightly. Manchego Viejo is aged for a minimum of 12 months, is crumbly, and has a deeper, tangier flavor.