Gelson's Rancho Mission Viejo
Hours: 7 am - 9:30 pm, 7 days a week
THANKSGIVING WEEK SPECIAL HOURS:
Tuesday, November 23: 7am-10pm
Wednesday, November 24: 7am-10pm
Thursday, November 25: 6:30am-4pm
Friday, November 26: 9am-7pm
Wine & Tapas Bar CLOSED on 11/24, 11/25, and 11/26
Introducing Gelson's Rewards! A new way for us to show appreciation to our customers.

• Get exclusive offers and promotions • Earn points on every dollar spent*
*Learn more and sign up today: gelsons.com/rewards
About Gelson's Rancho Mission Viejo Location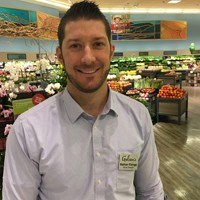 Nathan Elzinga Store Director
Whether you are new to the area or have been here for years, this Gelson's location is the perfect gourmet grocery store for you and your family. You are also welcome to come in and spend some time browsing through our store, including the extensive floral department, dining area, and authentic French bakery, Renaud's Patisserie. For those who are entertaining or looking for a fun way to spend the weekend, this location also boasts an impressive wine and craft beer bar, with something for every taste. If you're looking for a Rancho Mission Viejo organic grocery store that offers a fun and welcoming shopping experience, visit Gelson's today.
Gelson's Kitchen (949) 226-5809
Wolfgang Puck Express (949) 226-5810
Bakery (949) 226-5811
Services and Features
Wine and Craft Beer Bar - Tuesdays-Sundays 1-8pm
Viktor Benês Bakery & Coffee Bar
Carry-Out Service
Carving Cart (Selected Hours Only)
Child Seat Shopping Carts
Coffee Bar
Dining Area
Fine Selection of Natural and Kosher Foods
Fresh Sushi Prepared Daily
Gourmet Cheese section
Hot Food Bar
Market Pharmacy
Olive Cart
Soup and Salad Bar
Well-lit Parking