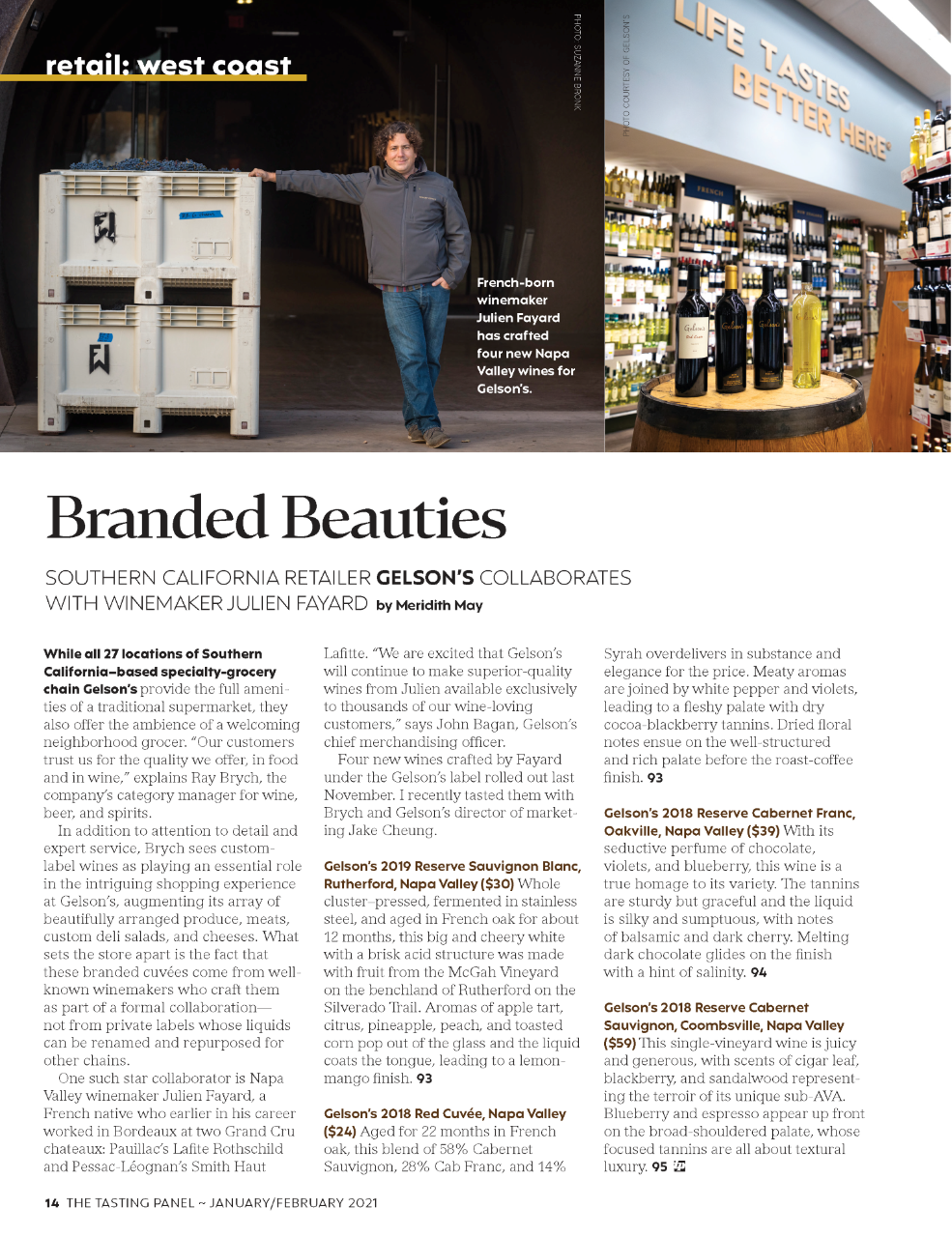 Branded Beauties
SOUTHERN CALIFORNIA RETAILER GELSON'S COLLABORATES WITH WINEMAKER JULIEN FAYARD
by Meridith May
While all 27 locations of Southern California–based specialty-grocery chain Gelson's provide the full amenities of a traditional supermarket, they also offer the ambience of a welcoming neighborhood grocer. "Our customers trust us for the quality we offer, in food and in wine," explains Ray Brych, the company's category manager for wine, beer, and spirits.
In addition to attention to detail and expert service, Brych sees custom label wines as playing an essential role in the intriguing shopping experience at Gelson's, augmenting its array of beautifully arranged produce, meats, custom deli salads, and cheeses. What sets the store apart is the fact that these branded cuvées come from well known winemakers who craft them as part of a formal collaboration— not from private labels whose liquids can be renamed and repurposed for other chains.
One such star collaborator is Napa Valley winemaker Julien Fayard, a French native who earlier in his career worked in Bordeaux at two Grand Cruchateaux: Pauillac's Lafite Rothschild and Pessac-Léognan's Smith Haut Lafitte. "We are excited that Gelson's will continue to make superior-quality wines from Julien available exclusively to thousands of our wine-loving customers," says John Bagan, Gelson's chief merchandising officer.
Four new wines crafted by Fayard under the Gelson's label rolled out last November. I recently tasted them with Brych and Gelson's director of marketing Jake Cheung.
Gelson's 2019 Reserve Sauvignon Blanc, Rutherford, Napa Valley ($30) Whole cluster–pressed, fermented in stainless steel, and aged in French oak for about 12 months, this big and cheery white with a brisk acid structure was made with fruit from the McGah Vineyard on the benchland of Rutherford on the Silverado Trail. Aromas of apple tart, citrus, pineapple, peach, and toasted corn pop out of the glass and the liquid coats the tongue, leading to a lemon mango finish. 93
Gelson's 2018 Red Cuvée, Napa Valley ($24) Aged for 22 months in French oak, this blend of 58% Cabernet Sauvignon, 28% Cab Franc, and 14% Syrah overdelivers in substance and elegance for the price. Meaty aromas are joined by white pepper and violets, leading to a fleshy palate with dry cocoa-blackberry tannins. Dried floral notes ensue on the well-structured and rich palate before the roast-coffee finish. 93
Gelson's 2018 Reserve Cabernet Franc, Oakville, Napa Valley ($39) With its seductive perfume of chocolate, violets, and blueberry, this wine is a true homage to its variety. The tannins are sturdy but graceful and the liquid is silky and sumptuous, with notes of balsamic and dark cherry. Melting dark chocolate glides on the finish with a hint of salinity. 94
Gelson's 2018 Reserve Cabernet Sauvignon, Coombsville, Napa Valley ($59) This single-vineyard wine is juicy and generous, with scents of cigar leaf, blackberry, and sandalwood representing the terroir of its unique sub-AVA. Blueberry and espresso appear up front on the broad-shouldered palate, whose focused tannins are all about textural luxury. 95