5 Side Dishes to Bring to Your July 4th BBQ
May 18, 2018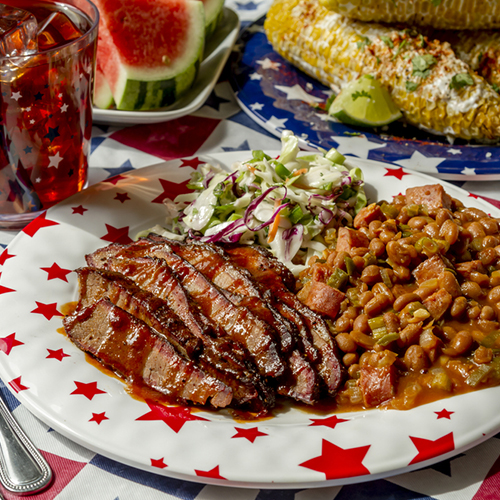 Are you planning upcoming summer parties and are looking for 4th of July BBQ ideas? Picking the main course is usually quite simple, dictated by the diets and preferences of your guests. Trying to come up with BBQ side dish ideas can be a bit harder. Here are just a few suggestions for some delicious and easy dishes for BBQ parties you can try this summer.
Homemade Potato Salad
Nothing says summer BBQ more than a generous serving of delicious potato salad. Skip the store-bought types, which often contain harsh preservatives, and make your own instead!
What you'll need:
8 medium size potatoes (cooked and diced)
1 ½ cups mayonnaise
2 tablespoons of cider vinegar
2 tablespoons of sugar
1 tablespoon of yellow mustard
1 teaspoon of salt
1 teaspoon of garlic powder
2 celery ribs, sliced
1 cup onion, minced
5 hard-boiled eggs
BBQ Beans
BBQ beans are another summer party staple. Our favorite recipe uses a variety of beans and bacon.
What you'll need:
4 ounces of sliced bacon
1 cup of onion and ketchup, respectively
2 tablespoons of diced pepper and molasses, respectively
1 tablespoon each of apple cider vinegar, barbeque rub, yellow mustard, and hot sauce
1 can of pork and beans
1 can of butter beans
1 can of great northern beans
¾ cups of brown sugar
½ cup of apple juice
Kosher salt
Creamed Corn
Creamed corn is another summertime favorite. It is also very simple to make from scratch, as long as you pay attention to the corn while it is simmering.
What you need:
13 ears of fresh corn, all of them husked
½ cup heavy cream
1 tablespoon unsalted butter
½ tablespoons of salt
1/8 teaspoon of pepper
Chives, if desired
Watermelon Salad
Put a spin on the traditional watermelon salad served at these types of gatherings by adding fresh tomato and onion.
What you need:
5 cups seeded watermelon cubes
1 ½ pounds of ripe tomatoes
3 teaspoons of sugar
½ teaspoon of salt
1 sliced onion
½ cup red wine vinegar
¼ cup extra virgin olive oil
Mac 'n' Cheese
Don't let Kraft cater your celebration, pick up just a few things and make a delicious side.
What you need:
½ cup of macaroni per person
½ cup milk per person
½ cup shredded cheese per person
Visit your nearest Gelson's location to pick up everything you need to make all of these delicious summer BBQ side dishes and more for your upcoming 4th of July BBQ. As the area's premier organic grocery store, we offer a wide range of natural and kosher foods, so you are sure to find wholesome, high-quality ingredients on our shelves.