How to Make Grilled Chicken Caesar Salad with Homemade Croutons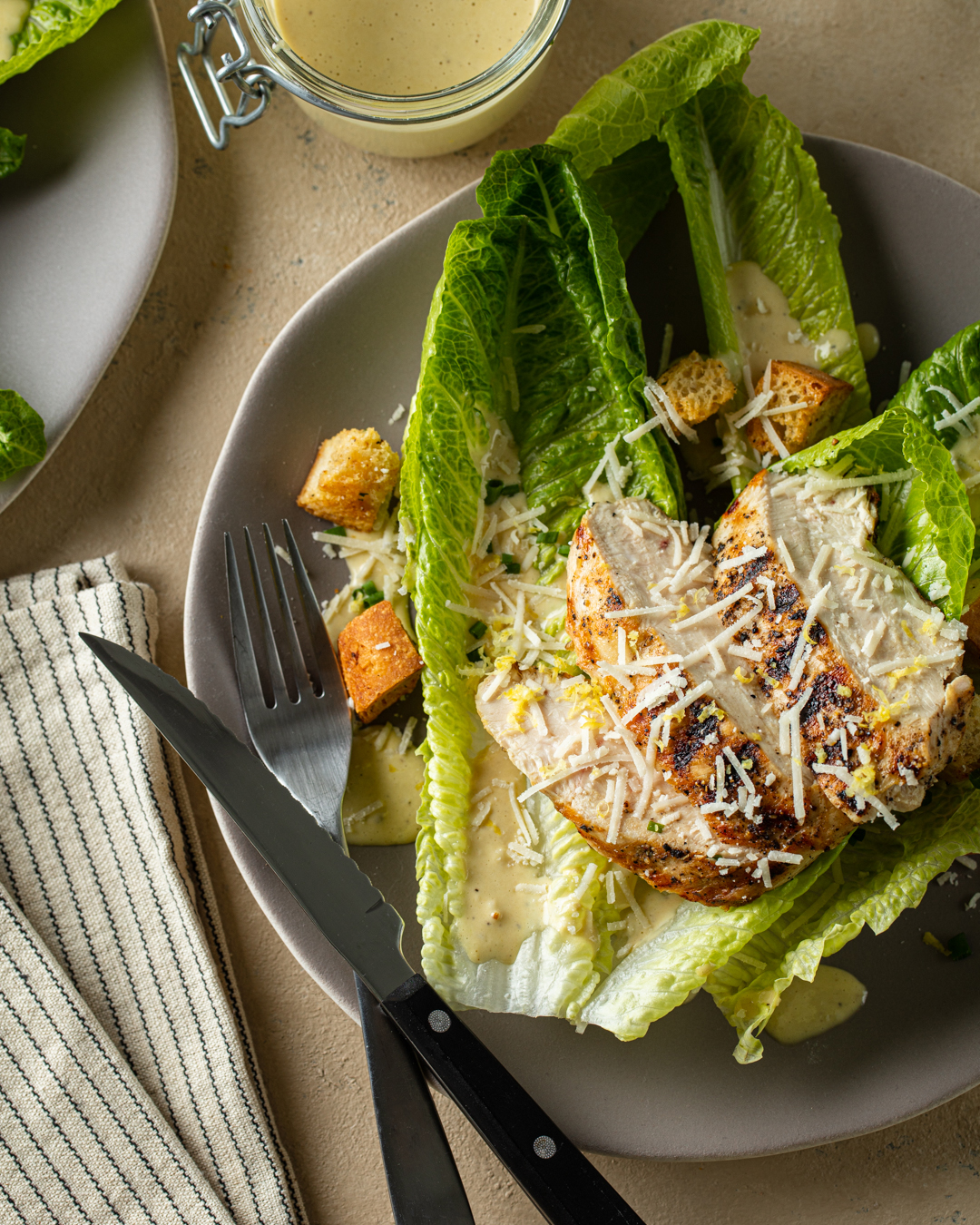 With Caesar salad, you don't need to reinvent the wheel. It's unfussy and reliably satisfying — there's a reason it's on restaurant menus and in deli cases everywhere. You can certainly wind up with a perfectly good salad using a jar of Caesar dressing and a bag of premade croutons (we've certainly used both in a pinch!), but homemade dressing and croutons will always take a Caesar salad from ordinary to extraordinary. Luckily, both are super easy to make. 
For the croutons, we like to use chunks of day-old sourdough bread, so it's not totally stale, but not exactly ideal for your morning toast. It's also the perfect tangy, yeasty base for the seasonings: garlic, fresh parsley, black pepper, and a pinch of cayenne. Oh, and lots of melted butter! After just a few minutes in the oven, the croutons bake up with a beautiful golden brown color and a super crunchy texture. The garlic, butter, and parsley steal the show, flavor-wise — but there's also a hint of heat from the cayenne.  
The dressing comes together with just a few whirls of the food processor. We start by combining anchovy fillets, garlic, lemon juice, egg yolk, white wine vinegar, and Dijon mustard until it's uniform. Then, while the food processor is running, we slowly drizzle in olive oil so the dressing properly emulsifies. Once it's smooth and creamy, we pulse in a handful of Parmesan. 
For something so simple, this Caesar dressing has a big payoff: it's bright, tangy, and full of umami. On the salad, it's the perfect foil to the smoky char of the grilled chicken, and we just love how it finds its way into all the nooks and crannies of the whole romaine leaves and the crunchy, herby croutons. For the finishing touch, we top the salad with nutty Parmesan, of course — but also a generous grating of lemon zest, which adds a sunny zing to the entire dish. 
Simplicity aside, Caesar salad is wonderful because of its versatility. With chicken, it's filling enough to be an entire lunch or dinner — or a heartier side for pasta night (we love it with our red pepper and pesto penne). Skip the chicken, and it'll be fantastic alongside a rib eye with garlic butter and potatoes, or even some grilled salmon. Either way, it's always a safe bet for get-togethers with friends or family. Who doesn't love a Caesar salad?
Homemade Croutons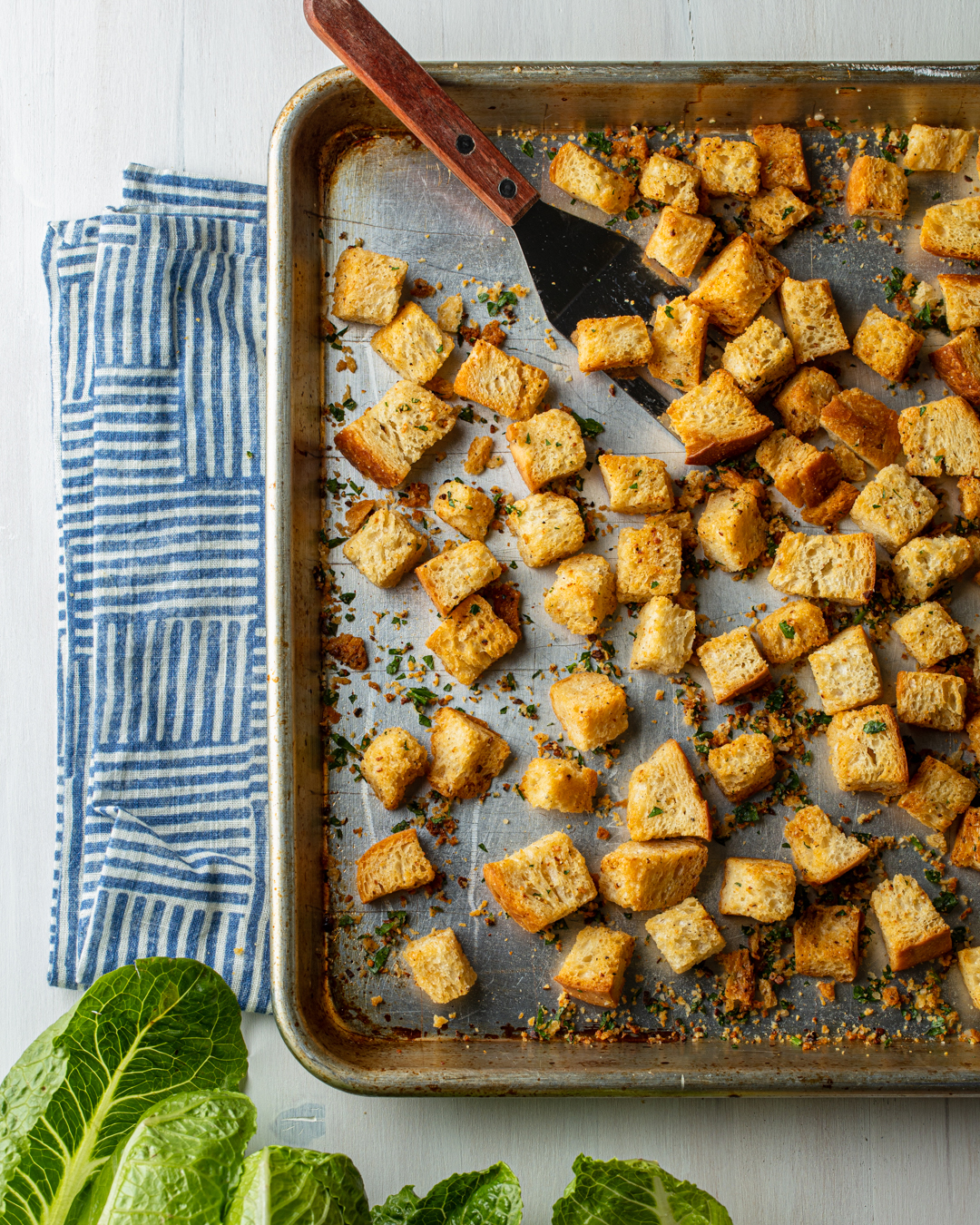 Servings: 4 to 6 
Ingredients
3 Tbsp unsalted butter
2 garlic cloves, minced
⅛ tsp Gelson's cayenne pepper
4 slices day-old sourdough bread, cut into small cubes (about 4 cups)
½ tsp kosher salt
¼ tsp freshly ground Gelson's black pepper
1 Tbsp finely chopped fresh parsley
Directions
In a small saucepan over low heat, combine the unsalted butter, garlic, and cayenne pepper. Melt the butter, stirring occasionally. 

In a large bowl, combine the garlic butter, sourdough bread, kosher salt, and black pepper, and toss to coat evenly. 

Transfer the mixture to a sheet pan, spread out the bread in a single layer, and bake for 10 minutes. 

Flip and stir the croutons, and bake for 10 to 12 minutes more, or until crispy and golden. 

Remove the croutons from the oven, mix in the parsley, and transfer the croutons to a plate to cool for about 10 minutes before serving. 
Caesar Dressing
Yield: 1 cup 
Ingredients
4 anchovy fillets
2 garlic cloves, roughly chopped
1 large egg yolk
1 Tbsp freshly squeezed lemon juice
1 Tbsp white wine vinegar
1 Tbsp Dijon mustard
⅓ cup extra virgin olive oil, divided 
¼ cup finely grated Parmesan cheese
Kosher salt, to taste 
Freshly ground Gelson's black pepper, to taste
Directions
In a food processor, combine the anchovy fillets, garlic, egg yolk, lemon juice, white wine vinegar, Dijon mustard, and 1 tablespoon extra virgin olive oil. Blend to combine. 

With the food processor running, very slowly add the remaining olive oil. (This should take 60 to 90 seconds.)

Add the Parmesan cheese and quickly pulse 2 to 3 times, or until just combined.

Season with kosher salt and black pepper. Serve immediately or store in the refrigerator for up to 1 week. 
Grilled Chicken Caesar Salad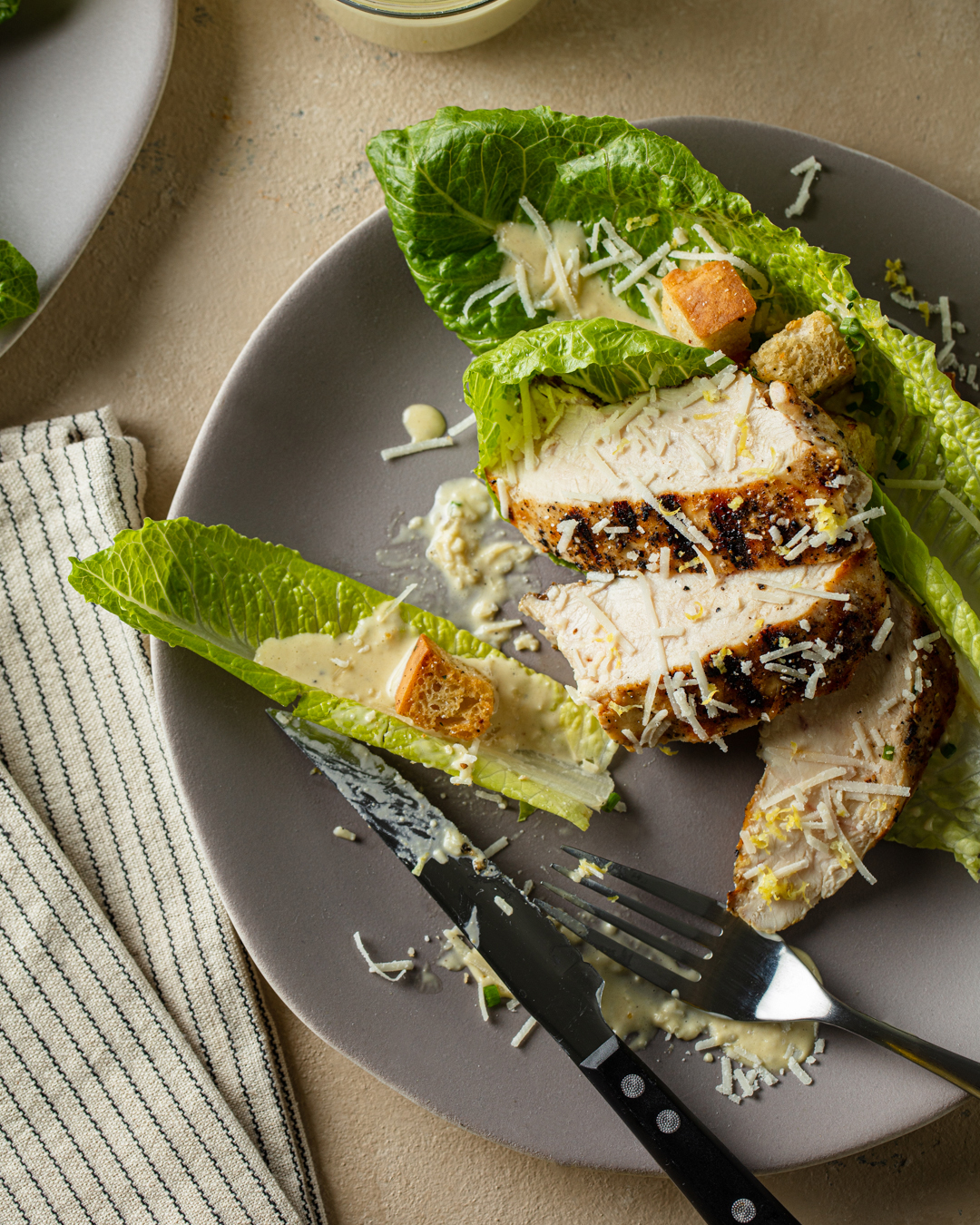 Servings: 4 
Ingredients
2 Gelson's boneless, skinless chicken breasts
Kosher salt, to taste
½ tsp freshly ground Gelson's black pepper
2 tsp extra virgin olive oil 
Leaves from 2 romaine hearts
4 cups croutons (see above) 
2 Tbsp chopped Gelson's organic fresh chives
¼ cup freshly grated Parmesan cheese
1 tsp lemon zest
1 cup Caesar dressing (see above)
Directions
Heat a grill or grill pan to high heat. Pat the chicken breasts dry with a paper towel, season with kosher salt and black pepper, and drizzle both sides with extra virgin olive oil. 

Place the chicken breasts on the grill and cook for 5 minutes. Turn the chicken breasts 90 degrees and cook for 5 minutes more, or until you have nicely charred grill marks. Flip the chicken over and repeat the process. Once the chicken reaches 165° on an instant-read thermometer, transfer it to a cutting board and let it rest for 2 to 3 minutes.

Meanwhile, divide the romaine leaves between 4 plates and top with croutons, a pinch of chives, Parmesan cheese, and lemon zest. Dress liberally with Caesar dressing and serve immediately. 
Calculate nutrition information for this recipe.