Mini Baked Ham Sandwiches
January 16, 2019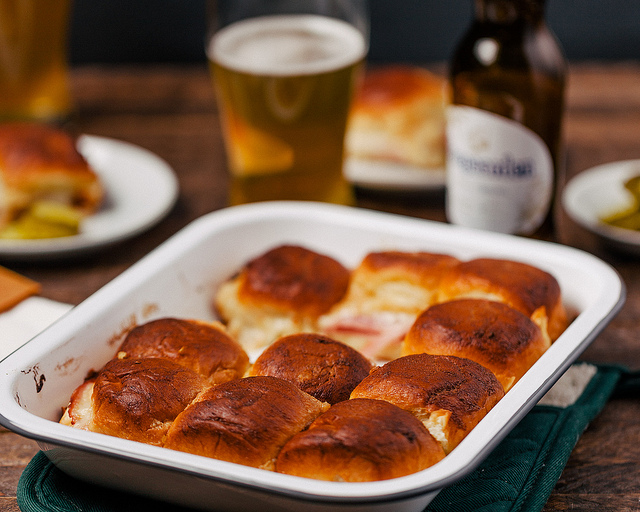 Creamy soft and sweet Hawaiian rolls, salty ham, melty Swiss cheese lightly crisped at the edges, and loads of onion butter — these sandwiches were always going to be popular. But until we had wolfed down a tray of them, we did not know just how addictive they could be! (Let's just say that a certain chef made them again the next day, and that if you add scrambled eggs and skip the pickle, they make fantastic breakfast sandwiches.)

Luckily, these little guys come together in about 10 minutes, so if you're making them as a game day snack, you'll have no trouble at all whipping up two or three batches. You could even get them completely prepped (through step five) the night before, stick them in the fridge, and bake them off in batches on game day. Imagine that, a never-ending supply of warm sandwiches.

Our tips: On game day, serve your sandwiches with an assortment of condiments, like sweet and spicy pickles, mustard, and hot sauce. And pair them with a bready, sweet Hoegaarden Original White Ale. Its coriander and orange-spice notes will be great with the ham and Swiss — and it's got a short hoppy finish that'll clear off your palate for the next bite!
Servings: 12
Ingredients
1 lb deli ham, shaved
1 lb Swiss cheese, thinly sliced
1 stick unsalted butter
1 ½ Tbsp dijon mustard
1 ½ tsp worcestershire sauce
1 ½ tsp minced onion dried
1 12-pack King's Hawaiian dinner rolls

Directions
Preheat the oven to 350º.
In a saucepan, melt the butter and stir in the mustard, worcestershire sauce, and onion. Once it's warm and all the ingredients are combined, turn off the heat and set the mixture aside.
Cut the entire pack of rolls in half, horizontally, keeping each half intact and all the rolls connected.
In a baking dish, cover the bottom half of the rolls with ham and cheese. Top with the remaining half of the rolls.
Drizzle butter mixture over the rolls, using a brush to make sure the onion is evenly distributed.
Bake uncovered for 15 to 20 minutes and, once finished, separate for serving.
Recipe source: King's Hawaiian .