New Years Eve Cheese, Charcuterie, and Sparkling Wine Pairings
December 19, 2018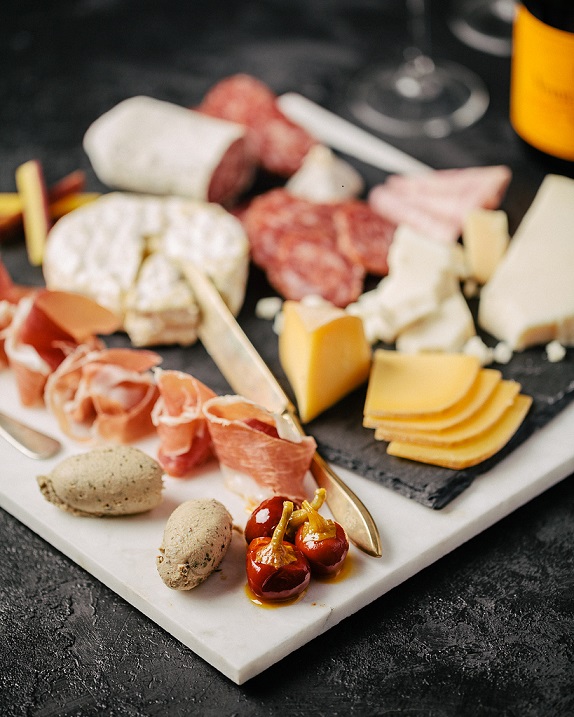 The New Year is almost upon us, and in anticipation of all the celebrations, toasts — and resolutions — to come, our Tastemaster, Lisa Ali, has once again put together some fantastic food and wine pairings for us. "We're ending an old year and starting a new one," Lisa says, "so I believe in splurging on the rich, luxurious foods you wouldn't eat all the time."

She's organized her pairings so that they build, much like New Year's Eve itself. "It starts out slowly with mild flavors and a fruity sparkling wine that's wonderful yet affordable and ends with big and lavish and deliriously decadent."

Our tip: You could choose one pairing for the evening; any of them would make a great appetizer course. Or you could set up all three pairings — and make New Year's Eve a cheese, charcuterie, and sparkling wine tasting party. You'll want to round out the cheese and meat with some nice palate cleansers, like cornichons, green apples, or whole grain mustard. Crackers and breads are always nice too!

Olli Tartufo Salame + Cablanca Goat Gouda + La Marca Prosecco di Conegliano 
The salami's sweet, earthy, black truffle flavor pairs beautifully with the mildly tangy, creamy goat gouda. Serve them with the light, refreshing prosecco. It smells like honey and flowers, and tastes like ripe lemons and green apples — just the thing to cut through the rich meat and bring out the citrus notes in the cheese.

Prosciutto di Parma + Brillat-Savarin Triple Cream Brie + J Brut Rosé from J Vineyards 
The prosciutto is delicate and sweet, the triple cream is lush and intensely buttery, and both will wash down nicely with the rosé's tiny bubbles and vibrant, sweet-tart fruits — strawberries, cherries, and just a hint of lemon meringue.

Three Little Pigs Foie Gras de Canard + Bongrain Etorki + Veuve Clicquot Brut Champagne 
Brut Champagne smells like toast and tastes like ginger and poached pears. It's a match made in heaven with rich, buttery, super savory foie gras — but add a thin slice of velvety smooth, nutty Etorki sheep cheese, and you've created a truly decadent combination.
Feeling trepidatious about popping the cork on your bubbly? Check out our nifty how-to — we'll show you how to open a bottle of Champagne without injuring yourself (or any innocent bystanders).