Roasted Chicken and Grapes
October 10, 2018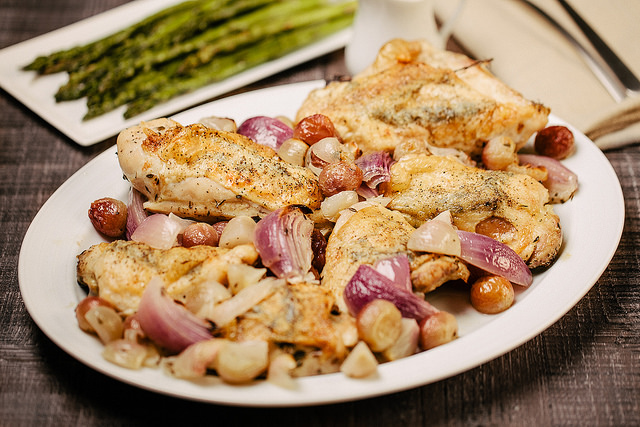 This recipe tastes like early fall to us: roasted chicken infused with thyme, wine, and fruit. The grapes are an unexpected ingredient, perhaps, but in the oven they plump up beautifully — for a sweet, warm bite that's so complementary to the dish's other flavors, and especially the red onion.

In terms of making this dish a full meal, our advice is to take advantage of the hot oven: Lightly toss some asparagus with olive oil, kosher salt, and pepper on another baking pan, and slide it into the oven during the last ten minutes of the chicken's cooking time.

Tip: We use bone-in chicken and leave the skin on, which may take a little longer to cook than you're used to, but it's worth it; the meat stays very tender and flavorful, and the skin crisps up nicely in the oven. Our butchers can trim the excess fat off the meat for you. Don't worry too much about removing the skin after cooking — very little fat will be left after trimming and roasting.
Servings: 4
Ingredients
4 organic chicken thighs with skin and bones, excess fat trimmed
2 organic chicken breasts with skin and bones, excess fat trimmed
2 Tbsp Napa Valley organic olive oil, divided
6 sprigs organic thyme, plus 4 teaspoons minced
½ tsp salt
¾ tsp black pepper
1 pound red seedless grapes, preferably organic, stems removed
1 small red onion, peeled and cut into eighths
6 oz (2 bags) Melissa's organic shallots, peeled and cut into eighths
½ cup white wine

Directions
Preheat oven to 450º.
Place chicken in a bowl and drizzle with 1 tablespoon olive oil; toss to coat. Arrange chicken on a large rimmed baking pan and place one thyme sprig under the skin of each piece. Season tops with salt and pepper.
Combine grapes, onion, shallots, minced thyme and remaining tablespoon of olive oil in the bowl and toss to combine. Transfer to the baking pan.
Pour wine around the chicken and grapes. Bake on the middle rack for 35 – 40 minutes, until the internal temperature of the thickest part of the largest piece reads 165º on an instant-read thermometer.
Transfer chicken pieces to a serving plate and use a slotted spoon to remove grapes, shallots and onions. Transfer juices to a gravy separator and pour fat-free portion of the gravy over the chicken.
Each breast or 2 thighs with ½ cup sauce contains:
Calories 410
Fat 11 g
Saturated Fat 3 g
Trans Fat 0 g
Cholesterol 150 mg
Sodium 330 g
Total Carbohydrate 30 g
Dietary Fiber 2 g
Sugars 20 g
Protein 40 g
Vitamin A 3% DV
Vitamin C 17% DV
Calcium 6% DV
Iron 15% DV