Skillet Nachos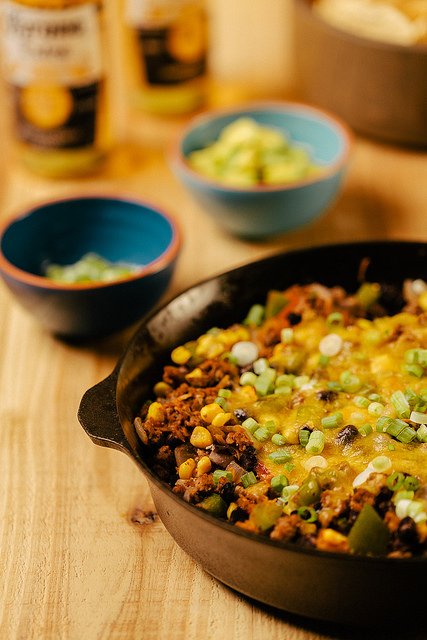 Whether you're planning to curl up with a binge-worthy series or watch the game with some buddies, nachos are definitely in the Best Of category for quick dinners in front of the TV. In fact, they're great for getting the family to the dinner table too. And what's not to like about a one-skillet meal on a busy weeknight?

This nacho recipe is definitely for the topping lovers: Rather than piling the cooked ingredients on top of the chips, we leave them in the cast-iron skillet, sliding them under the broiler for just a few minutes to melt the cheese. That way, the ingredients stay warm and juicy in the pan — and, just as importantly, the tortilla chips stay nice and safe in their bag, where they won't get soggy!

Our tip: Use a slightly fattier ground beef, say 85% lean rather than 95%. The added fat will keep your beef moist as it cooks and help pull all those savory flavors together for mouthwatering nachos. Looking for more cheese pulls? Go ahead and add more cheese to the recipe.
Servings: 4 to 6
Ingredients
½ white onion, chopped
½ jalapeño, finely diced
1 green pepper, chopped
1 lb 85% Lean / 15% Fat Ground Beef
1 cup salsa
1 cup frozen corn, defrosted
1 cup black beans
½ cup shredded cheese
2 avocados
3 scallions, sliced
Tortilla chips

Directions
Preheat the broiler.
Add the onion, jalapeño, green pepper, and ground beef to a medium cast-iron skillet. Cook over medium-high heat until the meat is browned and the vegetables are tender.
Add the salsa, corn, and black beans, and stir until combined.
Top the skillet with shredded cheese and slide it into the broiler. Cook the nachos until the cheese is melted.
Serve with diced avocado, scallions, and your favorite tortilla chips.