Top 3 Wild Salmon Recipes
January 04, 2018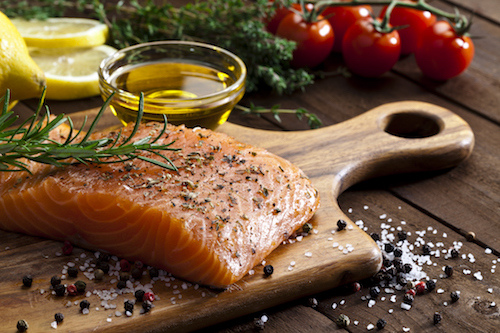 Make a great dinner tonight with our Wild Caught Alaskan Sockeye Salmon Fillet — on special now!
Try one (or all!) of these delicious recipes:
Wild Salmon with Kiwi-Pineapple Salsa
Ingredients:
1 container Juice Harvest fresh cut Hawaiian Gold pineapple rings, diced 
3 organic green kiwis, peeled and diced
1 ear yellow corn, kernels cut off the cob
½ medium red onion, diced
1 red jalapeno pepper, seeded and minced
1 clove Melissa's organic garlic, minced
½ cup fresh cilantro leaves, minced
1 tablespoon fresh lime juice
¼ teaspoon kosher salt
cooking spray
4 5-ounce wild salmon filets
1/8 teaspoon salt
¼ teaspoon black pepper
Directions:
Combine the pineapple, kiwi, corn kernels, onion, jalapeno, garlic, cilantro, lime juice, and kosher salt in a glass bowl. Mix well, cover, and chill. 
Preheat broiler. Spray broiler pan with cooking spray. Season the tops of the salmon with salt and pepper.
Broil salmon for 6-8 minutes, until the outside turns opaque.
Transfer to a serving plate and serve with salsa on the side or on top.
Wild Salmon with Kiwi-Pineapple Salsa
Ingredients:

4 ea 5-ounce wild salmon filets
1/4 teaspoon Le Saunier de Camargue Fleur de Sel sea salt
1/2 teaspoon black pepper
1/2 teaspoon dried rosemary, crumbled
1 Large orange, preferrably organic
olive oil cooking spray
1 tablespoon Napa Valley organic olive oil
4 tablespoons Monterey Gourmet Foods olive and garlic tapenade
Directions:
Season tops of salmon with salt, pepper and rosemary.
Use a micro plane or citrus zester to procure 1/2 teaspoon of zest from the outside of the orange (just the peel, not the white pith).
Spray a large 12-inch skillet with cooking spray. Add olive oil and orange zest to the pan. Heat over medium heat.
Add the salmon, skin side down and cook four to five minutes. Use a spatula to flip the pieces over onto the seasoned side and cook four to five more minutes.
While salmon is cooking, stir one tablespoon orange juice into the tapenade. Microwave for 30-60 seconds to warm mixture.
Transfer cooked salmon to serving plates and spread 1 1/2 tablespoons tapenade over the seasoned tops of each piece.
Wild Salmon with Sherry Glaze
Ingredients:
1 cup Paul Masson dry sherry wine
4 tablespoons Hain Organic brown sugar
2 tablespoons Kikkoman lite soy sauce
2 teaspoons fresh ginger root, minced
1 pinch cardamom
1 cinnamon stick
2 teaspoons Regina white wine vinegar
6 4-ounce salmon filets
Cooking spray
Directions:
Preheat broiler.
In a small saucepan, bring sherry to a boil for 1 minute. Stir in the sugar, soy sauce, ginger, cardamom, cinnamon stick, and vinegar. Reduce by half, stirring occasionally. Simmer over low heat for 4 minutes.
Spray a glass baking dish with cooking spray. Arrange salmon filets at least an inch apart. Spoon most of the sauce over the fish, but reserve a little bit for after cooking. Broil 8-10 minutes, until fish flakes. Remove fish promptly so the sauce doesn't brown too much, and spoon a little remaining glaze over the fillets before serving.