Vegetarian Stuffed Acorn Squash
November 7, 2018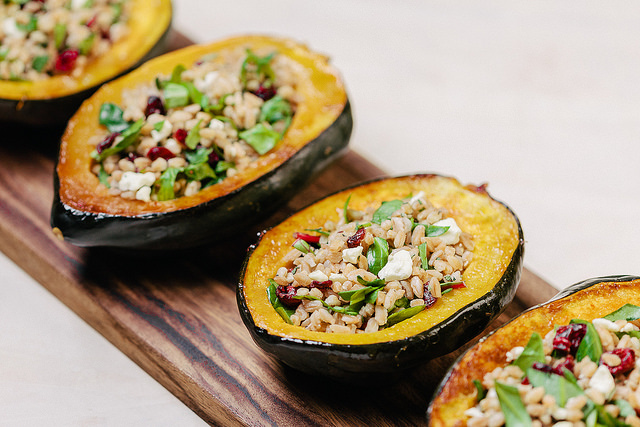 Here's a dish with infinite possibility. Its flavors are well-rounded: sweet acorn squash, tart cranberries, bright, peppery greens, salty cheese, and a pleasant, nutty note from the farro. And while it's very colorful and pretty, it comes together with minimal prep work; this is one where the oven does most of the heavy lifting. 
We can see it as a delightfully healthy midweek meal — if there's just two of you, you'll have awesome leftovers. It would also make a beautiful vegetarian side dish for Thanksgiving. 
Our tip: If you prefer a less structured dish, you could also dice the squash, roast it, and toss it with the other ingredients before finishing it in the oven.
Servings: 4
Ingredients
2 acorn squash, halved lengthwise and seeded
1 Tbsp olive oil
1 tsp fine sea salt, divided
1 cup farro
2 packed cups Organicgirl Supergreens!, chopped
½ cup dried cranberries
½ cup crumbled feta
1 Tbsp minced fresh sage
1 tsp minced fresh thyme
Directions
Preheat oven to 400°.
Rub the squash with oil, sprinkle with a ½ teaspoon of the salt, and place cut side down on a large baking sheet. Roast for 30 minutes, or until just tender.
While the squash roasts, bring 2 cups of water to a boil in a large saucepan. Add the farro and the remaining ½ teaspoon of salt and simmer with the lid on for 20 to 30 minutes, or until tender. If need be, drain off any excess water.
In a large bowl, toss the farro with greens, cranberries, feta, sage, and thyme, and then stuff the squash halves with the mixture.
Reduce the oven temperature to 375°, and bake the squash until heated through, about 15 minutes.
Recipe source: organicgirl.