Announcements
/

/

A cheeseboard for american cheese month
A Cheeseboard for American Cheese Month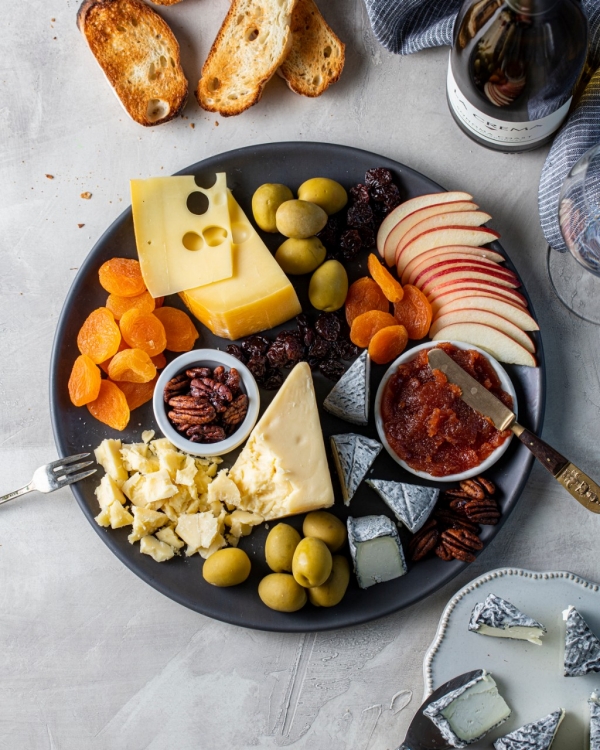 Don't be fooled: We're talking about artisanal cheeses made in North America, not the processed stuff that comes in individually wrapped slices. (Though there's a place for that too!) American Cheese Month is a celebration of all the diverse cheeses made here in the States, and the farmers, cheesemakers, cheesemongers, and chefs that bring them to us. It's also a great excuse to try a bunch of new cheeses!
With that in mind, our cheese specialist, Lisa Ali, has picked out a few scrumptious cheeses from creameries around the country to get you started. We've loaded the board up with all kinds of extra goodies, too — dried fruit, candied nuts, briny olives, and the like — to complement the cheeses and make it a heartier snack.
Our tip: For wine, think about a California chardonnay, like Sonoma Coast chardonnay from Sonoma-Cutrer. It's full of apples, roasted nuts, and a hint of citrus blossom — just what you want with these creamy cheeses.
Dorothy's — Keep Dreaming
Folks have been making cheese at Dorothy's, in Lena, Illinois, since 1925. In fact, it's named for the founder's granddaughter, Dorothy Demeter, who was the first woman to graduate from the dairy science program at Iowa State University.
With its flower shape and ash coat, Keep Dreaming is one of the prettiest cheeses around. It's made with cow's milk and crème fraîche, so it has a silky-smooth texture. We like its rich, savory flavor with a bite of the chewy dried cherries — their tartness is just right with all that butteriness.
Central Coast Creamery — Holey Cow
Central Coast is a family-owned creamery in Paso Robles, California. They've been making handcrafted cow and goat cheeses since 2012, and they specialize in aged cheeses.
Holey Cow looks like the classic mousetrap cheese. It's a Swiss-style semi-soft cheese with a smooth, creamy texture and a crisp finish. A little stack of buttery Holey Cow, candied walnut, and dried apricot is an absolute treat. No wonder this cheese won Best of Class in the 2014 World Cheese Championship!
Beecher's Handmade Cheese — Flagship
Flagship is made by Beecher's Handmade Cheese at Pike Place Market in Seattle, Washington. In 2019, it took 2nd place in the American Cheese Society's aged cheddar category.
Its flavor is wonderfully tangy and full of nuts. It's aged for 15 months, so it has a slight crumble — and yet it's melt-in-your-mouth creamy. We love it paired with savories and sweets, like a crostini cracker, a bite of green olive, or a slab of sweet-tart quince paste.
Here's a list of everything we put on the board:
Apples

Candied walnuts

Dried apricots

Dried cherries

Green olives

La Panzanella Mini Artisan Crackers

Quince paste (membrillo)