Announcements
/

/

A home cooks guide to coffee
A Home Cook's Guide to Coffee
A Home Cook's Guide to Coffee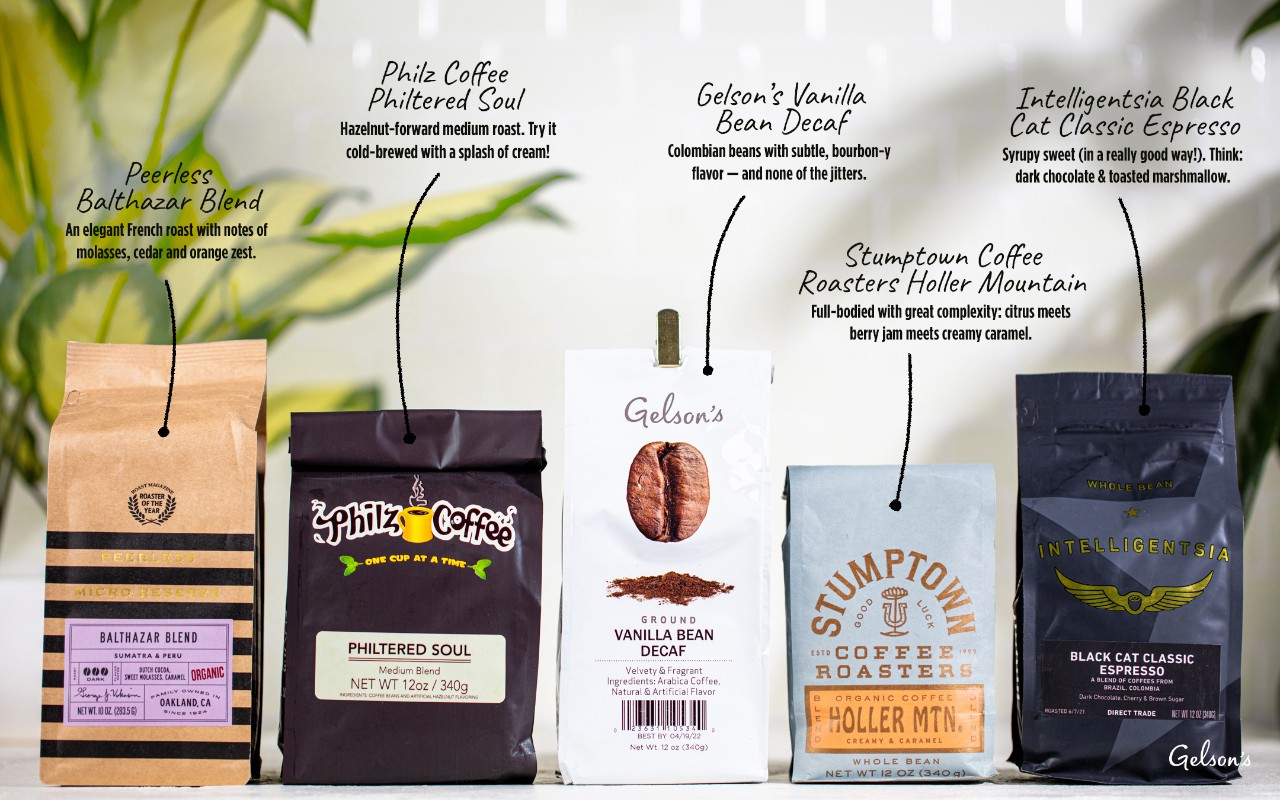 Is there anything so comforting, so satisfying, so wonderful as a piping hot cup of coffee first thing in the morning? We can safely say our day wouldn't be the same without one (and ideally, we'd have a plate of eggs and the L.A. Times crossword puzzle to go with it!). As we once read on a poster in a café somewhere, a cup of coffee is a cup of happiness.
We're proud to offer hundreds of coffees here at Gelson's. Walk through our coffee aisle, and you'll spot everything from blends to special single-origin roasts. We've got beans from every major coffee-producing country in the world — Brazil, Colombia, Indonesia, Ethiopia, you name it. Our shelves are stocked with organic and fair-trade beans, and we've got coffee from small local roasters, big household names, and everything in-between.
All that to say: the coffees we've included in this guide are just the tip of the iceberg — or better yet, the thin layer of foam at the top of a latte.
Upon perusing this guide, you'll find that we listed some of our favorite ways to brew each of these coffees, but the truth is, they all taste great no matter the method. Curious about how that espresso blend will taste in a French press? Go for it. With coffee, it's all about playing around with the brewing until you get a cup that tastes like it was made just for you.
You might also use these roasts to whip up something a little fancier than a black cup of coffee. Got a soft spot for Starbucks frappuccinos? Try our cold brew and oat milk version. Love a latte with warm, cozy spices? Check out our iced horchata-inspired latte. Are you a busy bee who needs a filling breakfast and a caffeine kick in a single, on-the-go package? Say hello to this banana, coffee, and cashew smoothie.
Peerless Balthazar Blend
One of the first craft coffee roasters in the Bay Area, Peerless Coffee & Tea is a family-run venture known for its quality, sustainable practices, and community involvement — and for winning the 2019 Roaster of the Year award.
Peerless has a lot of excellent coffees, but the Balthazar Blend is one of our favorites. Inspired by the iconic New York brasserie of the same name, it's a robust, elegant French roast made with beans from Peru and Sumatra. The flavor notes? Dark chocolate, molasses, caramel, cedar, and orange zest. De-ca-dent!
Our favorite brew methods: French press, for ultimate richness, and Chemex, for bringing out the more subtle flavors.
Philz Coffee Philtered Soul
In 1978, Phil Jaber bought a convenience store in San Francisco's Mission District. During his off hours, he'd experiment with various coffee blends and brews, trying to create the ultimate cup of joe. 25 years later, Jaber founded Philz Coffee with his son, Jacob, using his Mission District convenience store as the flagship location.
Today, the chain is known for its responsible sourcing, community-focused ethos, and brewed-to-order cups of coffee. And of course, you can get bags of Philz beans here at Gelson's, like the Philtered Soul blend. It's a medium roast that's full of hazelnut — but it's also got some rich, chocolaty aromas to balance out the sweet nuttiness.
Our favorite brew methods: cold brew (the hazelnut notes are so, so yummy over ice with a splash of cream) or good ole drip.
Gelson's Vanilla Bean Decaf
We're avid drinkers of coffee here at Gelson's so it probably comes as no surprise that we have our own in-house line of premium beans — roasted and packed in Los Angeles! Whether you like a cozy breakfast blend or a single-origin Hawaiian roast, we've got a bag of coffee for you. Also in our coffee lineup: a number of flavored roasts, which we now make with 100% natural flavorings.
One of our most popular flavored coffees is our vanilla bean decaf. We tumble freshly roasted decaf Colombian with natural oils from vanilla beans, which gives the coffee a subtle, bourbon-y sweetness. And since it's decaf, you can drink it as an afternoon pick-me-up and still sleep like a hibernating bear. Want the vanilla taste with the full boost of energy? Don't worry, it comes caffeinated too.
Our favorite brew methods: single-cup pour over (for maximum freshness!) and cold brew.
Stumptown Coffee Roasters Holler Mountain
Portland, Oregon-based Stumptown Coffee has been roasting beans and slinging pour overs and lattes since 1999. Their roasters are passionate about bringing out the best in the beans and highlighting what makes a particular variety of coffee unique. And they pioneered the direct-trade model of sourcing green coffee, meaning they work directly with coffee producers around the world and pay higher prices to guarantee quality.
Holler Mountain is Stumptown's signature organic blend — a highly versatile combination of chocolaty Central and South American beans and bright East African beans. It brews a full-bodied cup with great complexity: zingy citrus meets sweet-tart berry jam, rounded out with rich, creamy caramel notes.
Our favorite brew method: AeroPress (per Stumptown's recommendation).
Intelligentsia Black Cat Classic Espresso
Intelligentsia was founded in Chicago by Doug Zelle and Emily Mange back in 1995. The company is considered a major player in the third wave coffee movement and has made its mark across the country — including here in Southern California with its LA-area coffee bars. But of course, if you don't feel like putting on pants to get a cup of Intelligentsia from one of said coffee bars, you can get a bag of beans from your local Gelson's and brew it in the no-pants-required comfort of your home!
Intelligentsia is known especially for its Black Cat espresso roasts — and you can't go wrong with the classic blend, which has been a staple of the company's coffee lineup since the beginning. Made with beans from South America, it's syrupy sweet (in a really good way), with dark chocolate, raw sugar, and toasted marshmallow leading the way in terms of flavor notes. And there's just a hint of bright, tart cherry to mellow out some of that richness.
Our favorite brew methods: espresso machine, of course (but it's also fun to brew in a single-cup pour over).