Announcements
/

/

A home cooks guide to marinades
A Home Cook's Guide to Marinades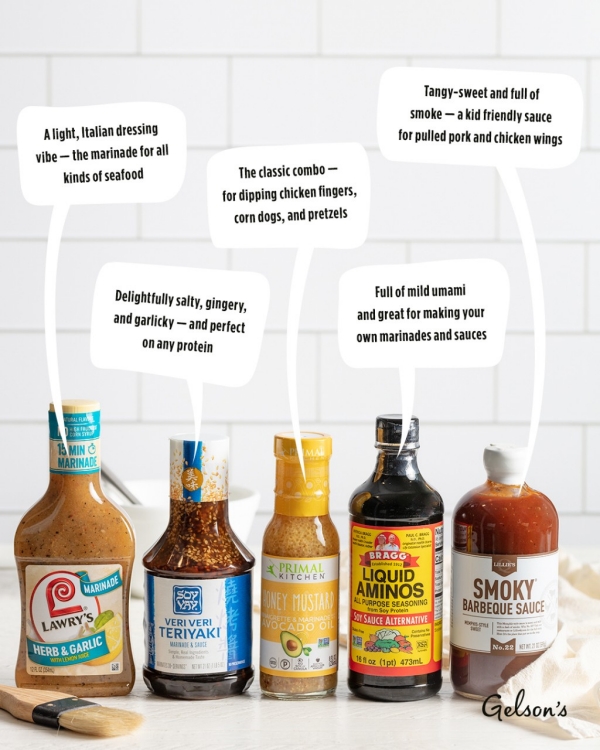 In the test kitchen, marinade falls into the same hardworking category of staples as mustard, hot sauce, and vinegar — one should never, ever be without at least one or two bottles of the stuff.
This has never been more true than during the pandemic, when we're all shopping less often and more broadly. For a lot of us, the shopping list (if we have one) is full of basics that serve a vague plan to eat rather than specific recipes — enough of this and that to last a week or two. Marinades are great for that kind of on-the-fly cooking: you can use them to coat, drizzle, dress, and dip just about anything, from roasted veggies to ribs and coleslaw to pretzels.
To get you marinating on the goodness of marinades, we took a look at a few of our favorites — and all the ways the test kitchen chefs like to use them.
Lawry's Herb & Garlic Marinade with Lemon
Full of bell peppers, herbs, lemon, and plenty of garlic, this one has an Italian dressing vibe. Its superpower is its zesty but light demeanor. You can put it on almost anything, even the most delicate foods, and it'll add some nice flavor without being overbearing. That makes it a great pantry staple. Bonus: it's also pretty low-calorie.
Got a pile of roast-able veggies? Coat them in herb and garlic marinade before you slide them in the oven. It's also the one we'd choose for fish, and it makes a particularly terrific marinade for shrimp — skewered or sautéed. We've also blended it with mayonnaise or yogurt to make creamy salads, from coleslaw to egg to potato.

Soy Vay Veri Veri Teriyaki Marinade & Sauce
In the oldie but goodie category, Soy Vay teriyaki sauce has been around for decades. That's because it tastes fantastic on pretty much any protein — it's full of toasted sesame seeds and is delightfully salty, gingery, and garlicky.
You can use Soy Vay like Lea & Perrins Worcestershire sauce: mix it into ground meat or plant-based meat to make burgers or lettuce cups. It's great for stir frying or grilling, so use it to marinate your favorite veggies and proteins. It's particularly good on mock duck and tofu, and it makes salmon sing.
Soy Vay is also super kid-friendly. Our kiddos could eat it all day — on a plain old bowl of buttered brown rice.
Primal Kitchen Honey Mustard Vinaigrette and Marinade
Honey and mustard are a classic combo — tangy-sweet and savory with just a hint of mustardy heat. This one is so basic, so tasty and versatile, that once you have a bottle of it, you'll be pulling it from the fridge on the daily.
We find ourselves pouring honey-mustard vinaigrette into a bowl all the time: you can dip your grilled sausages, chicken fingers, corn dogs, and pretzels in it. It's nice and oily, like a vinaigrette, so it makes a great dressing for roasted veggies or a light, butter lettuce salad. And it's our go-to for marinating chicken breasts before we throw them on the grill.
Bragg Liquid Aminos
Like Soy Vay, this one has been a SoCal kitchen staple for a long time. It's made from just non-GMO soybeans and water, but for all that simplicity, it's full of rich, savory flavor and umami. Think mild soy sauce with just a hint of caramel sweetness. Bragg's claim to fame is that it's not fermented and it's full of essential amino acids, which have all kinds of health benefits, boosting everything from appetites to immune systems.
We use Bragg as a substitute for tamari or soy sauce when we're making our own marinades. For tofu, try whisking it up with rice vinegar, sambal oelek, and green onions. Steak is delicious in a simple marinade of Bragg, orange juice, and garlic. And you can throw together an awesome faux teriyaki sauce for salmon with Bragg, honey, brown sugar, ginger, and garlic. However you use it, remember that it's high in natural sodium, so just like soy sauce, a little bit goes a long way.
Lillie's Q Smoky Barbecue Sauce
This marinade has it all: brown sugar, apple cider vinegar, spicy Memphis cayenne, and a dash of liquid smoke. It's got a good amount of tang, a little bit of a kick — and plenty of sweet, sweet smoke. In other words, it tastes like a classic barbecue sauce, but your kids will love it too.
Lillie's sweet notes are really nice on pork. Use it to marinate pork roasts or stir it into pulled pork just before serving. Not into the pig? Try it on a chicken breast. In a pinch, we'd use it to make baked beans. We'd also put out a little bowl of it and dip everything from chicken wings to steak kabobs and sweet potato fries in it.