Announcements
/

/

A home cooks guide to summer wines
A Home Cook's Guide to Summer Wines
A Home Cook's Guide to Summer Wines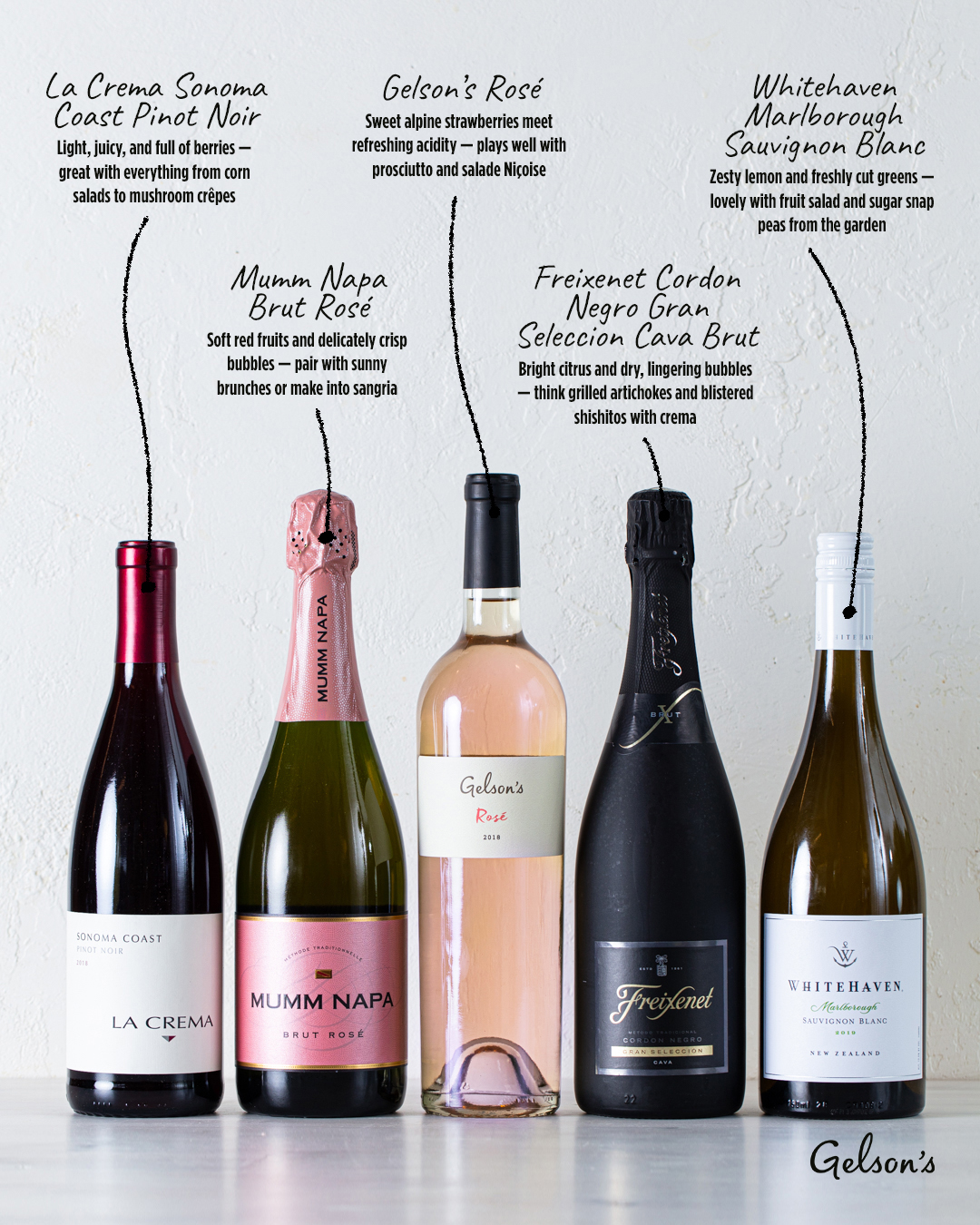 Summer is a time for walking barefoot on the beach. For wearing big, floppy sun hats and enormous sunglasses. For sunbathing on sailboats and spontaneously inviting friends over for a tipple underneath the twinkle lights. It's also a time for relaxing in the hammock or reading a novel on the porch swing — or sitting inside and watching Love Island, the AC on full blast. And what fits right into all of these carefree tableaux? Wine.
While wine as a whole isn't strictly seasonal, we cannot deny that certain varietals and blends are better suited to warmer months than others. The image of reclining in a lounge chair by the pool with a big, bold Burgundy in hand? Doesn't quite add up. But replace that deep red goblet with a frosty glass of something pink, and we're in business!
Plenty of wines are well-suited for summertime. But here, you'll find a handful of our personal favorites, plus a few fabulous pairings for each. Pop one open, put on some sunblock, and head out into the sunshine. Could you really ask for better?
La Crema Sonoma Coast Pinot Noir
We know — how bold of us to kick off our summer wine guide with a red. But this pinot noir is light and juicy with wonderfully balanced acidity. In other words, it's the kind of red you could drink by the pool.
Hailing from a family-owned winery on the cool, foggy Sonoma Coast, one of the world's best pinot noir-producing regions, this wine has earthy-sweet aromas of boysenberry and sweet tobacco. And the sip? Full of all the best summer fruits — raspberry, blackberry, and cherry. It's also got hints of pomegranate and orange zest, which we love. Bring on the zingy high notes!
The big wine trend these days is to match up light reds with, well, just about anything. (Pairing rules? What pairing rules?) But we particularly like La Crema's ripe, fruity notes with the balsamic glaze on these parsley-speckled mushroom skewers and the aromatic za'atar in this corn, tomato, and salmon salad. Feeling a fancy breakfast for dinner? Whip up some savory crêpes, pour a hefty glass of this pinot — and then follow it up with a solo raspberry chocolate trifle.
Mumm Napa Brut Rosé
One of our tasters refers to rosé — sparkling or not — as "summer water." And though they use that moniker (mostly) in jest, there's some truth to it: rosé is one of the most popular summer wines at Gelson's. (Though we don't recommend trying to stay hydrated with rosé in the scorching L.A. heat. Drink your "actual water," people!)
One of our go-to labels for sparkling rosé is Mumm Napa. Rooted in French heritage, this California winery uses traditional techniques to produce elegant sparkling wines, and their brut rosé is no exception. It's a blend of pinot noir and chardonnay grapes — think soft red-fruit notes and citrusy aromas — with delicately crisp bubbles that are wonderfully refreshing on a sunny day. And its coral hue? Just lovely.
Because it's so well-balanced, this wine is super versatile and food friendly. We love it with everything from charcuterie boards decked with triple crème cheeses to this colorful, spicy-sweet soba noodle salad. And of course, it will be right at home among a summer brunch spread. Want to use it as a mixer? Hellooo, sparkling rosé sangria!
Gelson's Rosé
Yep, another rosé (there's no such thing as too many rosé options this time of year), and one we're particularly fond of at that!
Created just for us by French winemaker Julien Fayard, this Provençal-style blend from Central California is made mostly with syrah grapes, but also has a touch of grenache. We love its bright salmon color, its alpine strawberry and soft red-fruit notes, and its dry, refreshing acidity. It's an elegant rosé — beautifully balanced with a long, lingering finish.
Gelson's rosé is wonderful with the salty, nutty flavors of prosciutto. As such, we wouldn't hesitate to serve it with a charcuterie board for a garden happy hour with friends, or with our grilled prosciutto and zucchini ribbon salad for dinner on the patio. We also love it alongside salade Niçoise. The salty olives, the umami-rich anchovies, the spicy radishes, the fatty tuna, the peppery basil — each hodgepodge of a bite enhances the wine's crisp, fruity nuances.
Freixenet Cordon Negro Gran Seleccion Cava Brut
We like imbibing in a variety of sparkling wines during the summer months. (What is it about bubbles that makes you sink down into your patio chair a little deeper?) There's prosecco, moscato, and of course, Champagne — but lately, we find ourselves reaching for cava, Spain's prevailing bubbly.
This cava is from Freixenet (say it with us: fresh-eh-net), a fifth-generation family winery from Sant Sadurní d'Anoia, Spain. They make it using three local grape varieties — parellada, macabeo, and xarel·lo. This blend yields a light, modern cava that's full of citrus and has lots of crisp, long-lasting bubbles (yay!). And when you sip it, you get a noseful of everything from apple and pear to pineapple and melon.
Because of its wide variety of fruit flavors, this cava brut plays well with most foods. In fact, cava is a great option for foods that are notoriously tricky to pair, like asparagus or artichokes. (Oh, and would you look at that: we've got some grilled artichokes right here!) We often serve it with blistered shishito peppers and cilantro crema — the cava's bubbles love that charred, grassy heat and herby, creamy dip. And since it's so dry, it adds a lovely, zippy splash to summer cocktails with fruity and floral flavors.
Whitehaven Marlborough Sauvignon Blanc
For us, sauvignon blanc is a no-brainer for summer sipping. Light, crisp, and refreshing, it's the varietal we turn to when we want an unfussy, reliable glass of wine after a frazzled day of work or a hot afternoon of digging in the garden.
Some of our favorite sauvignon blancs are from New Zealand — and this particular bottle comes from Whitehaven, a small, family-owned winery in the renowned Marlborough region, where the sunshine is warm and the breezes are cool and coastal. It makes for some brilliantly complex, well-balanced wines: Whitehaven's sauv blanc is oh-so smooth with aromas of lemon and freshly cut greens and intense notes of passionfruit, lemongrass, and white peach. And the finish is so long, clean, and zesty, it's almost effervescent.
A chilled glass of this sauvignon blanc is delightful with fresh fruits and veggies. Our favorite dish to pair with it? A simple, summery fruit salad with grapefruit, blackberries, pineapple, and kiwifruit. (Or a handful of sugar snap peas from the garden.) Also good: matching up its grassy, lemony flavors with these bright, zingy citrus and herb swordfish kebabs.