Announcements
/

/

Best fall wine selections
Best Fall Wine Selections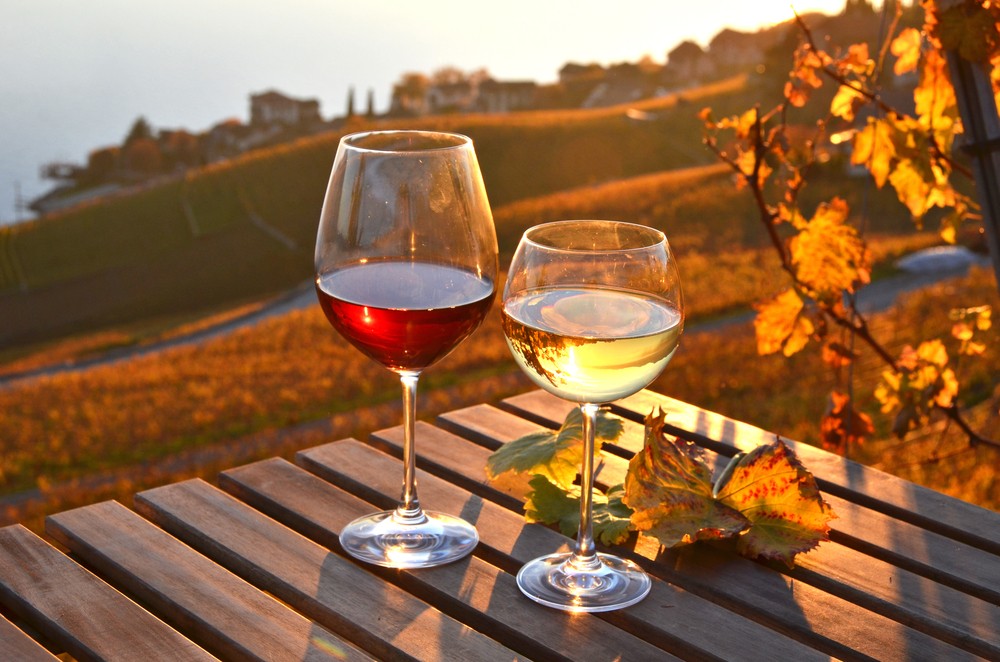 If we had to sum up the spirit of fall in just a few words, describing the universally-loved season would be simple: cozy comfort.
Once summer makes its exit and autumn arrives, we find ourselves seeking out the familiar sense of comfort that reminds us of home. Whether that means donning your softest sweaters, enjoying your evenings by candlelight, watching a marathon of classic movies, or sipping a pumpkin-spiced coffee on a sleepy Sunday morning, comfort reigns supreme during the fall.
But one of the most overlooked opportunities for celebrating the autumnal season is the addition of fall wines to your collection of favorites. After all, what could be more comforting than a glass of wine on a chilly fall evening?
Here are a few of our favorite wine ideas for fall, with a wide range of wonderful options that suit virtually every seasonal occasion from now until winter.
Rosé Wine
Plenty of people think of rosé as a variety of vino reserved exclusively for warm summer days. However, the crisp flavor of rosé flawlessly complements many seasonal meals.
Those crafted with full-bodied grape varieties such as Grenache, Syrah, and Cabernet Sauvignon are ideal matches for traditional dishes, as are the slightly sweet types that hail from the Anjou region of the Loire Valley in France. Even the most dedicated rosé lover tends to agree that Thanksgiving is the last hurrah for your favorite pinks, so don't miss the opportunity for a sweet sendoff.
Versatile, refreshing, and delightfully light, here are some rosés for fall:
Sables D Azur Vin De Provence, Cotes De Provence, 2014: A balanced combination of Grenache, Syrah, and Cinsault, this rosé is one you may not have tried this past summer. Dry and crisp, it's ideal for a temperate California fall evening.
La Vieille Ferme Récolte Rose 2016: A terrific fall, light-pink colored rosé with delicate red fruits, flowers, and citrus aromas. It's a versatile option that any rosé enthusiast will happily add to their collection, especially complimentary when paired with the seafood and vegetable dishes of autumn.
White Wine
White wines are often thought of as exclusively crisp and light, but once the colder weather arrives, they can absolutely transition to unctuous and round.
For example, Sémillon is a white grape that you'll often see combined with Sauvignon Blanc. Together, the two grapes result in a deliciously dense wine but still hold onto the sharp acidity that allows them to pair well with various foods. White wines such as these are ideal for cutting through the heavy, rich dishes that we all tend to enjoy during the fall: gravies, potatoes, cream sauces, and others.
Here are a few white wine ideas to enjoy this fall:
Ferrari-Carano Wine Sauvignon Blanc: For those that prefer to hang on to the flavors of summer as long as possible, this is a Sauvignon Blanc that fits the bill. Creamy notes of citrus exist in harmony with tropical fruit flavors, ranging from pineapple to kiwi. It's a wonderful match for your favorite spicy fall foods, as well as ethnic cuisine.

Matanzas Creek Winery Sauvignon Blanc: As the signature Sauvignon Blanc from Matanzas Creek Winery, this white wine is a fantastic find for fall. Floral aromas and elements of Golden Delicious apples combine with a crisp finish and minerality to balance fall's most indulgent dishes.

Duckhorn Vineyards Sauvignon Blanc, Napa Valley: Boasting a delicious blend of Sémillon and Sauvignon Blanc, this white wine is one that you must sample this season. With an impressive complexity and depth, it's a white that might just defy your expectations.
Red Wine
Usually, red is the most obvious of all wines for fall – particularly the lighter varieties. Pinot Noir is already a staple of many fall wine line-ups and perhaps the most traditional option for the season.
Pinot Noir wines boast a surprisingly diverse range of notes, running the gamut from floral to earthy. Depending on your bottle of choice, you can find a Pinot Noir with hints of everything from cola or cherries to warming spices and earth. Another go-to fall red wine is Zinfandel, lending its smoothness as an excellent match for the comfort dishes of autumn.
If you need some red wine inspiration this season, here are some of our top choices:
Mark West Pinot Noir: Notes of black and red cherries add a rich, fruity element to this Pinot Noir, with a hint of spice that makes a lovely fit for fall. Sourced from the coasts of California, this red wine comes from Mark West Winery, which is known for its specialization in Pinot Noir.

Flowers Pinot Noir, Sonoma Coast: With a fruit-filled flavor that's saturated yet graceful, the Pinot Noir by Flowers is crisp and delicate. If you're interested in sampling something that leans towards complexity, this red is a great choice.

Ravenswood Wines Vintners Blend Zinfandel Red Wine: Don't let the budget-friendly price of this Zinfandel fool you; it's a popular favorite that can hold its own among upscale bottles. Far from being overly heavy, it's a silky red that carries a fresh flavor profile of berries.
Shop for All Your Fall Favorites at Gelson's Supermarkets
Fall is upon us, which means it's time to stock up on your comfort food (and drink) essentials. No matter what your plans for autumn may be, Gelson's Supermarkets has what you need to make the most of this time of year.
All year-round, you can browse our exceptional selection of seasonal, farm-fresh produce, meats and seafood, pantry basics, and more. With so much to choose from, you can fill your cart without needing to make extra trips to other stores – so you can finally simplify your shopping routine this season. Look for special seasonal items at Gelson's, including baked goods, wine, and chef-made meals, and make this fall your best one yet.
Visit your neighborhood Gelson's today to browse our favorite fall wines and keep your glass full of cozy comfort this autumn.
Featured Image: Shutterstock / Alexander Chalkin