Announcements
/

/

Cowgirl creamery cheeseboard
Cowgirl Creamery Cheeseboard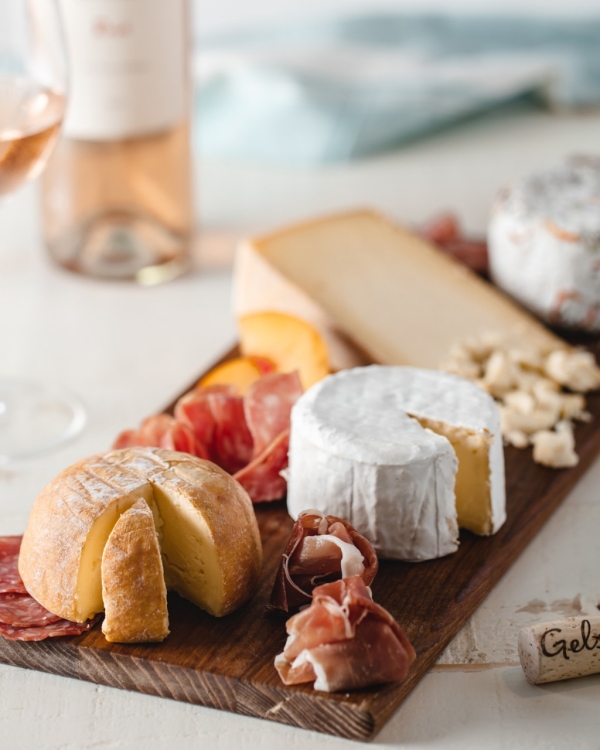 We built this cheeseboard around four of our favorite cheeses from Cowgirl Creamery, which is up in Marin County. Each of the cheeses is stand-on-its-own special, and it's fun to taste them in a flight and compare the flavors and textures.
Lisa Ali, our Tastemaster, has paired the cheeses with charcuterie and wines that bring out all their lovely complexity. All-in-all, the meats and cheeses make a nice, heavy board. If you add some fruits and nuts, you're all set for happy hour appetizers — or even for a light meal with your book group.
Our tip: Let the cheeses come to room temperature before you eat them. They'll soften a bit, and you'll be able to taste the full spectrum of their flavors.
Mt. Tam + Carpegna Prosciutto and Gelson's Rosé
Mt. Tam is a triple cream that tastes a bit like sweet cream butter and wild mushrooms. It's amazing with the salty prosciutto. We love how, together, they bring out all the floral notes in the rosé — and how the wine's dry acidity helps wash down all that lush, wonderful fat.
Pierce Pt. + Creminelli Varzi + Justin Sauvignon Blanc
Pierce Pt. is a gorgeous cheese — its rich, bloomy rind is pressed with field flowers, chamomile, calendula, and Thai basil. It's a little firmer and more tangy than the triple cream, and you can taste the basil in it. The mild Varzi salami is so nice. It's full of nutmeg, a lovely complement to both the herby cheese and the sweet notes of the Sauvignon Blanc. (Pierce Pt. is available seasonally.)
Red Hawk + Olli Genoa Salami + Meiomi Pinot Noir
The richest and most sumptuously creamy of the cheeses in this collection, Red Hawk has a pungent nose, but its flavor is smooth as can be. The mild Genoa salami gives it plenty of room to shine, and provides some salt-and-pepper balance for the Pinot Noir and its jammy berries.
Wagon Wheel + Ferrarini Salami de Parma + Cline Viognier
Wagon Wheel is a nutty, bold cheese — a little sweet, a little bitter, a little tangy, and quite salty. It's the only one in the quartet that we'd eat with this spicy salami. Similarly, Lisa paired it with the Viognier: It's a blockbuster in its own right, full of stone fruits and honeysuckle. It'll stand up to the meat and cheese, and give both some sweet depth.