Announcements
/

/

Farm fresh fruits veggies farm for during the fall season
Farm Fresh Fruits & Veggies Farm for During the Fall Season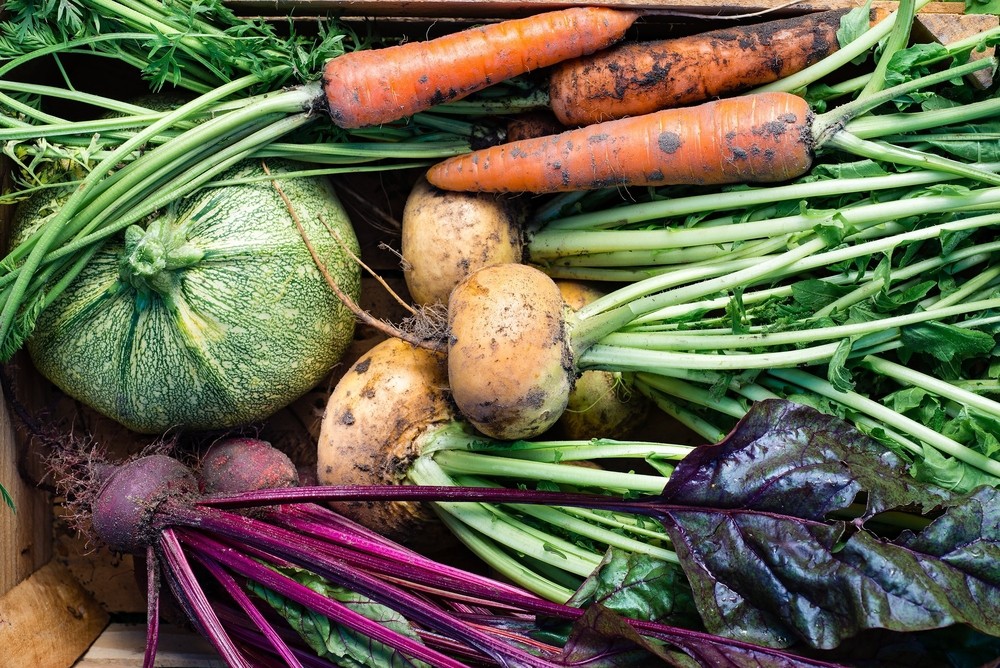 Meet the Fall Harvest: Fruits & Veggies Farm Fresh During the Fall Season

One of the best parts of fall is the season's diverse bounty of produce, inspiring a wide variety of delicious dishes. If you're searching for fall meal ideas, you don't have to look very far – because there's no question that the grocery store produce section offers up plenty of inspiration.
With this fall produce guide in hand, you'll be ready to find, purchase, and store a rainbow of seasonal produce that you and your family are sure to love. Plus, we've included a few basic fall vegetable recipes and ways to use fall fruit, so that you're ready to put all that produce to excellent use.
A Guide to Fall Produce Favorites
Before you can dive into creative ideas for cooking with fall produce, you'll need to know your way around the in-season options in your Gelson's produce section. Here are some of the fruits and vegetables to look for this fall, as well as some tips for picking, storing, and preparing them to perfection.
Acorn squash
Buy: Look for squash displaying deep, vibrant colors, staying away from any that have damage or blemishes on the exterior skin. Choose acorn squash with a firm rind.
Store: Acorn squash can be stored for up to three weeks in a dark space with moderate airflow.
Enjoy: The simplest – and most popular – way to eat acorn squash is to cut it in half, remove the seeds, and bake until tender. Depending on your tastes, you can fill each half with a mixture of brown sugar and butter, or even a fall-themed stuffing.
Apples
Buy: Here in the U.S., most of us are used to eating apples year-round – but they're best during the fall months when they're in season. Pick apples with smooth skin that's free of blemishes, gently squeezing them to confirm a firm texture.
Store: Whole apples can be placed in the fridge to preserve texture and flavor, while sliced apples are best stored with a light brush of citrus juice (to avoid browning).
Enjoy: With so many varieties of apples to choose from, there's virtually no end to ways to eat them. Of course, the classic apple pie is one of the best-known fall fruit recipes, but apples can also make an appearance in other dishes, such as stuffing, pork chops, and even fall cocktails.
Artichokes
Buy: Although artichokes are traditionally thought of as a spring vegetable, they are also harvested during October. Find artichokes that are dark green, heavy, and boast a tight formation of leaves.
Store: For the best flavor, eat the artichoke on the day you buy it. Otherwise, it will store relatively well in the fridge (unwashed) for a few days.
Enjoy: Using a sharp knife, cut the artichoke's stem to create a flat base. Then, cut off the top half-inch of the vegetable, trimming the ends of the leaves. Once preparation is complete, you can boil, roast, or steam the artichoke. The edible interior tips of the leaves and heart are popularly eaten with dips, such as melted butter or aioli.
Beets
Buy: Select beets that are on the smaller size, as they are usually much more tender than larger ones. Ideally, the greens topping the beet should be bright and fresh, not wilted.
Store: Cut off the greens, then wrap the beet in plastic and refrigerate for up to two to three weeks.
Enjoy: Before cooking, wash the beet thoroughly. Trim as needed, then slice and roast with your preferred seasoning (a sprinkling of salt is simple and delicious). Use beets as a colorful topping for your fall salads, topped with herbs for a delightful side dish, or even as an ingredient in a fall-inspired hummus or spread.
Butternut squash
Buy: Stay away from squash with mold spots or blemishes, looking instead for those with rinds that are firm and deeply-colored.
Store: Uncut butternut squash can be kept in a cool, dark space for up to four weeks. Once it's been cut, the squash will last about five days wrapped in plastic and placed in the fridge.
Enjoy: Butternut squash is similar in flavor and texture to a sweet potato, making them interchangeable in many recipes. Trim off the ends of the squash, peel the rind, and scoop out the seeds. You can roast or steam the squash, then add it to anything from soup to pasta.
Carrots
Buy: Choose firm, brightly-colored carrots, with moist green leaves (if the greenery is still attached).
Store: Trim off the greenery immediately, then store the carrots in plastic in your refrigerator's vegetable drawer for up to a month.
Enjoy: For carrots that have been stored for a week or more, peel before using. If your carrots have gone limp, put them in ice water to restore the crisp texture. Slice raw carrots for a fresh crudité platter, or roast them for a comfort-food side dish. Instead of tossing the tops after trimming, use them for homemade pesto for pasta or sandwiches.
Pumpkins
Buy: Save the large pumpkins for carvings and choose smaller sizes for cooking, looking for ones that are relatively firm and blemish-free.
Store: Pumpkins can be kept at room temperature for up to a month, and last for up to three months in the fridge.
Enjoy: There's nothing like fresh-baked pumpkin pie, but pumpkins can also be sliced, peeled, and roasted for soups, pancakes, cornbread, and even pasta sauce.
Make the Most of Fall with Farm Fresh Produce from Gelson's
Gelson's offers an exceptional selection of in-season produce, making it simple to create fresh and fabulous meals all year long. This fall, take inspiration from the season's harvest theme and fill your cart with your favorite fruits and vegetables.
In addition to produce, our stores are stocked with a wide variety of meats and seafood, pantry necessities, baked foods, and so much more – everything you need for a fabulous fall and beyond.
Get a head start on your favorite seasonal meal ideas and make Gelson's Supermarket your first stop this fall.
Featured Image: Shutterstock / Morinka