Announcements
/

/

French cheese wine pairings for home
French Cheese & Wine Pairings for Home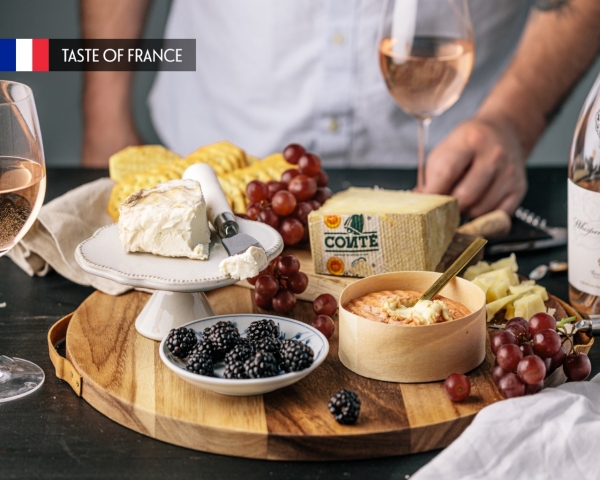 There's an art to putting together a good cheese board, and our Tastemaster, Lisa Ali, has done a lovely job with this trio of French cheeses. Overall, the cheeses are very mild, so if you or your guests are just getting to know cheese, especially the soft varieties, you'll find these make an approachable introduction.

A cheese board doesn't have to be challenging to be interesting. Here, Lisa has multiple textures in play: firm, soft, and downright gooey. And the subtle flavors of the cheeses make them exceptionally fun in wine pairings — you can really taste the impact each has on the other.
Of course, if we're honest, we also just love the look of all these cheeses together. It's a drop-dead gorgeous board. We've added crackers for texture and sweet, juicy fruits to complement the nutty, fatty, and salty cheeses.
French Comté AOC + Domaine Auchere Sancerre
Comté is a firmer cheese with a silky, pale-yellow color. It's made with raw milk, and it has a kind of earthy, brown-butter nuttiness. We also tasted stone fruit and herbs. Comté pairs beautifully with the clean, crisp sancerre, a nicely balanced easy-drinker full of lemon zest and sweet tropical fruits.
Brillat-Savarin Triple Cream Brie + Whispering Angel Rosé
This triple cream has a beautiful, golden color, and a lush, intensely buttery texture. Its flavor is both fresh and mushroomy, with a faintly sour finish. The rosé cuts through some of that creaminess with its crisp acidity and lovely strawberry and vanilla notes.
Berthaut Epoisses de Bourgogne + La Fleur Renaissance Sauternes
Epoisses is the runniest, most intensely creamy cheese we've ever encountered — we spooned it onto our crackers. It's stinky, but it has a mild flavor that's spicy and lightly sweet. The sauternes is as velvety as the cheese is runny. We love how its dry apricot and honey notes bring out the cheese's sweet side.