Announcements
Fried Rice 3 Ways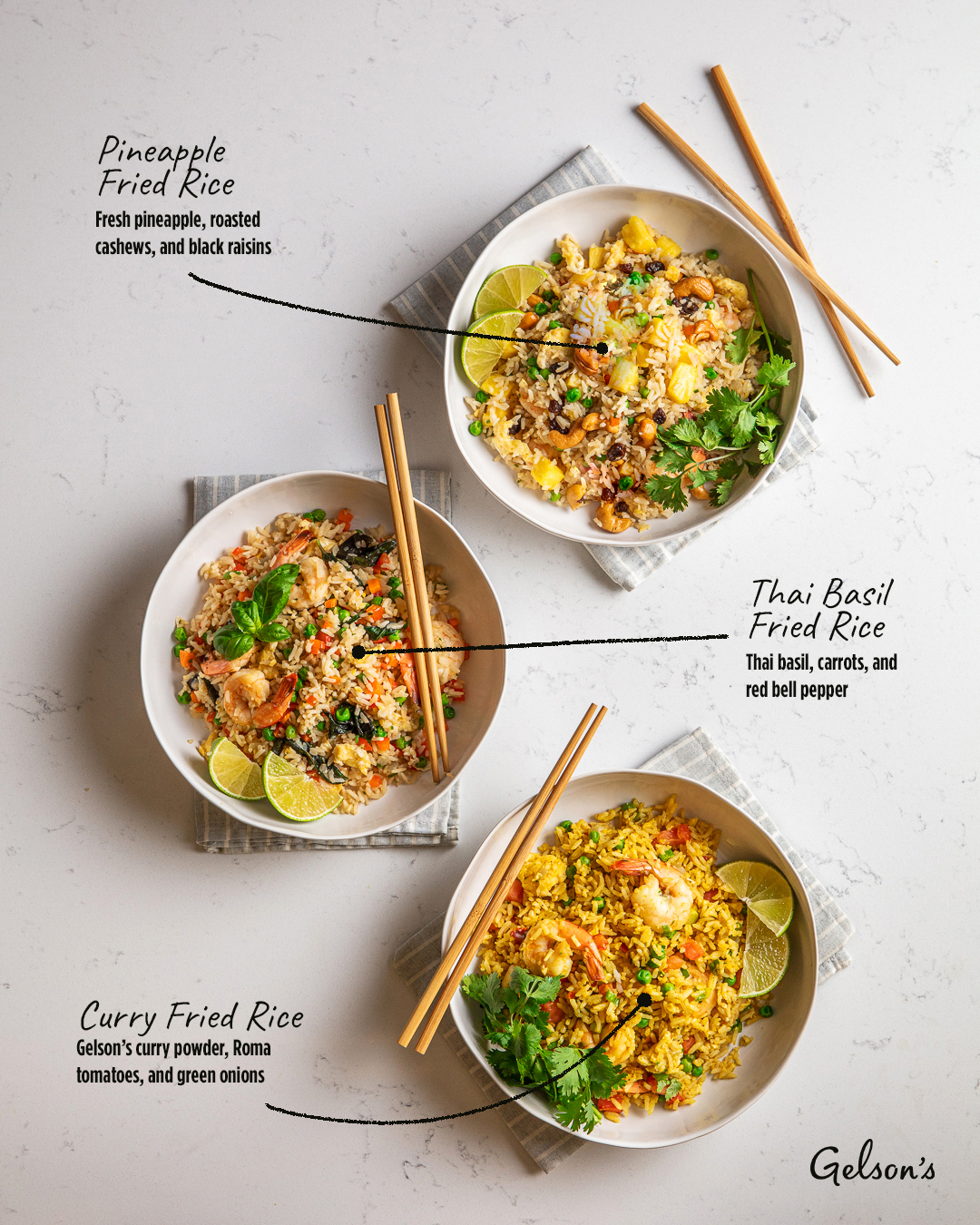 There are so many things to love about fried rice: It's delicious, comforting, and everything you need — starch, protein, veggies — in one tidy pan. It's easy to pull off at home because, at its base, it's made with the staples of a well-stocked kitchen. And it's super versatile, as this choose-your-own-adventure recipe illustrates. You can put just about anything in it, which makes it great for using up not just your day-old rice but also whatever bits and bobs are in your veggie and meat drawers.
That said, it is very handy to have that base recipe nailed, a dependably delicious go-to that you can pull out whenever you set out to make fried rice. Here, we offer one that we love for its savory depth and mild, garlicky heat, plus three great riffs to inspire your further adventures in fried rice.
For the classicists in the house, we have Thai basil fried rice. In this one, a handful of sweet carrots and red bell pepper — small diced so they blend seamlessly with the rice — add color, texture, and some subtle, veggie sweetness. But the star of the show is the unbelievably fragrant Thai basil and its spicy licorice notes, which seem to bring out all the fried rice's savory funk.
The pineapple fried rice is full of toasty cashews, sweet black raisins, and yes, chunks of bright, juicy pineapple. We love all the juxtapositions in this one: sweet and savory, chewy and crunchy, juicy and dried. It's definitely the most textural fun of the trio!
By contrast, the curry fried rice is all about the colors — a big pinch of Gelson's curry turns the rice a sunny turmeric yellow, infusing it with a wonderful earthy warmth. It's also got a fresh plum tomato and slivers of green onion, which cook so briefly they stay bright and punchy in the rice.
Our tip: As per usual, we have to make a plug for the garnishes. All three fried rice recipes are fantastic with a drizzle of lime juice and some fresh cilantro. Crispy chile oil? And how!

Serves: 4

Ingredients


For the fried rice base:
1 Tbsp oyster sauce
1 ½ tsp fish sauce
1 ½ tsp soy sauce
1 ½ tsp brown sugar
¼ tsp white pepper
5 garlic cloves, minced
1 serrano chile, stem and seeds removed, minced
2 Tbsp Gelson's 100% California extra virgin olive oil
1 medium shallot, small diced
2 large eggs
2 ½ cups day-old jasmine rice
½ cup frozen peas
Kosher salt, to taste
Cilantro, for garnish
Lime wedges, for serving

For the protein (pick one):
12 oz jumbo shrimp, peeled and deveined
2 Gelson's organic chicken breasts, diced into ½" pieces
12 oz tofu, diced into ¾" pieces


Pick one of the following:


For the Thai basil fried rice:
½ red bell pepper, diced small
1 small carrot, diced small
1 cup Thai basil leaves

For the pineapple fried rice:
1 cup medium-diced pineapple
½ cup roasted cashews
2 Tbsp black raisins

For the curry fried rice:
2 tsp Gelson's curry powder
1 Roma tomato, cut into ½" pieces
2 green onions, thinly sliced


Directions

In a small bowl, whisk together the oyster sauce, fish sauce, soy sauce, brown sugar, and white pepper.

Place your protein of choice in a small bowl, and toss it with ½ of the sauce. Let marinate at room temperature for 10 minutes. Reserve the remaining sauce.

In a mortar and pestle, grind the garlic and serrano chile into a paste.

Heat a wok or a large skillet over high heat until smoking. Add the olive oil, garlic-serrano chile paste, shallot, and the protein and its marinade. Stir-fry until the protein is cooked through: 1 to 2 minutes for the shrimp, 5 to 6 minutes for the chicken, and 7 to 8 minutes for the tofu. Push everything to the side.

Heat the remaining 1 tablespoon olive oil in the wok. Working quickly, crack 2 eggs into the wok. Let the eggs cook for a few seconds, then scramble them. Cook, stirring continuously for 1 minute. When the eggs are cooked but still silky, toss them with the protein and shallots.

Stir in the remaining sauce, rice, peas, and the ingredients for either the Thai basil, pineapple, or curry fried rice. Season with salt. Press the rice into the bottom of the wok and cook until lightly fried, 1 to 2 minutes.

Toss the rice one more time and cook, tossing occasionally, until the vegetables are heated through, 2 to 3 minutes. Transfer the rice to a serving bowl. Garnish with cilantro leaves and serve hot with lime wedges.
Recipes adapted from: Seonkyoung Longest