Announcements
/

/

Gelsons 4th of july grilling guide
Gelson's 4th of July Grilling Guide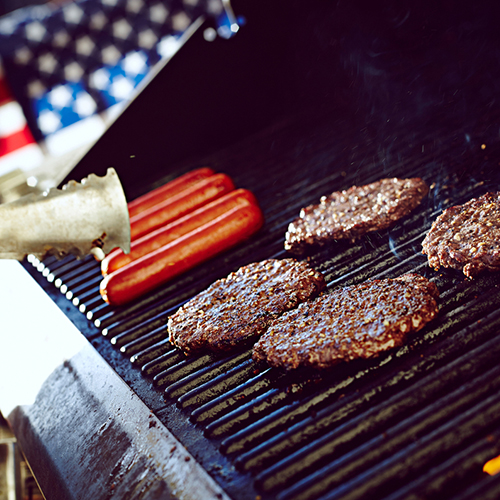 Aside from fireworks and the birth of our nation, the Fourth of July is known for one particular thing: fantastic food. There really is no better way to celebrate the holiday than by gathering together with your friends and family and trying out some fantastic grill recipes. If you are stuck when it comes to putting together your menu for your Fourth of July bash, take a look at the meat buyer's guide and BBQ tips below.
Finding the Best Meat for Grilling
If you are looking for Fourth of July BBQ ideas, you cannot go wrong with beef. Thankfully, you can go above and beyond the basic burger, giving your family and friends a fun twist on the American classic. One awesome way to do this is to create burger and fry foil packs, by grilling freshly made patties in the same pack with frozen fires. Not only does this create a delicious meal, but it is also portable – perfect for backyard parties.

Those who are tired of beef, or who want to provide another meat option, can make chicken bacon skewers. This is another great backyard BBQ food, thanks to its portability. After you season your chicken to your liking, cut it into cubes and arrange on skewers with large pieces of bacon and cherry tomatoes. Weave the bacon in and around the chicken chunks and tomatoes. Grill until the chicken and bacon are cooked and drizzle with ranch dressing.

Pork and seafood are two other fantastic meat choices for your Fourth of July bash. The trick to grilling either one of these well is to create a delicious sauce to go with them. Grilling pork and salmon is pretty straightforward, but when you add a creative sauce or rub, you kick your dish up to the next level. You can add herbs and seasoning to existing sauces or try your hand at creating your own. Mushroom sauces are a fantastic option, universally loved, and incredibly easy to make. If you are aiming for something a bit more interesting, try a red wine reduction sauce or a Sauce Robert, made from onions, white wine, and mustard.
Grilling Tips
Take some time before your big day to examine your backyard, especially your grilling area. Is there room for plates? Bowls? Trying to keep an eye on the meat while balancing plates and utensils is extremely challenging. If you do not have enough workspace, consider setting up a side table beside the grill to give you extra room.

Another BBQ tip you should keep in mind is to avoid using lighter fluid when igniting your charcoal grill. While it is the easiest method, it can impact the taste of the meat. Instead, use a charcoal chimney, starting your fire with newspaper and coals. Regardless of your ignition or grilling method, you should always have a meat thermometer handy to ensure that all meat you remove from the grill is safe to eat.
If you are looking for a way to add an extra boost of flavor to your meat, look no further than your herb garden. Using a bunch of your favorite herbs as a brush is a great way to give your meat a little something extra. This method works whether you are using a rub, sauce, or marinade. Rosemary and thyme are excellent choices to get you started.
Healthy Grilling
At almost any celebration or gathering, there are at least a few people who are trying to watch what they eat. Thankfully, there are a ton of healthy grilling options you can keep in mind to avoid alienating any one of your guests. While it can be hard to cater to each diet's restrictions, there are a few general suggestions you can keep in mind to make things easier for your guests. For example, offering lettuce wraps as well as bread guarantees that your friends with glutton or carb sensitivities can still enjoy your meal. You may also want to consider grilling portobello mushrooms as well as meat, as a way to offer a vegetarian option.

Visit us at Gelson's, Southern California's premiere organic grocery store, to get everything you need for your Fourth of July BBQ. We are happy to carry a wide selection of natural and kosher food, ensuring there is something for everyone on your guest list. Our locations are open late and are sure to have what you need to grill up something amazing. We even carry a range of side dishes, so be sure to visit our full-service deli, salad bar, and olive cart to complete the perfect Fourth of July dish.