Announcements
/

/

Gelsons artisan plate is ready to save the day
Gelson's Artisan Plate is Ready to Save the Day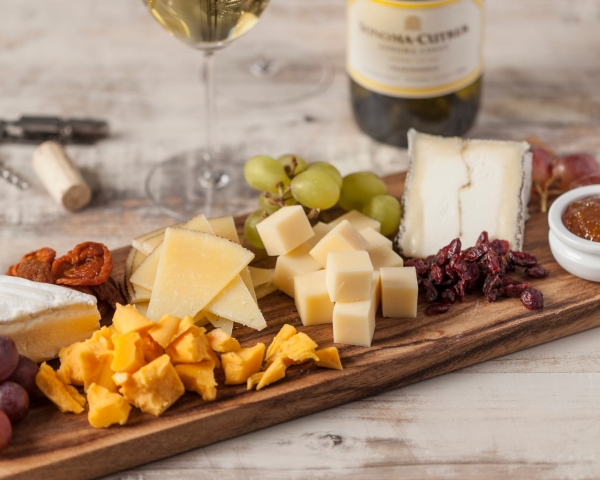 We've all been there: You're driving home from work. It's a little late, but the wind's in your hair, and you're daydreaming about the evening of goofing off ahead of you — and then suddenly you remember that your neighbors/best friends/parents are coming over for book group/bridge/awards night.

What to do?!? Stop by Gelson's and pick up an Artisan Plate. It's a crowd-pleasing, ready-made solution to the oops-I-forgot-the-party panic, and it serves 8 to 10 people.

You'll find it includes five very friendly cheeses:
Fromager d'Affinois: a lush double-cream, soft-ripened French cheese made with pasteurized cow's milk, it's mild and buttery.
Emmi Gruyère: An aged, semi-soft Swiss cheese with a slightly grainy texture and a complex fruity, earthy, and nutty flavor.
Humboldt Fog: a handcrafted, soft-ripened goat cheese distinguished by the ribbon of edible vegetable ash that runs through it — and its full buttermilk and fresh cream flavor.
GarcÍa Baquero Manchego: a universally appealing Spanish cheese with a firm texture, a mild nutty flavor, and a slightly spicy finish.
Sharp cheddar: a rich, bright orange aged cheddar from Wisconsin with a tangy bite and a superb crumbly, granular texture.

Like any good cheese plate, it also comes with fruit — red and green grapes, dried apricots, dried cherries, and a fantastic fig jam — to provide some fun textures and that sweet/salty contrast we all love. The jam is especially fabulous with the manchego.

Our tip: To build on this cheese plate, you could pick up a box of crackers, some olives, and a pâté or salami. For a wine pairing, we'd recommend a Willamette Valley Pinot Noir or a Sonoma-Cutrer Chardonnay. Both are full of fruit and will complement the cheeses nicely.