Announcements
Gourmet Toast 3 Ways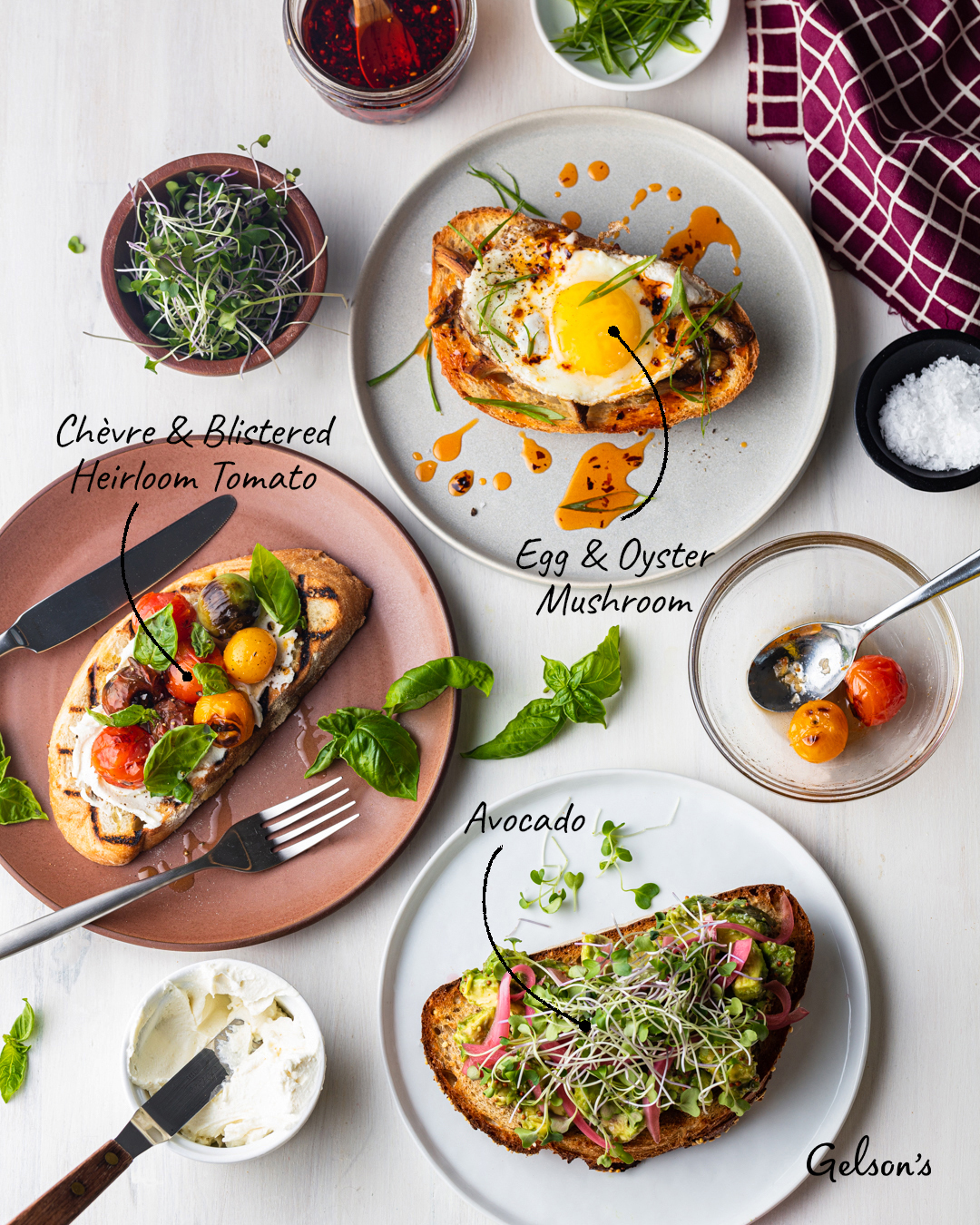 Toast is one of the best foods to ever grace our tables. Give us a piece of any bread — rustic country boule or everyday bagged loaf — spread with a bit of butter, and we'll be happier than a clam. But toast gets really fun when you start piling on flavors and textures in the form of spreads, cheeses, fruits, vegetables, and condiments.
Here, we offer up ideas for three such loaded toasts. They're all delightfully different from each other, but equally fancy, delicious, and restaurant-worthy. Of course with toast, the possibilities are virtually endless — don't hesitate to swap in your favorite ingredients or come up with your own toppings entirely. We are merely your toast-loving guides!
Avocado Toast
Hipster toast, millennial breakfast … make all the jokes you want, you can't deny that avocado toast is good. The contrast of the creamy avocado and the crispy, crunchy bread is just so, so satisfying — a match made in heaven!
We like to stir the mild green fruit with whole grain mustard to punch it up a bit and then mash it onto hearty slabs of whole grain toast. The finishing touch? Our sweet, tangy pickled red onions (there's mustard seed in the pickling liquid, so it vibes with the mustard-avocado mixture) and a handful of spicy microgreens.
Our tip: yes, you can put an egg on it.
Ingredients
2 slices whole grain bread, cut 1" thick
2 avocados, diced
1 Tbsp whole grain mustard
Kosher salt, to taste
Freshly ground Gelson's black pepper, to taste
¼ cup pickled red onions
½ cup microgreens

Directions
Toast the whole grain bread.
In a small bowl, gently stir together the diced avocado and whole grain mustard. Season with salt and black pepper.
Divide the avocado between the two pieces of toast. Gently mash and spread evenly.
Garnish each toast with pickled red onions and microgreens. Serve immediately.
Chèvre & Blistered Heirloom Tomato Toast
This toasty number is inspired by Caprese salad, except we swapped the mozzarella for whipped goat cheese. It's light, fuffy, and tangy-sweet — and it spreads beautifully on the crispy Italian bread.

The blistered heirloom cherry tomatoes on top are just divine: juicy, sweet-tart, and lightly charred. With the fresh, peppery basil and drizzle of olive oil, it tastes like a bite of a Mediterranean garden — so bright, herbaceous, and summery.

Our tip: try grilling the bread instead of popping it in the toaster to give it a little extra char; it plays up the subtle smokiness of the blistered tomatoes.

Ingredients
2 oz chèvre
1 Tbsp heavy cream
Kosher salt, to taste
1 Tbsp extra virgin olive oil, plus more for garnish
2 cups heirloom cherry tomatoes
Freshly ground Gelson's black pepper, to taste
2 slices Italian bread, cut 1" thick
¼ cup Gelson's organic fresh basil leaves

Directions
In a small bowl, combine the chèvre, heavy cream, and salt and whip together with a rubber spatula until smooth.
In a small sauté pan, heat the olive oil over medium-high heat. Carefully add the heirloom cherry tomatoes and sauté until their skins blister and crack. Season with a pinch of kosher salt and black pepper.
Toast the Italian bread.
Spread each slice of toast with the whipped chèvre, top with cherry tomatoes, and garnish with basil leaves, olive oil, and black pepper. Serve warm.
Egg & Oyster Mushroom Toast

Mushrooms are having a moment, and we're totally here for it. They make pretty much any savory dish better — meatier and more umami-rific. No surprise, then, that sautéed oyster mushrooms were an obvious topping for our final toast of this guide.
We pair the fungi with tangy sourdough, a fried egg, a drizzle of aromatic chile oil, and thinly sliced green onion. When you take a bite, the runny yolk breaks and swirls into the fiery red oil, creating a sunny, spicy gravy of sorts that coats the mushrooms. And the green onions? They're the perfect bright foil to all that richness and heat.
Our tip: Make this one for a lazy weeknight dinner — the mushrooms cook in the same pan as the egg, so you only have one skillet to wash at the end of the evening. Glorious!
Ingredients
2 slices sourdough bread, cut 1" thick
2 Tbsp unsalted butter
2 oz small oyster mushrooms
2 large eggs
Kosher salt, to taste
Freshly ground Gelson's black pepper, to taste
2 Tbsp chile oil
2 green onions, thinly sliced on the diagonal

Directions
Toast the sourdough bread.

In a medium skillet, melt the butter over medium-high heat. Add the mushrooms and sauté until browned, about 3 to 4 minutes.

Push the mushrooms to the side of the pan, and crack the eggs into the skillet. Season both the mushrooms and eggs with salt and black pepper, and cook until the egg whites have set, about 2 to 3 minutes.

Divide the sautéed mushrooms between the 2 toasts. Top each with an egg, and garnish with chile oil and thinly sliced green onions. Serve immediately.
Recipe source: Calculate nutrition information for this recipe.