Announcements
/

/

Holiday cheese charcuterie and wine pairings
Holiday Cheese, Charcuterie, and Wine Pairings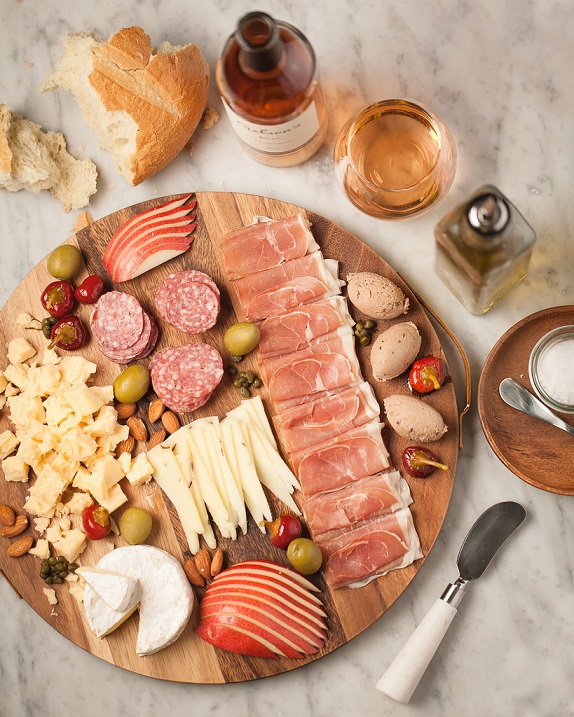 A cheese and charcuterie board is, on the one hand, the simplest thing in the world — there are no fussy canapés to bake off or dips to whirl up. You just take the goodies out of the package, and voilà, the different shapes, textures, and tastes arrange themselves on a board that's as appetizing and fun to look at as it is wonderful to eat.

On the other hand, it can be tricky pairing up complementary flavors, and having something on the board for the most daring and the most picky members of your family. That's why we turn to our Gelson's cheese experts for advice. Here they've given us a selection of meats and cheeses, pairing them together so you can pick and choose and decide the size of your board — a nibble or a substantive snack.
Aside from compatibility, what inspired her choices? Pure whimsy. For example, there's smoked duck and duck foie gras on the board because duck is one of her all time favorite meats. For the cheeses, she went for something old (the gouda), and something new (the truffle Swiss). "And then I added in the Mull of Kintyre cheddar," she says, "because it's just plain delicious."

To fill in your board, Lisa recommends mixing in some sweet, fruity, salty, and crunchy stuff, like sweet, red pickled peppers, green olives, orange persimmons, and Marcona almonds. And of course, you can't go amiss with a nice cracker or baguette. She's also made wine suggestions for each of the pairings.

Three Little Pigs Smoked Duck Breast + Parrano Gouda
Smoked duck breast is smoky, sweet, and wonderfully fatty — the perfect fit for the Parrano, which has all the lux creaminess of a young gouda, plus the nuttiness of Parmesan. A palate-pleasing Summit Creek Zinfandel from Opolo will glue these two together, with its notes of vanilla, dried cherries, and baking spice.

Prosciutto di Parma + Dorothy's Comeback Cow Brie
In this pairing, the salty and silky smooth texture of Prosciutto is amplified by the velvety brie style of Comeback Cow — sweet and buttery and full of truffle and almond notes. Lisa recommends a mild, fruity Gelson's Rosé to complement all that creamy goodness.

Three Little Pigs Saucisson Sec Aux Herbs de Provence + Mull of Kintyre Extra Mature Scottish Cheddar
The aromatic herbs of this salami make it the perfect companion for the Mull of Kintyre. This is an aged, Scottish-style cheddar, sharp and nutty, with a slightly crunchy texture (thank you, tyrosine crystals!). Pair it with a fruit-forward Sonoma Coast Chardonnay from La Crema. With plenty of stone fruit, lemons, honeydew melon, and a hint of oak — it's just the thing to pull all these big flavors together.

Mousse de Canard au Foie Gras + Mifroma Truffled Cheese from Switzerland
Why not add truffles to the mix? "A thin slice of earthy truffle cheese on top of a savory, decadent duck foie gras is a euphoric experience," Lisa told us. "Some people may not be able to handle it." Here again, the refreshing acidity of our Gelson's Rosé will wash down all those rich flavors nicely — and bring your guests back down to earth.